Going digital is no longer just a buzzword, but it's also a way of life for many businesses.
With half of the world population being active internet users, it's no surprise why businesses are pushing to digitize their operations.
[no_toc]
SME Corp targets the digitalisation of all SMEs
Currently, only 32% of Small and Medium Enterprises (SMEs) in the country have embraced digitalisation in their business operations. SME Corporation Malaysia (SME Corp) aims to digitalise all SMEs by 2024.
"We have met with 10 service providers who can assist the SMEs in digitalisation. In this digital era, we want the sector to embark on using digital technologies, at least a cloud-based service or point-of-sale system, which would enable them to store customer data and do analyses," SME Corp Chief Executive Officer Noor Azmi Mat said during a media briefing on the Entrepreneurship and SME Week 2019.
The digitisation of all SMEs makes sense considering that they contributed RM521.7 billion of the nation's gross domestic product (GDP) and provided 5.7 million jobs to 70% of Malaysia's workforce, according to a recent statement by the Malaysia-China Chamber of Commerce (MCCC) president Tan Yew Sing.
Did you know?
SMEs make up 98.5% of all business establishments in 2018
Why is it important for you to digitise your business?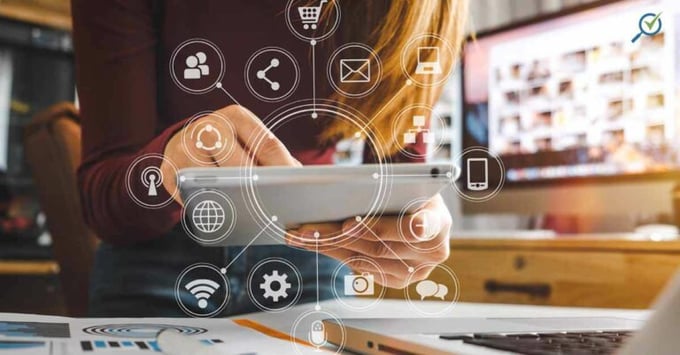 Digital technologies have not only influenced business activities but also increased efficiency.
Amid globalisation and technological advances, businesses that embrace digital technologies will be in a better position to enhance their competitiveness, their flexibility, and create new sources of value.
It also increases connectivity and personalisation, unlocks new opportunities for businesses, introduces new markets and ultimately, could be the deciding factor that brings in revenue.
Besides, digital initiatives are necessary for industries to keep up with an increasing demand of customers who expect services and products to be delivered fast and efficiently. Going digital also helps companies reduce costs and improve productivity.
Some businesses are just starting out by going paperless, other more advanced startups have relied heavily on new emerging technology such as VR and blockchain. Regardless, the goal is to simply make an enterprise more streamlined and introduce new quality of customer experience.
Some of the most notable brands are digital innovators like PayPal, Uber and Airbnb. These companies disrupted their industries by incorporating innovation and digitalisation into their businesses. On the other hand, businesses that don't embrace digitalisation either become on the verge of extinction or vanish into the unknown.
But does going techno sound complicated for your business? It doesn't have to be! There are many softwares that can help SMEs stay on the same page with global tendencies and help them transform the way they operate and deliver value to their customers. But with so many options to choose from, how do SMEs decide who to turn to?
CIMB is the SME partner of choice
If you are looking to digitise your business, CIMB is a great resource for all the relevant solutions such as payment & collections, marketing, digital solutions, connectivity, insurance solutions, and more.
Thanks to CIMB's one-stop digitisation solution, SME can enjoy great services from notable business solution providers such as EasyParcel, iPay88, Exabytes, EasyStore, Shopmatic, BusinessHR and Berjaya Sompo Insurance Berhad.
You can now begin your digitalization journey with just a few clicks! Existing CIMB Business Current Account/-i holders get to enjoy these partner solutions at a discounted rate. If you're not already a CIMB Business Current Account/-i holder, why wait? Click here to sign up now
What services are offered by CIMB's SME partners?
Digital & E-Commerce Solutions
Business
EasyStore
Shopmatic
Exabytes
Who are they?
Enhance your digital store with unlimited omnichannel extensions. Sell your products anywhere online via Shopee, Lazada, Facebook LIVE, WhatsApp, Google Shopping, and more!
New to e-Commerce? Start selling online now on Shopmatic as low as RM3/month. They also include free webinar sessions on how to build your online store in 30 minutes.
This all-in-one solution offers many affordable services to grow your business online such as web hosting, domain name registration, server, website design and digital marketing services to businesses. Your business can go live within seven days!
What do you get?
Enjoy 50% OFF all subscription packages.
Enjoy 30% off on all subscription packages.
Build your corporate or e-commerce website with any Instant Website Design plans and enjoy a waiver of RM500 on one-time setup fee.
Payment, Collection & Courier Services
Business
Business HR
EasyParcel
iPay88
Who are they?
Among BusinessHR's key features include 24/7 access, cloud-based security, easy to use, built in compliance, seamless and digital and dedicated management reports.
With online booking platform EasyParcel, you can find and book a courier service at the best rate!
With the rise in contactless and cashless digital payments, iPay88 is a great secure and safe way to move your money around.
What do you get?
Up to three months fee waiver worth RM360 awaits you.
Sign up and top up a minimum of RM20 to get up to 25% off on delivery rates.
Set up a payment solution with iPay88 and enjoy annual maintenance fee waiver or savings up to 50% on subscription plans.
Insurance solutions
Business
Berjaya Sompo Insurance Berhad
Who are they?
Have peace of mind knowing that you are insured by one of the leading general insurance companies in Malaysia. The Sompo Group boasts a global business network encompassing 218 cities in 30 countries and regions, including Europe, the Middle East, North America, Central and South America, Asia, Oceania and Africa.
What do you get?
Log on to SecureMotor and convert your Motor Insurance Premium into a 6 or 12 months 0% Instalment Plan with CIMB Platinum BusinessCard.
Since everything is at the tip of your fingers, so should your business!
No industry in the modern market is immune from disruption. Almost all business owners have had to invest into finding a strategy that involves adopting technology. So, time to get your SME's digitisation journey started today!
Eligibility:
Open to both new Business Current Account/-i and Existing Business Current Account/-i customers.
Like what you hear? Head over to CIMB SME partners to choose your desired solutions partner and redeem your rewards!