If you are a small and medium enterprise (SMEs) that is struggling to stay afloat, CIMB has introduced a new platform to guide you to the right financing facility to help your business during this pandemic.
CIMB is the First Commercial Bank in Malaysia that integrates a chatbot called EVA to support SME owners in COVID-19 relief schemes and other financing products available in Malaysia
EVA has been refined to ensure that you are guided towards the right financing facility which is catered for you and your business needs. You can ask EVA all the relevant questions regarding the financial assistance you need, and the answers you get will be narrowed down specifically, for you.
Why SMEs should make use of the EVA Chatbot
1. You won't have to wait long for help
Tired of waiting forever for your questions to be answered? With EVA, you won't have to worry about that anymore. Through EVA, you will have a better experience in getting answers about financing facilities and be guided on the next course of action without having to wait on the line or search through the website. Ask EVA any questions you may have regarding the help you need for your business, and you'll get an immediate response.
If you are interested or have further queries, you can leave your contact and a relationship manager will be in touch with you within 2 working days.
2. EVA knows exactly kind of help you need
Good news, you can check your financing eligibility through EVA. The "Eligibility Check" feature is able to efficiently digitalise the long process of SMEs talking to a sales representative to understand which financial relief or financing is suitable for your current business situation.
EVA is here to help you stay safe and make an informed decision without having to visit a branch during these precarious times. Should you be interested, you can also apply for the financing of your choice directly online.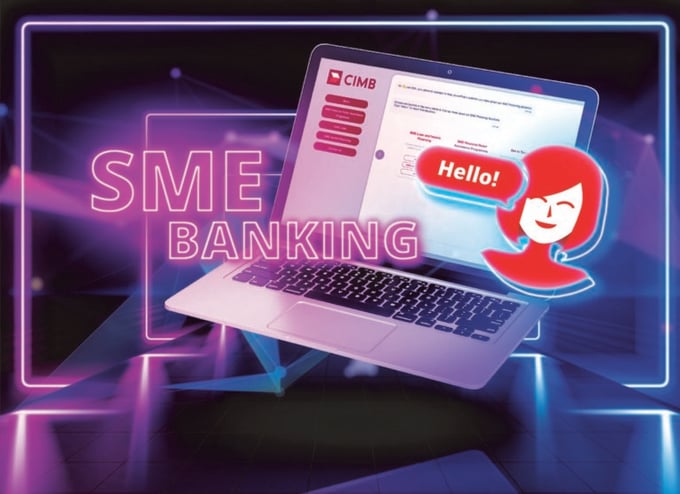 3. You can access EVA at all times
EVA is available to answer your questions 24/7, so you won't have to worry about reaching out after business hours. This will provide first-hand support for SMEs and acts as an online directory, easing any queries projected to be handled instantly. You can also skip the hassle of having to go to the bank in person.
4. Where can you find EVA?
Here's a short guide on where exactly to locate EVA and how to use it: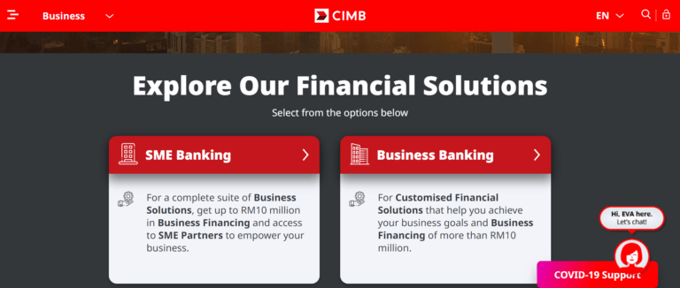 On the CIMB Business website, you'll find EVA at the bottom right corner. Click on the icon, and you'll see all the options for financing and financial assistance that are available. You can ask EVA any questions you like regarding the options you see.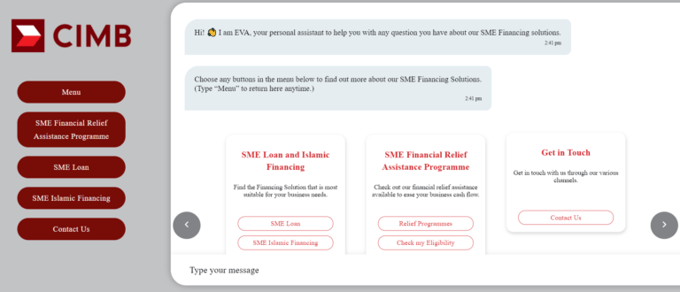 We also made a fun video on how to navigate around EVA, and you can check it out here:
https://www.comparehero.my/wp-content/uploads-my/2021/09/CIMB-EVA-FINAL.mp4
What kind of assistance can EVA point me to?
Now that you know how EVA works, we'll tell you a bit about the kind of help EVA can direct you to. Under CIMB's Financial Assistance Relief Programme for SMEs, there are several types of aid SME owners can apply for:
Payment Assistance Programme
Open to all SMEs, including micro enterprises.
Two options available: 6-month moratorium and reduction of monthly instalments by 50% for 6 months.
For more information on this, click here.
Targeted Relief and Recovery Facility (TRRF)
Funding for SMEs (up to RM500,000) and micro enterprises RM75,000
For sectors which are considered to be more vulnerable.
For more information on this, click here.
Besides all of the above, CIMB also has come up with other ways to help the daily operations of SMEs:
BusinessHR - Go Digital Campaign, with BusinessHR, you can integrate a cloud-based HR management system that will free up your time so you can run your business with ease. Best of all, subscription fees start from as low as RM4 per employee!
Through CIMB's SME Partner Solutions, where you can get great discounts when you use the services of the partners listed. Some of them include EasyParcel, Easystore and Shopmatic.
We hope you enjoyed reading this and remember, you can always reach out to EVA if you have any questions regarding the above. EVA is available to help you 24/7, so ask away!