Maybank just unveiled and launched a digital SME financing platform for SMEs. This will only require 10 minutes of your time to get the approval from the bank. Read below on how you can apply, the eligibility and the benefits you can get.
---
If you're a small and medium-sized enterprise (SME) looking for extra financing with ease, you may want to check the Maybank SME Digital Financing platform.
Launched last week, Malayan Banking Bhd (Maybank) states that it only requires a mere 10 minutes - the same time it takes to down a cup of coffee - to get a financing approval, and the application can be completed entirely online.
It also happens to be the first of its kind platform to offer an end-to-end digital experience with full straight-through processing (STP), from application to approval and, finally, disbursement.
"It's fully automated - from application to approval - within 10 minutes and without any human intervention," said Datuk Hamirullah Boorhan, Head of Community Financial Services Malaysia, Maybank, at the launch ceremony. "And if you're an existing Maybank customer, you can get your disbursement within one minute, so this is fully automated."
This hassle-free and convenient digital solution is another way that Maybank is hoping to aid the SME segment in Malaysia as part of the organisation's overall objective to make financing more accessible to the SMEs.
"One of the perpetual challenges that we face as an organisation is to explore how we can do more for our customers in the SME segment. This is a challenge because we need an approach where the risk is acceptable to the bank," said Datuk Abdul Farid Alias, Maybank Group President and Chief Executive Officer at the launch.
"After successfully launching our retail SME model several years ago, our SME team started exploring how we can extend credit to the SME sector using a popular method known as machine learning."
Overcoming a common barrier for SMEs - external financing
SMEs play a crucial role in economic development - Malaysia's SME sector contributes 38.3% to GDP and provides employment for over seven million people, according to the SME Annual 2018/2019 Report.
Despite this, they still face many challenges that may act as barriers to their growth. Among them include access to external financing, better cash flow management, and a more effective payment system, as well as non-financial needs such as input cost mitigation, access to cheap quality labour, and a business-friendly climate.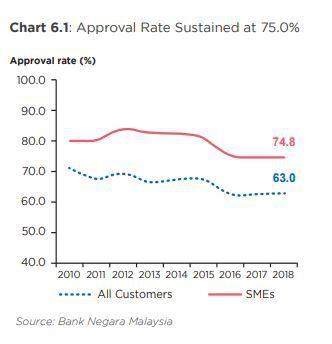 Financial institutions are still the dominant source of financing for SMEs - In 2018, RM307.3 billion was disbursed and RM69.0 billion in new financing approved to over 123,600 SME accounts. (Image source: SME Corp)
Maybank's latest digital solution offers another financing alternative for SMEs who are on the lookout for extra cash for their business.
Additionally, the launch of this solution, Abdul Farid of Maybank said, is a breakthrough in the bank's SME financing as it incorporates an enhanced credit tool, allowing them to expand their lending relationships beyond what they've been doing before.
"Using our in-house data and credit knowledge while leveraging machine learning capabilities, we are now able to measure the risks of our customers better, and provide financing even to start-ups, which have only been in operation for one year," he said.
"As we all know, it's usually more challenging for start-ups to secure financing due to lack of collateral or credit history. However, we can now assess their business viability and help them build successful ventures."
Datuk John Chong, Maybank Group Chief Executive Officer (CEO) for community financial services, said the bank is looking to disburse over RM500 million over the next three months, and is hoping to disburse RM4-5 billion in the next three years.
"Overall, as a business for SME, we are projecting to disburse about RM35 billion over the next three years. This digital loan platform represents about 17% of total disbursement," he said.
On whether the asset quality of the new platform may be of concern, Chong said, the asset quality of Maybank's SME portfolio - as a whole - is very low and "manageable."
"We are also using data from what we've done in the past, together with the data that we have on customers, or credit knowledge and technology, I think. we are able to manage asset quality very well," Chong said.
To date, Maybank's loan growth for the SME segment, Hamirullah said, has reached 15% compared with last year's growth of 12%. "Maybank is projecting about 18% growth this year from the SME segment with RM35 billion disbursement targeted in the next three years," he said.
The platform runs on Maybank's rich data bank which is based on information that they have collated from customers and, Chong said, is what the bank uses as part of their machine learning. "We combine technology, the data that we have on the customers, and our credit knowledge. It's a combination of everything. With that, we came up with this platform."
With this new solution, SMEs can apply for financing online via Maybank2U or Maybank2U Biz platforms 24/ 7, without having to visit a branch.
The application process requires minimal information and no documentation for existing customers. Funds can be disbursed within one minute upon acceptance of the offer for eligible (usually existing) customers.
New customers, on the other hand, will have to undergo a brief on-boarding verification process but with no branch visit, prior to approval of application, and decisions will be provided within two working days.
Through Maybank's collaboration with Credit Guarantee Corporation (CGC), they are able to provide guarantee coverage for its online PXG/PGX financing - one of the products offered on the digital channel with a guarantee coverage of up to 70%.
Benefits
Receive application status as fast as 10 minutes*
No documents required*
Financing disbursement as fast as 1 minute**
No collateral required
Available online 24/7
* Applicable to Maybank's existing customers with complete records. If you're new to Maybank, we will review your application and provide a decision within 2 working days.
** Applicable to Maybank sole proprietorship & partnership business account holders, for disbursement of up to RM100k (under Conventional Loan).
Interested? Apply here.
Eligibility
Open to both Maybank and non-Maybank customers who are Sole Proprietors, Partnerships or Private Limited companies (Sdn. Bhd.) with:
Less than RM25million annual sales turnover
Less than RM5 million outstanding loan/financing with Maybank
Malaysian-owned registered company
More than 1 year in operation
Financing facility
Term loan or Commodity Murabahah Term Financing-i (CMTF-i)
Between RM10,000 to RM250,000
Tenure up to 5 years
Required documents to submit online
No documents required if you're already a Maybank customer.
If you're new to Maybank:
NRIC of Directors / Shareholders / Proprietors / Partners / guarantors (passport if foreigners)
Business Registration document
Trading license (for businesses operating in Sabah & Sarawak)
Latest 6 months bank statement (optional but these documents would increase your chances of approval)