The backbone of our economy.
A vague line you've heard a many times, and maybe even said yourself. It's been reported in many news articles and the government is never short on entrepreneurship support. But the facts are that our country's economic fate does rely on the success of Small and Medium Enterprises (SME). Don't underestimate them, because despite their size, total contributions of SMEs in Malaysia are far from small. Just to share, 98.5% of all business establishments in Malaysia are SMEs, and in 2018, SMEs contributed RM521.7 billion of the nation's gross domestic product (GDP). SMEs currently provides 5.7 million jobs to 70% of Malaysia's workforce.
Read also: Budget2020: Over RM1 Billion Boost for SMEs and Entrepreneurs
So what and who are these SMEs?
The new definition (as of 2013) of SME covers all sectors, namely services, manufacturing, agriculture, construction and mining & quarrying and is sub-divided into three categories, namely micro, small and medium.

Under the new definition, all SMEs must be entities registered with Suruhanjaya Syarikat Malaysia (SSM) or other equivalent bodies. It however, excludes:
Entities that are public-listed on the main board; and
Subsidiaries of:
Publicly-listed companies on the main board;
Multinational corporations (MNCs);
Government-linked companies (GLCs);
Syarikat Menteri Kewangan Diperbadankan (MKDs); and
State-owned enterprises.
SME Corporation Malaysia (SME Corp. Malaysia) is the central coordinating agency (CCA) under the Ministry of Entrepreneur Development Malaysia (MED) that coordinates the implementation of development programmes for small and medium enterprises (SMEs) across all related Ministries and agencies. It acts as the central point of reference for research and data dissemination on SMEs and entrepreneurs, as well as provides business advisory services for SMEs and entrepreneurs throughout the country. SME Corp. Malaysia also assumes the role of the Secretariat to the National Entrepreneur SME Development Council (NESDC), which is chaired by the Prime Minister of Malaysia.
The establishment of the Ministry of Entrepreneur Development (MED) in mid 2018, streamlined the roles of over 60 entrepreneur development organisations (EDO). Entrepreneur Development Minister Datuk Seri Mohd Redzuan Yusof said the MED's rationalisation effort allowed all EDO to function under one framework, while avoiding redundancy in its planning and coordination.

SMEs' significant contributions to the Malaysian economy.
Malaysia's economy has gone through a considerable transformation over the last few decades from agricultural-based to industry-based. And it is an undeniable fact that SMEs have been the key driver of employment and economic growth. The Malaysian economy consists of almost 99% of SMEs where they contribute 38.3% of the country's GDP, 66% of the country's employment, and around 17.3% of Malaysia's exports. The bulk of the companies — around 89.2% — are involved in the services sector.
On 11th July 2019, Prime Minister Tun Dr Mahathir Mohamad launched the National Entrepreneurship Policy 2030 or Dasar Keusahawanan Nasional 2030 (DKN2030) that will chart the direction towards creating a conducive and integrated entrepreneurial ecosystem. The policy is part of the National Entrepreneurship Framework (NEF), the cornerstone of shaping Malaysia as an Entrepreneurial Nation by 2030. This long-term entrepreneurial strategy outlines the objectives, targets and strategies and initiatives that will be implemented to develop an entrepreneurial ecosystem across all industry areas and encompass every level of entrepreneurs and communities.
Okay. How does it plan to accomplish that?
The long-term DKN2030 includes five primary goals and objectives, and six core elements targeted at empowering and driving a culture of innovation and entrepreneurship in the country. This will include education and training programmes for innovation-driven entrepreneurs, as well as easier access to capital and funding. To stay aligned with the fast-moving changes in global business, the policy will be dynamic, with regular changes through engagement with the entrepreneurs and stakeholders.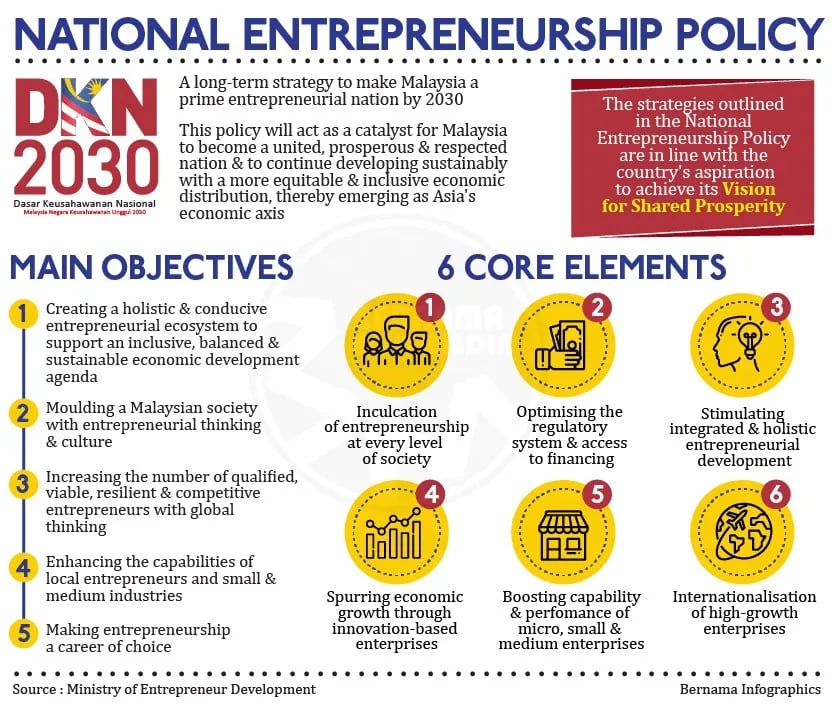 SMEs embracing digitalization.
SME Corp together with Huawei Technologies (M) Sdn. Bhd., and supported by IDC Malaysia and University Consortia (UC) collaborated to conduct the Malaysia Digital SME Study in 2018. As part of the study, with the aim to accelerate the development of Malaysian SMEs towards embracing digital culture effectively, the work plan was to assess the technology adoption landscape of Malaysian SMEs and identifying opportunities to enhance SME productivity and business growth.
The main findings of the survey highlighted that majority of SMEs are bullish about the near-term business outlook, with 66.7% of total respondents anticipated that their businesses to improve in the next financial year. Given the expected business shift in the digital environment, respondents of the study are changing their business strategies.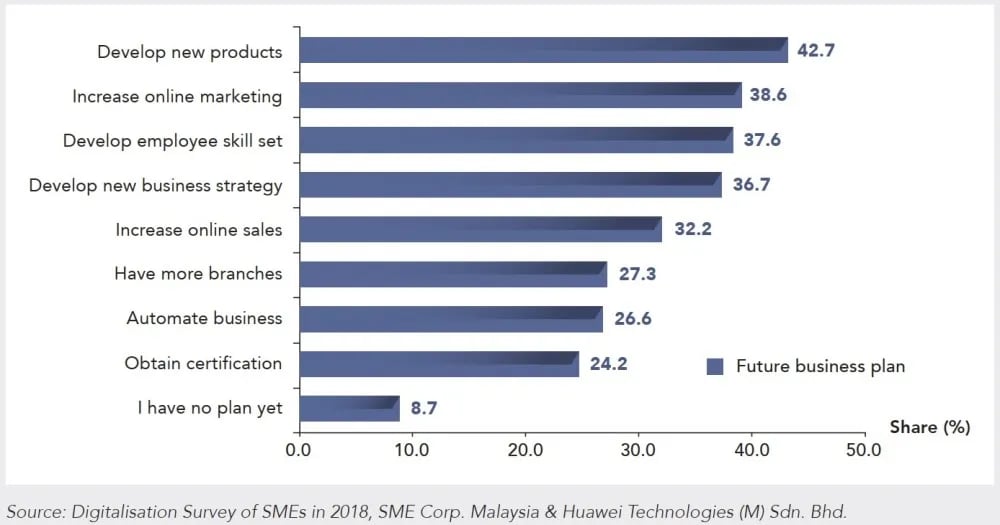 Overall, the majority of the study respondents realised the importance of ICT adoption and its role in improving business productivity and efficiency. Usage among SMEs predominantly comes from personal devices, such as smartphone, basic internet connection and computers or laptops. The usage of back-end business processes, such as Enterprise Resource Planning (ERP) and Customer Relationship Management (CRM) are very low among SMEs.
Social media utilization for business is high among the SMEs but mainly for communicating with customers for online marketing instead of adopting e-commerce. Online banking penetration is close to 90% but still 70% use cash for payments.
Moving on to the usage of transformation enablers like cloud services and Internet of Things (IoT), the survey findings showed that the utilisation of the services among SMEs were relatively low. Just over half reported they use some form of data analytics, mainly by way of spreadsheets. Less than half use cloud services and that too is mainly driven by storage services.
In the survey, about 51.0% of the total respondents are aware of the availability of SME assistance programmes. However, the participation rate of SMEs in the programmes is still low. Of those participated in SME assistance programmes, majority of them (71.0%) participated in programmes organised by SME Corp, whereas about 25.2% of them participated in programmes organised by Malaysia Digital Economy Corporation (MDEC). Respondents who did not participate in any of the SME assistance programmes cited that they did not have information on the programmes. This finding suggests that organisers or implementers of any programmes need to put more emphasis on promoting or creating more awareness of all the programmes for SMEs.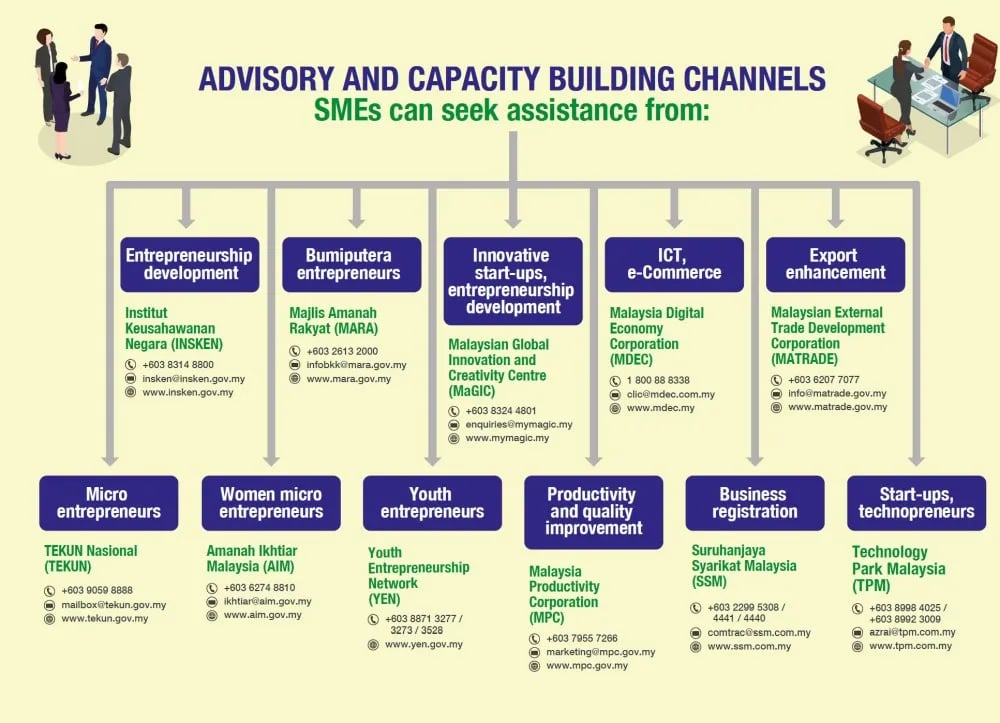 Cost of doing business.
According to both, SME Annual Report 2017/2018 and the SME Brand Survey 2017, indications that rising cost of doing business has been the main issue facing SMEs. Most affected were those in manufacturing and construction sectors as well as small-sized firms. Multiple reasons are cited for the increase, including higher cost of raw materials and branding and marketing efforts. In order to alleviate the rising cost of doing business, many say they would undertake a few measures or business strategies, such as reducing operating costs, as well as introducing new products and services.
Cash flow or liquidity issue is also among the main concerns for SMEs. As SMEs are strapped for cash, this presents itself as the biggest obstacle to business growth, particularly microenterprises and SMEs in services and construction sectors.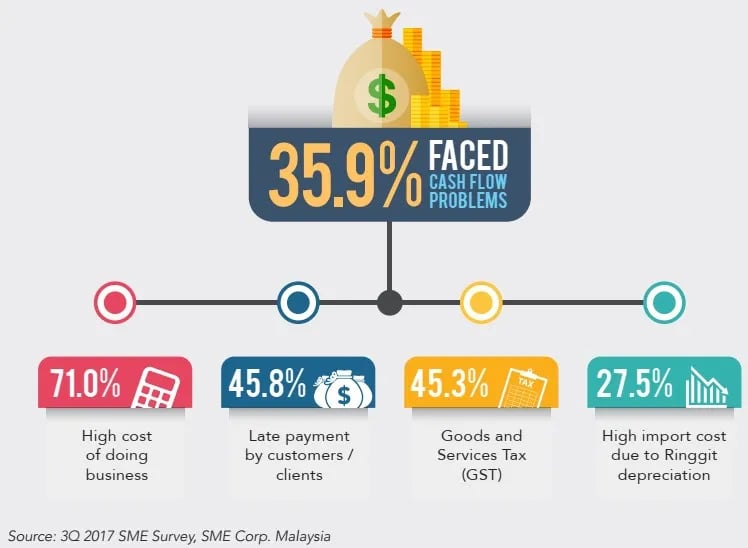 Access to finance.
SMEs continued to have access to financing with about 89.8% approval rate in Q3 of 2017, lower than 97.0% approval rate recorded in the previous quarter in 2017. Of those approved, about 18.5% of them made up of first-time borrowers. Nevertheless, with the current high cost of doing business and the increase in cash flow problem, the demand for loan from financial institutions has gradually decreased.
Financial institutions provide the bulk of funding to SMEs, accounting for about 97.0% of total SME lending. Bank lending to SMEs is complemented by Bank Negara Malaysia (BNM), other government funding agencies and development financial institutions in the form of schemes and programmes.
Current financial and non-financial options cover a wide array of options for every stage of SME business cycle, including for startups and grants for export from public and private institutions such as: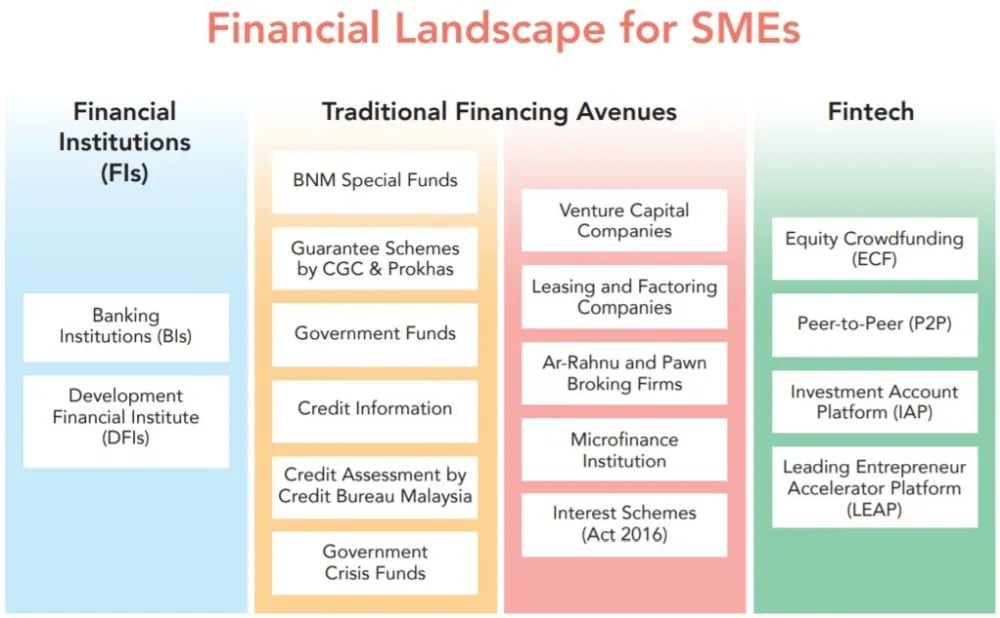 In line with the financial inclusion agenda by BNM and the increased policy attention to microenterprises, given that it accounts for 76.5% of total SMEs, financing to this segment of businesses has risen over the years to account for about 34.0% of total SME financing outstanding. Skim Pembiayaan Mikro was introduced in 2006 under the National Sustainable Microfinance framework to provide microenterprises with financing of up to RM50,000 without collateral. The scheme enables fast, easy and convenient access to business financing without collateral from participating financial institutions. Since then, a total of RM3.8 billion financing was approved via the 10 participating banks to more than 216,900 accounts.
Over the years, there have been various initiatives implemented to enhance SME financing in Malaysia. Here is an overview of the SME Financing Ecosystem: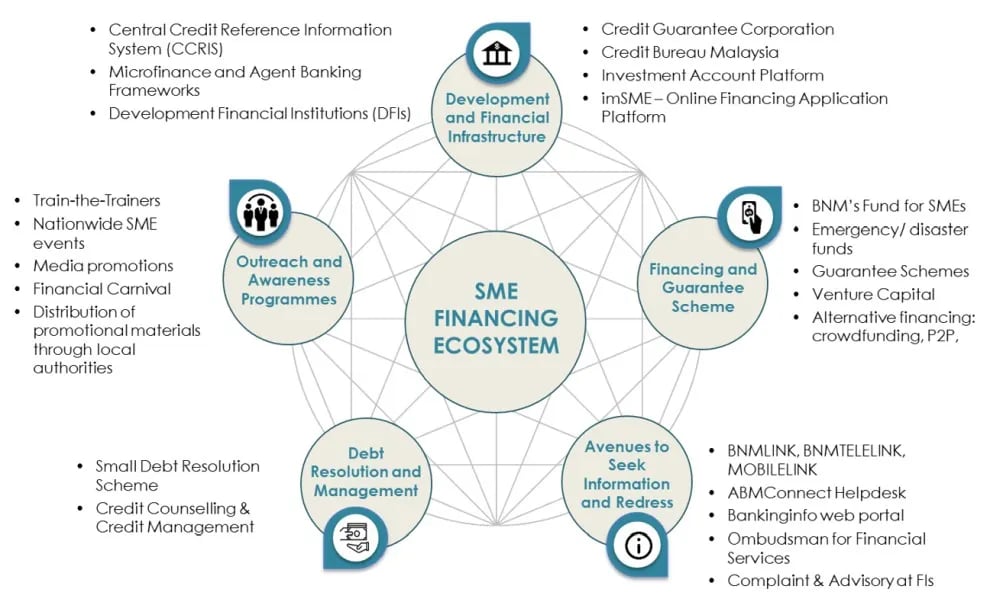 News report of a survey by BNM indicated that most SMEs were able to secure financing with a 94% success rate. On average, the majority of the applications were approved within one month and the funds were disbursed within the subsequent month. About 13% of SMEs applied to financial institutions with 91% of their total financing applications approved. The main purposes of the financing applications were for the purchase of assets (building, property, machinery and equipment, working capital and starting a new business.