How do you feel when you have to leave your children to go to work?
For stay-at-home moms, getting back to work is tough. As a working mother, they are afraid that bosses expect them to work like they do not have children!
For the Belanjawan 2020, the government introduced the Women@Work initiative in an attempt to encourage women to re-enter the job market after not working for a year or more. Part of the initiative includes an additional RM500 on top of their monthly wage for two years. Although women activists and NGOs applaud the decision, not every woman that is eligible for this initiative feels motivated to return to work.
The 2018 Malaysian Labour Force Survey shows that 60.2% of women who are not employed cited housework, including child and elderly care, as the main reason for not seeking work.

Housework, which includes family responsibilities, is also a common problem raised by women in the current workforce that prevents them from taking heavier responsibilities or leadership roles in the workplace.
We asked women who left the labour force for family commitments about this new initiative, and the following is their take on the career comeback programme: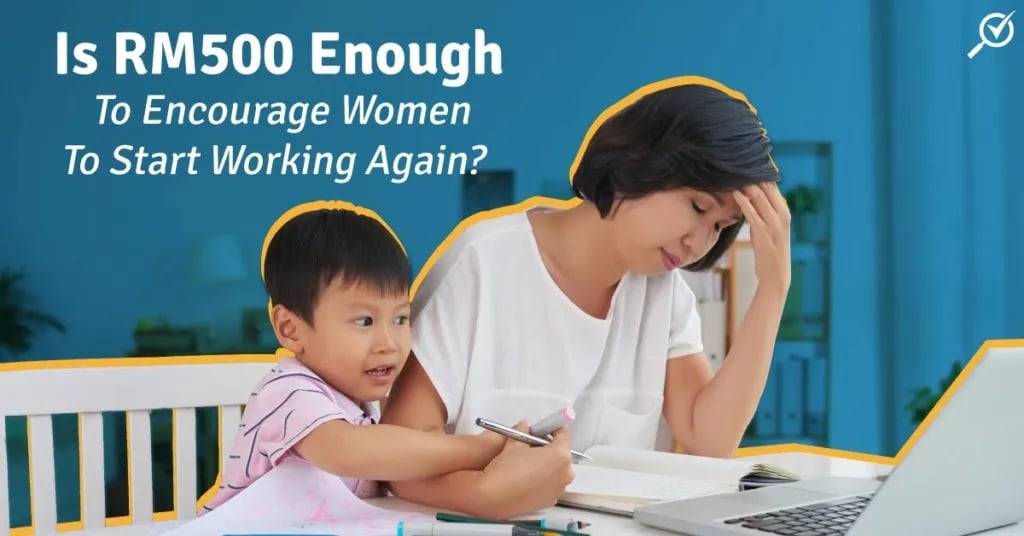 From what we gathered, an additional RM500 every month is definitely not enough to encourage them to re-enter the workforce.
In an exclusive interview with CompareHero.my, the Malaysian Employers Federation (MEF) executive director Datuk Shamsuddin Bardan said initiatives to get women to return to the workforce should be more holistic. He hopes the government could review the procedure of how the wage incentive will be paid.
"The wage incentive should be paid directly to employees and not by crediting RM500 into the Employees' Provident Fund (EPF)," he said.
Incompetent childcare facilities
Another major factor women stop working is the childcare facility here is not convincing enough. There is a need to review the practices of childcare centres here.
He also said employers can send returning employees to Human Resources Development Fund (HRDF) retraining programs.
In Singapore, its Community Health Centres (CHCs) are effective in encouraging women to come back to work.

CHCs has an acceptable standard, the fee is not expensive and the safety aspect also has been taken care of by the Singaporean authority.

We need to quickly establish this rather than leaving this to the private sector to run the childcare centres. We are also moving towards an ageing society. It is also high time to establish daycare centres for the elderly so women can come back to work.
We also spoke to Suraya Zainudin, the founder of personal finance blog Ringgit Oh Ringgit on this matter. She echoed Shamsuddin on refining Women@work initiative to a more holistic approach.
She added: "I like the initiatives fine but it is not a particularly holistic approach on its own. No doubt, some women will take advantage of it.
"But it's almost like it's implying the only way to attract women back to the workforce is by throwing money at them, which helps, don't get me wrong.
However, it is almost like it is implying that the only way to attract women back to the workforce is by throwing money at them," she said.
She posed a question when the women are back at work, who would take care of their children?
"I am cautious of lauding the initiative, if we are not careful, all we are doing is encouraging women to do 'double shift', where they work full time in paid employment and full time in taking care of their children.
"This initiative should be combined with employers' dedication to subsidise childcare, encourage flexi-work, introduce paternal leave, and encourage cultural change to normalise men performing 'women's work', not just in the family unit but also doing the 'office housework'," she added.
What do you think?
Do you think an additional RM500 every month for the next two years is a good move to get women to re-enter the workforce? Let us know what you think in the poll below!