It has been two weeks since the announcement of Budget 2017, and there have been both cheers and disapproval expressed by the public. After the dust has settled, CompareHero.my interviewed Malaysians to find out what they truly feel about Budget 2017, along with their suggestions on what can be done better.
With different backgrounds in terms of race, professions, and gender, most of the interviewees belong in the M40 group. They voiced out their thoughts on key highlights of Budget 2017 such as tax relief and property financing scheme.
What Are Your Thoughts About Budget 2017?
The newly introduced tax relief was well received with those whom we interviewed saying that it is a good start and can help Malaysians who are facing the increasing cost of living. Malaysians also expressed their wish to see the government provide more allocation focused on education and healthcare in the future.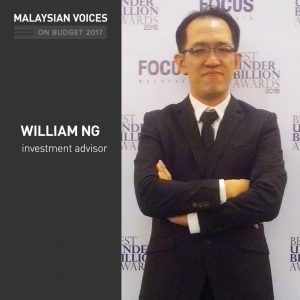 "Tax relief extension is a good start, but more can be done to improve the condition of M40 from high costs of living. At the same time, I wish government can reallocate more of their focus on education and healthcare in the upcoming budget as a long term strategy for our country's development." William Ng, investment advisor
Tan May Lee shared her opinion on the tax relief, of which she positively welcomed, "I am pleased to see the introduction of new tax relief items, specifically in the areas of lifestyle, breastfeeding and early Education. This reflects a progressive take on society needs that is continuously changing and evolving."
Afiqah, a lawyer by profession said,"good to see the government initiatives by taking into account women and children in the Budget 2017 with tax exemption for breasfeeding equipment, free mammogram,milk and raisins for children."
Did M40 Get Enough Allocation?
Although Budget 2017 was mostly praised for providing something for each group citizen, yet the M40 group of Malaysians feel that the budget did not have much in it for them. Marcus Tan, a wedding planner and emcee said, "What has been allocated (in the Budget 2017) has little to benefit me in M40 group."
Afiqah, was also disappointed, "as a citizen in the M4O group it's very frustrating to feel sandwiched in between the lower income and high income."
However, there were some handouts which caught the eyes of some individuals in the M40 group such as Wilson Ng, a remisier who shared that, "the only policy that caught my attention was the RM1000 youth incentive for PRS investment and the reduction of tax for increase in company profit."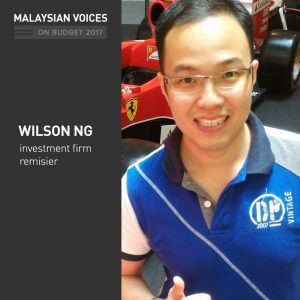 Although some Malaysians we interviewed mention they felt sidelined as being part of M40, there were also those who felt Budget 2017 was inclusive such as Shalini, a journalist who said, "I don't believe that the M40 group was under the radar, as there were some things announced in the Budget which seemed like it could be helpful, such as the incentive for private retirement schemes and the faster broadband speeds, which I can see as being helpful for someone in my earning position"
However, she did point out a major concern on how Budget 2017 was allocated,
"How will budget cuts for public universities allow people in the B40 and M40 classes to gain relevant qualifications to be able to contribute to the economy in the future?" - Shalini.
What Are Your Opinions About Housing Allocations?
The issue of housing has been in the headlines lately, specifically the housing prices which are mostly beyond the affordability of most Malaysians. Through Budget 2017, the government is providing help to first time home buyers which was also positively received.
However, housing prices still remains the main concern as shared by Lim Cian Yai, a journalist, "I do applaud government's attention to ease the process for citizen to get a house, such as the stamp duty waiver and building more affordable housing. Ultimately we would like to see a decrease or mild increase in house price among private developers."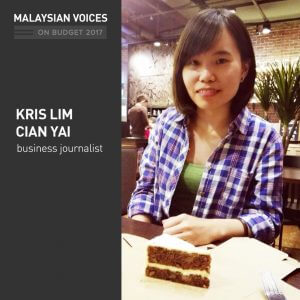 Afiqah also shared her concern regarding the reality of housing prices,
"I expect the government to buck up and do better regarding first time home buyers, the stamp duty exemption is limited to houses of RM 300k only. But in reality living in the city, the average house prices are above RM300k. The government should be more proactive and serious regarding first time home buyers especially those in the middle income group ( M40) who do not qualify for Rumah PR1MA and will have to purchase houses at the current market rate with home prices starting between RM400k- 500k"
Support For Women
Budget 2017 also set aside some allocations specifically for women, such as tax relief for breastfeeding equipment and free mammograms. But the precondition of being 35 years old and above in order to be eligible for the free HPV vaccines was disappointing for some,
"Why is the HPV vaccine only free for women over 35? In order for the vaccine to be fully effective, it should be administered at regular dosages before a woman is sexually active, therefore, it should be given to girls from the age of 16 onwards."
After all is said and done, 2017 is only about a month away. Do you have any comments or thoughts on the Budget 2017? Do share it with us in the comment box below.
See also: Budget 2017: What do the experts say?
Save
Save