With the rise of financial fraud in Malaysia, safeguarding clients from scams is a priority. Standard Chartered Bank has responded by enhancing its digital banking security features which will take effect on 25 June 2023. To prevent SMS scams, these include replacing SMS one-time passwords (OTPs) with the SC Mobile Key as the bank's preferred transaction authorisation method and introducing a kill switch feature to enable clients to self-deactivate the digital banking account access if they suspect that they may have fallen prey to a scam.
To prevent SMS-OTP scams, Standard Chartered highlighted that SMS OTPs would be phased out, and all customers must verify all their online banking transactions (including FPX) via the bank's virtual security token, SC Mobile Key. The SC Mobile Key – which is housed within the SC Mobile app – will be the only accepted method to authorise any digital banking transactions moving forward.
SC Mobile Key can only be activated via the SC Mobile app on one mobile device for security. Once activated, there will be a 12-hour cooling-off period before you can access your digital banking account and services.
The SC Mobile app can only run-on phones with a minimum operating system (OS) of Android 9.0 and iOS 13 (64-bit) as one of the main vulnerabilities in outdated operating systems is the lack of security updates and patches. Additionally, Standard Chartered has also discontinued online and mobile banking registration using debit or credit card-related information. Clients need to be verified by the bank's Client Contact Centre to register for or reset passwords for SC Online or Mobile Banking in the bid to deter false registrations using the information of genuine customers who were scammed to reveal their personal banking information.
A fourth security measure that the bank will also be rolling out is the kill switch feature, which allows clients to self-block access to their digital banking account immediately if they suspect their account or banking details have been compromised. The kill switch can be activated via interactive voice response (IVR) by contacting Standard Chartered's Client Care Centre.
Finally, Standard Chartered is introducing a 24-hour cooling-off period to update clients' primary mobile numbers with the bank via Standard Chartered's online or mobile banking services (note that this is different from the 12-hour cooling period implemented when you activate your SC Mobile Key). Aimed at combating digital banking fraud, the bank said that while the enhancements can be perceived as challenging by some, customers could expect minimal to no disruptions to their banking experience.
The enforcement of these safeguards – which is in line with the directives issued by Bank Negara Malaysia (BNM) in 2022 – is essentially proof of Standard Chartered's commitment to Malaysians in combating fraud and enhancing its customers' banking experience. Through these efforts, the bank also hopes to live up to its name as one of the top three banks in Malaysia, as ranked by Forbes in its latest World's Best Bank survey.
Read more about Standard Chartered Bank Must-Know Digital Banking Updates, here.
If you're looking for a reliable and secure banking partner, consider signing up for a Standard Chartered credit card through CompareHero. Stand a chance to win a GUARANTEED gift of RM600 Touch 'n Go eWallet Credit or RM600 Klook e-Gift Cards from now till 20 June 2023.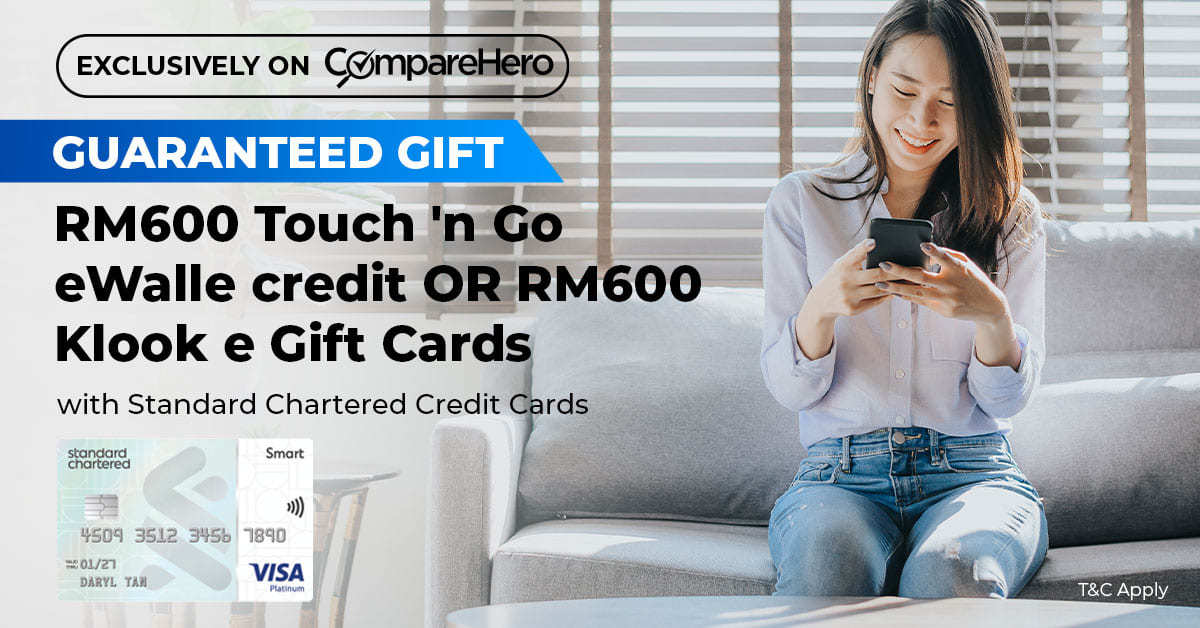 Source: Standard Chartered