Flying overseas or domestically can be more fruitful if you know how to utilise your air miles and harness the most value from your redemptions. After covering AirAsia BIG Points, we want to show you a similar trick to optimise your Enrich Miles, and some tips to up your game when redeeming free flight tickets.
What is Enrich Miles?
In short, Enrich Miles is a loyalty program introduced by Malaysia Airlines to reward its customers. Once you have earned a point (Mile) from your purchases at Malaysia Airlines or selected merchants, you have many redemption options available to you. Redemption options include flights on Malaysia Airlines, Oneworld member airline operators such as Emirates Airlines and Enrich partner airlines. You can even redeem Enrich vouchers for excess baggage payment or enjoy a thrilling flight simulation as experienced by Malaysia Airlines pilots in training.
Interestingly, there are four tiers in Enrich Miles membership program: Platinum, Gold, Silver, and Blue. Let's take a closer look.
Enrich Miles Membership Status
The best ways to earn Enrich Miles
Earn Enrich Miles From Partner Airlines
The good thing about Malaysia Airlines' loyalty program is, you can earn Enrich Miles by spending with several airlines within the Oneworld Member Airlines such as British Airway and American Airlines. Oneworld Member Airlines is an integrated membership system to allows members to collect preferred air miles at any of the member airlines.
Here are the airlines under Malaysia Airlines' Oneworld Member Airlines:

Find out the full details on the Enrich Miles you can earn by spending on these airline companies here.
Hotels & Accommodation
Since you are travelling overseas anyway, you can earn extra Enrich Miles by staying at any of these selected hotels or make a booking from these accommodation websites. Remember to give your Enrich membership number to these hotel operators upon reservation to earn your Enrich Miles.
Top Ten Hotels To Earn Enrich Miles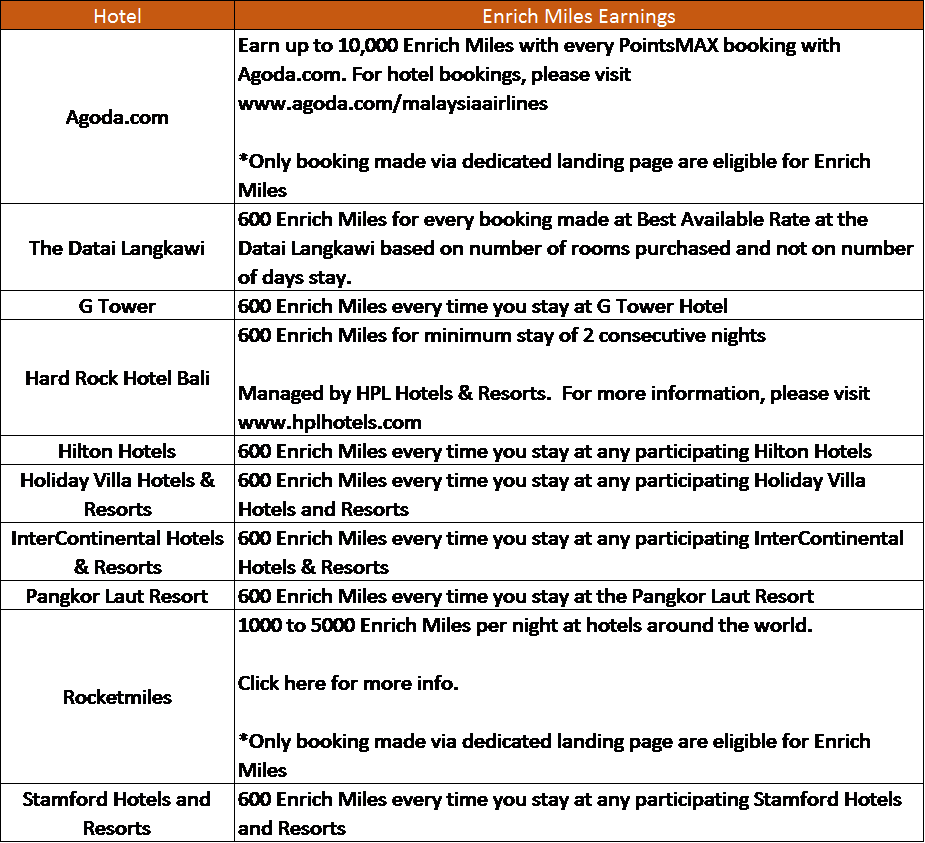 Fill Up Petrol At Petron Stations
If you haven't refilled petrol at Petron before, you might want to start doing it now because you can redeem 100 Enrich Miles with every 400 Petron Miles Points you earn with the Petron member card. Most importantly, applying for a Petron membership is free!
Check this link for more information on earning Enrich Miles.
Best Credit Cards To Earn Enrich Miles: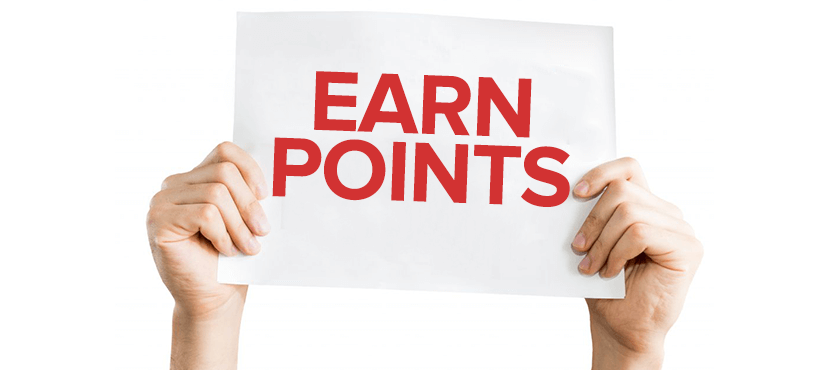 1. CIMB Enrich Platinum
Earn Bonus Miles with this card and redeem one Enrich Mile with every Bonus Mile you have. If you buy your flight tickets using this card, you will get FREE travel insurance coverage up to RM1 million. This zero-annual fee card also offers users 2 times access to Malaysia Airlines Golden Lounges.
Find out more here!
2. Citi Clear Card
This Citibank credit card is lovely for those who crave shopping and dining because you can redeem Enrich Miles with the Rewards Points you earn using the card. Most importantly, the Rewards Points you collect do not expire. In addition, you can get exclusive deals and promotions at Citibank's partnered merchants too!
Click here to find out more.
3. Maybank Credit Cards
Most of Maybank's credit cards users are automatically enrolled in its loyalty program called Treat Points and it offers a wide range of gifts and privileges for redemptions including Enrich Miles. If you would like to enjoy the flexibility and earn Enrich Miles faster through your shopping and bills payment, check out the best Maybank Credit Card that suits your need here.
4. Alliance Bank Credit Cards
Similar to Maybank, Alliance Bank's reward program, Timeless Bonus Points allows its customers to earn points from their bill payments, shopping, local and overseas expenses. With a wide range of redemption choices, you can choose to redeem Enrich Miles with the Timeless Bonus Points accumulated over time. If you apply for an Alliance credit card with us now, you can get a FREE set of Condotti trolley bags too. (Note: Limited time offer.)
Optimise Your Enrich Miles By Choosing Flights For Redemption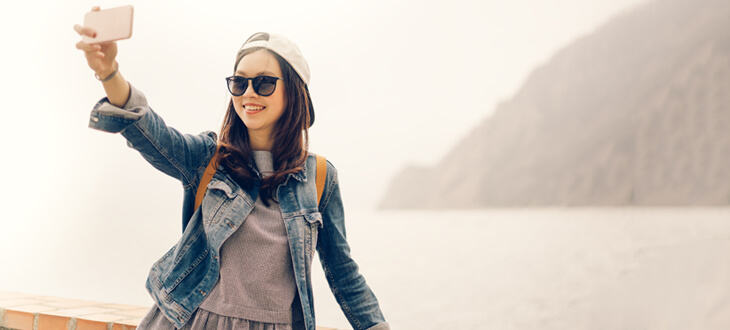 Redeeming a free flight can be a little tricky if you plan to optimise your Enrich Miles as it is hard to predict the Enrich Miles requirements for certain flights due to the ever-changing flight ticket prices.
However, CompareHero.my has undertaken in-depth research to determine how much it takes to redeem a flight at each of these locations:
Singapore,
Phnom Penh (Cambodia)
Taipei (Taiwan)
and London (UK)
In short, we will show you how much your Enrich Miles are worth for each of these redemptions.
The trick here is to divide the flight ticket price (excluding tax) by the total amount of Enrich Miles to get the value of your Enrich Miles.
Note: The value per Enrich Miles is denominated in one hundred to show a more meaningful number. To get this figure, you just have to divide your Enrich Miles by 100.
First Case Scenario: Economy Promo (1.1)

Economy promo is non-endorsable, non-transferable and non-refundable. Seats are limited and are subject to availability of the relevant booking class.
If you look at the samples taken from the website, you can see that 100 Enrich Miles has the highest worth of RM4.99 if you decided to redeem a flight to London, UK.
Second Scenario: Economy Smart (1.2)

Economy Smart allows customers a certain flexibility to change dates, information and choose seats for free. Based on the comparison table above (1.2), your Enrich Miles worth the most if you redeem a return flight to London, UK as well. However, it is not a bad deal to get a return flight to either Phnom Penh or Singapore as well.
Third Scenario: Economy Flex (1.3)
Economy flex is similar to Economy Smart, except that it has no restrictions in terms of continents. Hence, customers can change their dates at their preference. When it comes to comparison, you can get the most value by redeeming a return flight of Economy Flex to London, the UK compared to the rest.
See also: Best Ways to Utilise Your AirAsia BIG Points
Conclusion: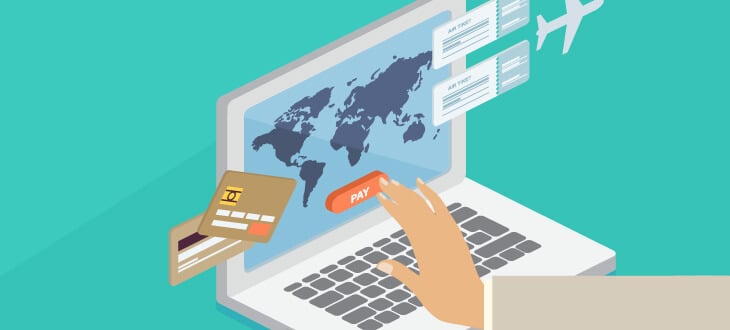 When it comes to redemption, though it makes sense to optimise your Enrich Miles value, you must also be rational with your Enrich Miles earnings as the redemptions that offer the highest value require a huge amount of Enrich Miles as well. For example, you will need quite some time to earn enough Enrich Miles in order to redeem a return flight (Economy Flex) to London, UK.
Not forgetting that Enrich Miles are valid for the year in which they are earned, plus an additional 3 years, and will expire at the end of the month of the third year. For example, Enrich Miles credited to an account on 18th January 2017 will expire on 31st January 2020. In this case, it makes more sense for you to redeem a return flight to Phnom Penh or Singapore with enough Enrich Miles rather than London which may require a longer time to accumulate more Enrich Miles.
However, it does not mean it is impossible to score the biggest prize if you are a Platinum member or Gold member (as mentioned above). Else, you can just choose the best air miles credit cards to boost your Enrich Miles earnings and redeem a flight with the best value faster than everyone else.
5X 360' Rewards Points for Dining, Departmental Stores & Overseas spend
1X 360' Rewards Points for Other spend
ZERO Annual Fee, FREE for life