Many of you have your own preference on which card to use, however, we want you to consider the advantages of both cards so that you can reap the full benefits the next time you shop. Here are some of the pointers we think you should keep in mind when deciding to use either a debit card or a credit card.
See also: UnionPay – The Leading Global Payment Network
When To Use A Debit Card
When you've automated your finances and are on a budget
A debit card is ideal to keep within your budget as the limit is the amount of money you have in your savings account. It tends to sting more if you see your money getting immediately deducted as well. You can immediately track all your savings with a debit card too!
You hate keeping heavy coins and notes
A wallet thick with cash and coins can be a rather inconvenient item to have in your pocket, if you want to slim it down, a debit card is an ideal way. You have access to your cash, but you don't have to physically carry it around. Keep in mind that shops like the local kopitiam isn't going to accept your debit.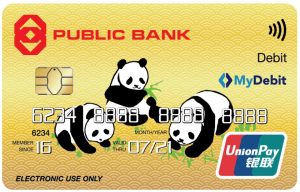 Want to apply for a debit card? We recommend you check out Public Bank UnionPay Lifestyle Debit Card, first of its kind in Malaysia, and enjoy a flat interest rate of 0.50% p.a. calculated daily on outstanding balances above RM3,000 and credited monthly!
On top of that, you can get RM 10 monthly cash rebate if you maintain a minimum of RM10,000 Month-to-Date Average Balance and no over-the-counter transaction for the month.
When To Use A Credit Card
If you're making large purchases or electronics purchases
Many credit cards offer 0% interest installment plan, up to a 36-month period, depending on the price and merchant. This is ideal for purchasing an expensive item as you can stretch your budget and reasonably afford the item.
If you're shopping online
The risk of fraud when you are shopping online is still high these days, hence it is better to use a credit card to protect yourself. A credit card will allow you to track transactions and request to file a fraud-case if you ever encounter one. Payment gateways such as iPay88 or PayPal makes it safer to pay with cards as well.
Some e-commerce sites such as Lazada also offer bank credit card-exclusive promos and discounts which you can leverage on to get more savings.
When you want to improve or build your credit score
Using a credit card and paying it off responsibly will help you to build a healthy credit score. A credit score is very important as banks use it as a way to determine your eligibility for financial products such as a house or car loan. Using the credit card responsibly can help you out in the long term because of credit scoring.
To enjoy cashback or earn rewards points
Most credit cards these days give you cashback or rebates when you shop at participating merchants or during the weekends. Not only that, but you will also be able to earn rewards points that can be redeemed for cash vouchers or other items. Keep in mind that terms and conditions always apply.
Read This: A Guide To Cashback Credit Card, How To Utilise Your Rewards Credit Cards