You've heard it, we've heard it (from you), and the banks have all heard it (from everyone): Card delivery always feel like it's taking forever! It's the reason we sometimes fail to meet promotion requirements and has left us wondering if our neighbour's dog has eaten the card. We can now all breathe a sigh of relieve, however, as you can now get it, right after you get approved!
For the first time, you can get your credit card right after you complete your application (and get approved as you complete it) for a Standard Chartered credit card.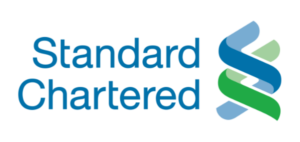 However, the instant credit card is currently available with the Standard Chartered Visa Platinum credit card only. Upon completing the application, you will receive the details to your digital credit card - not the physical card: You will get your card number, the printed-name, the expiry date, and the CVV number. The true physical card, however, will still require the good ol' mail-in to your address.
But before you ask "What good is that, then?!" The digital credit card details you receive from the application is actually sufficient for a lot of things! You can already use it to make purchases online such as shopping on Lazada or Shopee, or even reloading your e-wallet (don't we all do this anyway?). As long as you provide all the relevant information given, you will be able to make purchases immediately.
Important Credit Card Details
You may not have your physical card yet, but with the card number, expiry date, and the CVV number, you can already make purchases online!
How to Get Your Card Instantly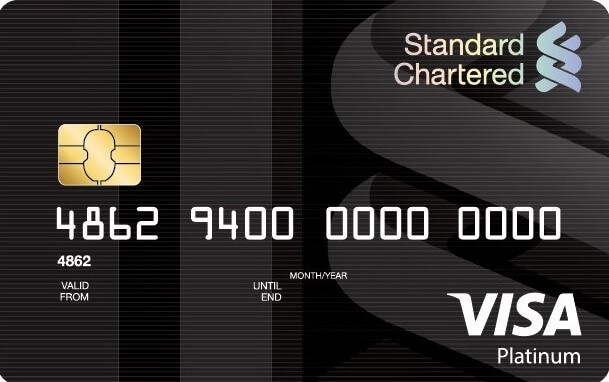 With a stronger push for digitalization, as with other banks, Standard Chartered now has a direct and fully-online application process. This would mean that you, as the consumer, will not need to bother with paper forms, scanned copies of your documents, and taking a queue number at the nearest bank branch (phew, no more waiting). You can apply for a Standard Chartered credit card at the very comfort of your own chair - that includes getting your digital credit card instantly!
Here's how the credit card application process works, in 7 steps:
Provide your basic information here, such as your full name, phone number, IC number, and birthdate.
Don't forget to review all the terms & conditions before clicking the agreement!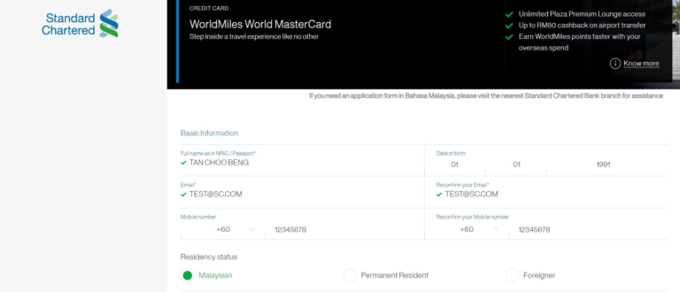 Fill in your other personal details, such as your address, marital status, gender, and education.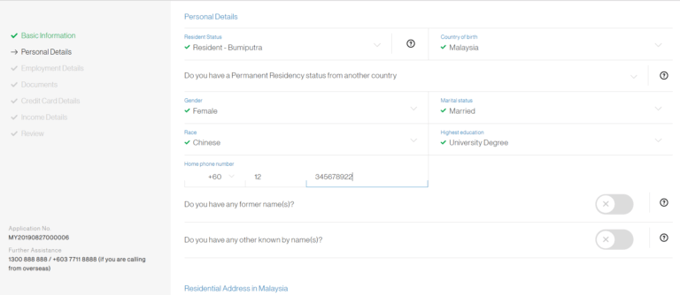 Details about your place of employment, such as the company name, address, your position, as well as your working tenure.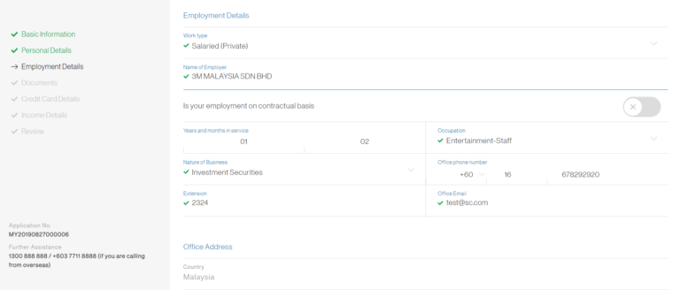 You can submit copies of your IC (front & back) here, including your payslips. You can also opt to send it in via email within the next 3 days, but you will not be eligible for the quick approval and instant credit card.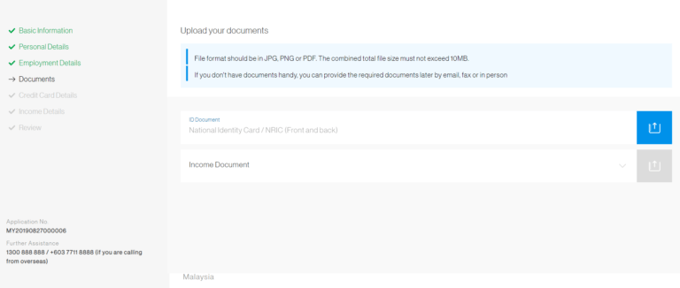 Details on how much you earn per annum, as well as your total monthly financial commitment.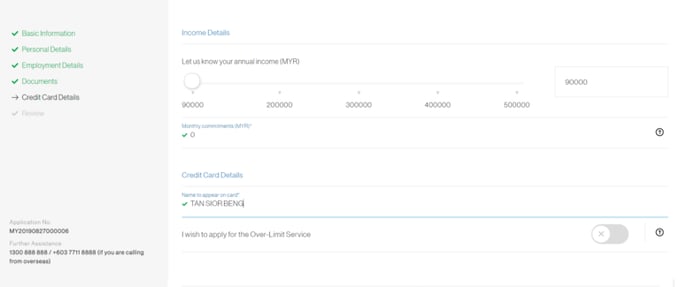 The name you want to be printed on your credit card and whether you want to apply for an "Over-Limit" service.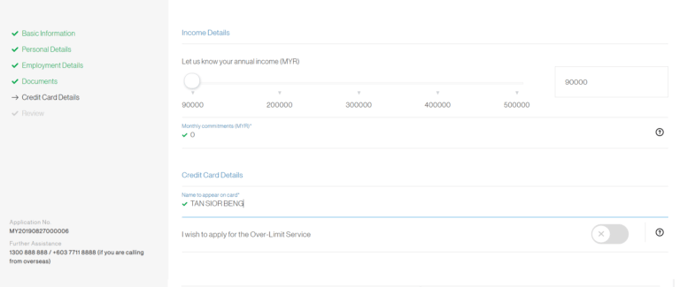 You can review all the information you have provided to the bank at this stage, and you will be given a reference number should you need support. An update on your application status will also be sent to you within 30 minutes (and up to a day).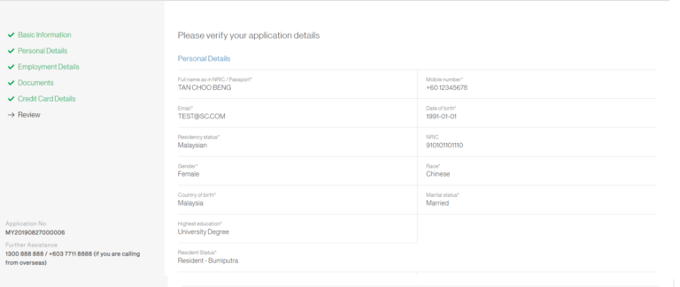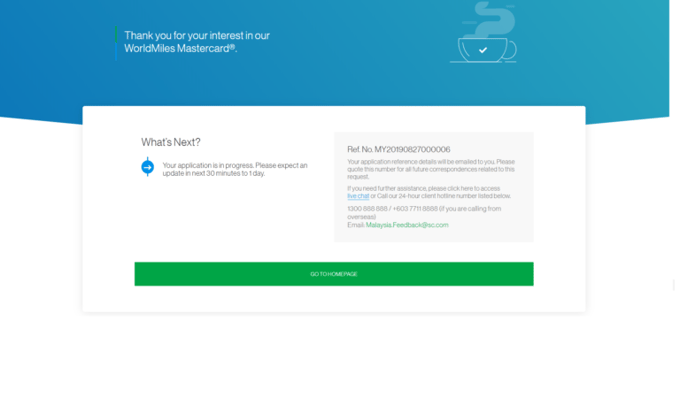 After you've completed your credit card application process, you will receive an update from Standard Chartered via an SMS. If you've been approved, the message will read:
RM0.00 StanChart: Congratulations! Your
credit card application has been approved.
Logon to https://www.sc.com/my/ or SC
Mobile to activate your digital card now.
All that's left to do is to activate your digital card. There are two ways to do it:
Online Banking
Click on "Online Banking Login"
Select "Register with Temp ID & SMS PIN"
You will be sent a temporary ID via email and temporary PIN via SMS to login.
Mobile App
Download the Standard Chartered app on the Play Store (Android) or the App Store (iOS)
Tap on "Register here"
Tap on "Register with Temp ID & SMS PIN"
You will be sent a temporary ID via email and temporary PIN via SMS to login.
Once you're in the website or on the mobile app, select "Activate Digital Card"
There will be a pop-up "Thank You" message for activate your digital credit card.
Get your instant CVV number on your digitally activated credit card by selecting "Get Instant CVV".
Step 4: Credit Card Information
Your credit card information will be displayed in full to you, including your credit card number, name on card, expiry date, and your CVV.
You've successfully activated your digital Standard Chartered credit card. You can immediately use it to make purchases online or reload your favourite ewallet – congratulations!
What a time we live in!
The next thing for you to do is to check out our Standard Chartered credit cards promotion of the month and then apply for a credit card (if you're interested, of course).

Apply for a Standard Chartered Credit Card


Credit Card Promotions