How to make money on TikTok? With the current TikTok trend in 2020, TikTok superstars are earning good money from the app. Read on to learn how they make money on TikTok, and how much they can earn on TikTok.
---
Unless you've been living a provincial life, you'd probably have come across countless videos of people dancing/lip-syncing/teaching/pranking/literally doing anything on TikTok. These videos get reposted everywhere, so you'd probably have seen them shared on Facebook, Twitter, Instagram, and in every nook and corner of the internet.
But as much as you may (or may not) like the app, did you know that there are teens using TikTok and earning up to thousands per video? Considering that the average monthly salary of a Malaysian CEO is about RM30,000, suddenly filming ourselves prancing around doesn't seem like a bad idea.
So, can you make money on TikTok? Can you earn money from TikTok? Can you do that even if you're not a teen? Or if your hair isn't one of the colours of the rainbow?
Before we get into how people make money from TikTok, let's first address the very basic of all: what on earth is TikTok?!
What is TikTok? A guide to TikTok for anyone born before 1995
First off, no, it has nothing to do with Ke$ha's Tik Tok although you could say that they both won't make you wake up in the morning feeling like P. Diddy.
In essence, TikTok is a highly, highly, highly addictive social app that lets you make and share short videos of up to 60 seconds. But unlike Instagram stories or Snapchat, these videos are permanent (unless deleted), and come with all sorts of accompanying songs/audio clips and incredibly creative video and audio effects.
There is no option to share text posts, photos, or any other stuff you get with other platforms. This means that TikTok users must completely rely on their ability to create fun, interesting, entertaining, and engaging videos in order to engage with their fans.
A quick look at its history will tell you that it's actually created by a Chinese company, called ByteDance. (Psst… This also explains why US regulators have raised a lot of concern over the app in the past!)
Anyway, it launched in China under the name 'Douyin' in 2016, before being relaunched in the US in 2017. Both versions are pretty different, as Douyin follows the censorship rules in China and has some added features that the rest of the world has yet to access.
In 2018, the app combined with Musical.ly, a lip-syncing app which allowed users to record videos of themselves using existing audio clips, ranging from hit singles like Justin Bieber's 'Yummy' to, umm, 'dank-ified' songs like… 'Spongebob Versi Burung Gagak'.
How much can you earn on TikTok?
It's hard to gauge these earnings as there isn't a set rule. However, if you take a look at how much influencers charge for social media postings on Facebook, Instagram, Snapchat, and all, we're guessing the figures wouldn't run too far. Back in 2017, we found out that these influencers would earn about RM5,000 per post/video. Chances are, we could be looking at the same numbers with TikTok today, if not more or less.
If we look at it on a global scale, the numbers are waaaay bigger. According to The Guardian, marketeers are optimistic that the most popular TikTokers can charge close to USD200,000 (RM855,200.00) per post if they collaborate with other brands. They added that researchers also believe that some influencers may be able to charge nearly USD1 million (RM4,276,000.00) per post in the coming year!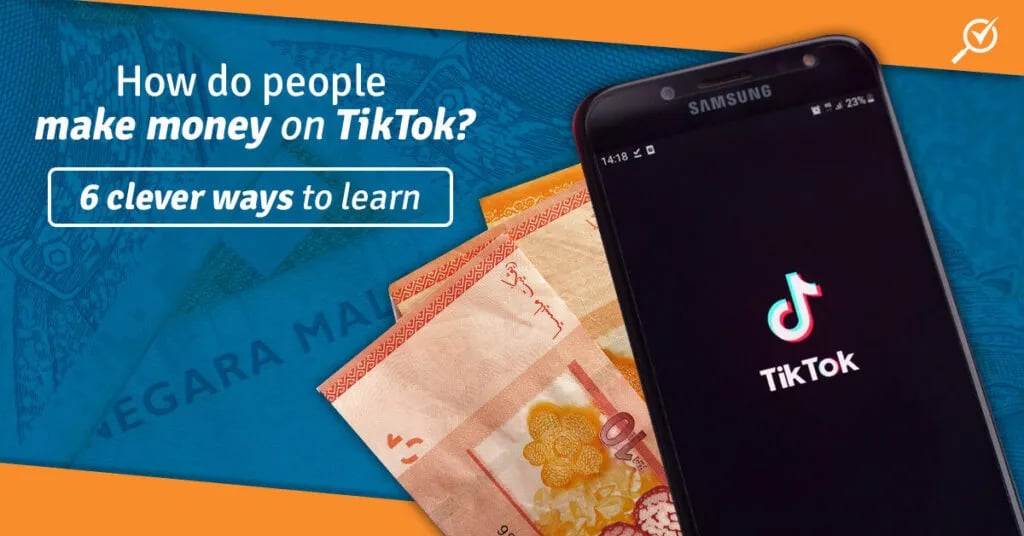 That's as much as a decent Tropicana PJ bungalow costs! (Image source: Tech Realtors on iproperty.com)
To be honest, it's a little hard to believe anyone could earn that kind of money from a single TikTok video… but who knows? We'll be watching closely. But for now, that same article from The Guardian tells us that Loren Gray (@lorengray on TikTok), a 17-year-old singer and TikTok superstar with 44.7million followers, makes an estimated USD200,000 per post. Adding to that, Byte (TikTok's rival and Vine 2.0), is said to be offering creators USD250,000 for videos!
Before we fly too far into the clouds, let's reel ourselves back to reality. Such numbers are only fit for TikTok royalty with more followers than the entire population of Malaysia… so maybe keep your expectations *very* low if you're just starting out. Oh, and if you do make a lot of money, don't forget to pay your taxes to LHDN - they'll be watching you, too. ;-)
Read also: Social Influencers: How Do They Make Money from YouTube, Facebook, and Instagram
6 ways to make money on TikTok
If you thought people made money on TikTok by being famous, well, you wouldn't be wrong. Fame would obviously help anyone make money, regardless of platform. But there are other ways to make money on TikTok, and we'll show you how.
Here are 6 ways to make money on TikTok. Let's start with the easiest and the most obvious of all…
1. Direct promotions
This is easily the most basic form of advertising. Got something to sell? Run your own t-shirt company? Run a chiro business? Run a farm? Whatever you're selling, you can promote it on TikTok with interesting, engaging videos about your business.
During our research, we came across Mydin's account (@mydinmalaysia on TikTok) - we honestly gotta say - they deserve the applause:
Not only did this particular video capitalise on a popular TikTok trend (Wipe It Down challenge)... it even features the supermarket chain's owner, Datuk Wira Dr. Hj. Ameer Ali bin Mydin, promoting their potatoes and cabbages on sale. To the everyday consumer, videos like these are incredibly fun and refreshing to watch.
The best part? It's not a once-off thing - he's in ALL of Mydin's TikTok videos. While you may think that this won't necessarily convert into sales, this strategy actually helps the brand stay relevant to users and reach out to new audiences. Oh, and +1000 points for capturing hearts.
Another example of using TikTok as a direct promotion:

Apart from teaching his audience about chiro stuff, TikTok user @drbrian_chiropractor also has a link to his clinic for people to set up appointments.
You can also use the platform to share helpful information in your area of expertise. This positions you as an expert, and helps you reach out to people who may be in need of your help.
2. TikTok brand deals and sponsorships
Here's another basic and honestly, ancient (in digital years) form of making money on social media. If you have a large following, this means you've got eyeballs. And who else wants eyeballs? Brands. Big brands. Big brands with money to spend, and nowhere to spend it.
The great thing about TikTok is that it's relatively new and it's gaining incredible momentum. Not every celebrity or Instagram-famous influencer is on the platform, and therein lies a great opportunity for brand sponsorships.
"As we are doing more and more TikTok campaigns with our clients, most projects have a creator component where we're looking for creators to partner with." - Evan Horowitz, CEO of Movers + Shakers (social media agency) to Refinery 29
But then comes another question - how to get sponsored on TikTok? Well, before you do anything, you should first grow your followers and own a niche. Why do people follow you on TikTok? Is it because of your cool trickshot videos? Photography tip videos? Korean language tip videos?
Whatever it is, realise your niche and narrow down a sponsor from that category. Just remember that brands are always looking for good ROI, so ensure you have a healthy follower size and that you can replicate your successes for their sponsored videos.
And remember, if you're getting sponsored, you need to make sure that you pull your weight. Don't be gettin' that sweet paycheck for a video, only to get 100 likes and 30 comments. It's a business, not a charity!
Of course, there are ways to hike up your numbers - like using a TikTok bot - but that's super unethical and we'd highly discourage you to do that.
3. Affiliate marketing (but in a pretty messy way… for now)
On our previous note on sponsorships, you can also try using TikTok for your affiliate marketing efforts. If you're not sure what that means, well, it's basically a 'performance-based marketing strategy' where businesses would reward you for bringing in traffic.
And in English, it basically refers to commission-based marketing. Let's say you work with a new shopping site called Lozodo. Lozodo is obviously new and needs traffic. Lozodo sees that you have a huge social media following. Lozodo gives you a link to their site, and asks you to share it with your audience. You then share it with your audience, and 1,000 of them actually click that link. Lozodo gets that traffic coming in, and rewards you for each visitor that you bring in. The end!
So, back to affiliate marketing on TikTok. While there isn't an existing TikTok affiliate program at the moment, we hear that TikTok is exploring the option of adding links to videos. You can see how easy it would be to get your users to click on the link right as they watch your video, but until then, you can consider doing it the old school, messy way of getting people to click on the link in your bio.
You can also explore the option of sharing a special promo code in your video. Taking Lozodo as an example, you can get Lozodo to create a special code just for your audience, and get rewarded for each time the code gets redeemed on Lozodo's site.
4. TikTok consulting/account managing
If you thought TikTok sponsorship deals were the goal, well you're wrong. Those who have a large following and who are actively running deals know where the real money's at: in TikTok consulting.
Brands and celebrities want in on this, but let's get real - not everyone (read: born before 1995) knows how to use the platform let alone strategise content around it. If you're a creator yourself and have a strong TikTok following, you're probably one who really understands the platform, its functions, the algorithms, the audience's appetite for content, and TikTok content creation in its entirety. This is a skill that brands and celebrities are willing to pay big bucks for.
While we don't have a Malaysian example (yet), we found out that Sean Young, a 26-year-old TikTok star with a million followers, makes USD10,000 a month just by being on TikTok four hours a day. Yep, he told Vox.com that about 10% of what he makes comes from his personal account, although he would like to get it to 50%. He actually makes a lot of money through running high profile accounts, like America's Funniest Home Videos.
"December and this month are the first months I've made over $10,000. If everything goes how it's going right now, I'll make close to $150,000 or $200,000 [a year] hopefully." - Sean to Vox.com in a March 2020 interview
If you've got what it takes, you can consider venturing down this path by running accounts for brands instead. Just be aware that the responsibility is huge, and expectations are high… so if you don't know something as basic as TikTok's 'first five video' rule, you maaay want to sharpen your skills first.
5. TikTok brokering
Wait - what - huh? How do you broker deals on TikTok?!
Well... it's actually just brand sponsorship, but with you as the middle person. Like we said, brands are looking for creators, but they may not know where to find them. And it's not just about finding any influencer, it's also about finding the right influencer.
Unlike Instagram audiences who follow personalities, TikTok audiences follow users according to the type of content they produce. Instagrammers may post up content that just looks pretty no matter what they are - food, fashion, pets, selfies - but TikTok audiences would follow users according to their niches.
It's odd to follow a TikTok user who only posts up easy cooking videos, only to find him posting about the latest Samsung phone the next day. As a TikTok broker, it's your job to recommend the right TikTok star to whoever's looking for one, and to ensure that the deal works in the favour of both parties.
6. TikTok live-streaming for donations
Okay, we've got to level with you on this one. We haven't tried this ourselves as this writer's TikTok account doesn't seem to have the function for some reason, so we're sharing this based on some of the information we've found online.
We learned from social media guru Elise Darma and tech site TechJunkie that TikTok creators can actually get real money when they go Live on the platform. It's kinda like having your audience tip you.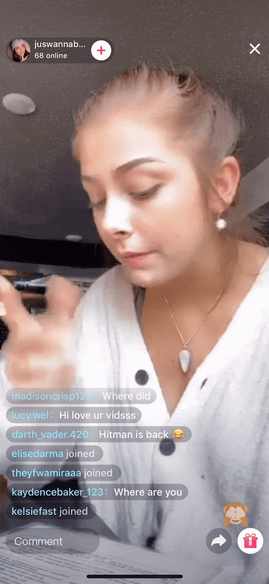 GIF from elisedarma.com
So here's how it works. Users can go to their TikTok profile and buy 'Coins'. From what we saw, they don't really cost that much:
Image from TechJunkie.com
So… what are these TikTok coins used for? With these TikTok coins, users can use them to buy TikTok live gifts.
When you as a creator go Live on TikTok, other users who watch your live stream can use their coins to buy you gifts as a way of tipping, or to say thanks for creating your content. From there, these gifts will transform into diamonds which you can cash out using PayPal.
Elise adds that the Chinese version of TikTok (Douyin) has an incredible e-commerce feature which allows you, the livestreamer, to add a shopping cart to the item that you're selling.
"So it's kinda like QVC or the shopping channel. You can go Live, hold an auction, and people can buy your product while you're Live through the shopping cart feature." - Elise Darma on her blog, elisedarma.com
So... how to get famous on TikTok?
Well, if there's one big takeaway from everything that we've written so far, is that you have to have a following before you even think about getting a cent. So that begs the question - how do you get famous on TikTok?
The great thing about TikTok is its algorithm. This is also one of the reasons why TikTok is, in some ways, seen to be more powerful than Instagram itself.
See, unlike Facebook or Instagram stories, TikTok videos are similar to YouTube. You can publish a video today, but the algorithm may pick it up weeks or even months after it goes live. The platform will feature it into the feed of people who may like it, and in that way, it can turn an absolute nobody into a viral sensation overnight. (Apparently, it's pretty common to go to sleep with 30 followers or so, and to wake up to 10,000?)
We'd have to write a whole new article to really go in depth about how to get famous on TikTok, but here are some of the tips writer Tom Haynes of TheTab.co.uk learned when he asked the biggest TikTokers on how to get famous:
Post videos every day, even if they don't reach many people.
Pay attention to trends and capitalise on them.
Be unique and show people something they haven't seen before.
Use the tools the app gives you, especially if they're recent additions.
Make sure your videos have to be rewatchable and shareable.
You have to take risks – don't be afraid to get weird.
So… to TikTok or not to TikTok?
TikTok gets a lot of hate because a lot of the videos that get posted are extremely cringey, but in all fairness, there are thousands of other really good videos on the app. And not all of them have to be entertaining too - at the end of the day, consumers are still hungry for information, so you can always do more than just a Renegade dance.
On a larger scale of things, the app itself is constantly evolving and incorporating more ways for users to engage… and from the lessons we've learned in the past, it's never too early to learn how things work. If you can turn this into cash, it would be smart to hone your TikTok skills right now.