Many Malaysians have lost their jobs or gone into unemployment since the Movement Control Order (MCO) came into force. Learn how three Malaysians bounced back from retrenchment amid the Conditional Movement Control Order (CMCO) or PKPB.
The COVID-19 pandemic has adversely impacted our country's economy, with the slowdown in economic activity a sign of a looming recession. Some staggering figures over the last few months also reveal the scale of the COVID-19 pandemic on the country's job market.
For starters, Malaysia's unemployment rate rose by 3.9% in March, with the number of unemployed persons increasing by 17.1% year on year (yoy) from 521,300 to 601,500. The increase in March is a reflection of the negative impact of the Movement Control Order (MCO) imposed from March 18 to April 28 to contain the COVID-19 outbreak, according to the Department of Statistics Malaysia (DOSM).
Additionally, a survey conducted by DOSM revealed that almost 50% of self-employed Malaysians are out of work because of the MCO. It also showed that the agriculture and services sectors recorded the highest percentage of job losses as compared to other sectors, with 21.9% and 15%, respectively.
All in all, the labour industry has been severely affected by the pandemic. Bank Negara Malaysia estimates that the unemployment rate will shoot up to 4% this year from 3.3% in 2019. For context, the highest unemployment rate for Malaysia was recorded at 7.4% in 1986.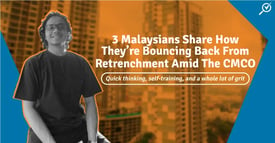 Source: DOSM
The crippling effects of the COVID-19 pandemic hit closer to home for three Malaysians, all of whom were retrenched from their respective jobs due to the virus. In this article, CompareHero.my spoke to them to learn how they coped, and how they're finding their way back up again.
The Ex-Teacher Who Took Up Over Three Side Jobs

Photo courtesy of Shirley, used with permission
For Shirley Leow (pseudonym), losing her job of working with special needs children was a bittersweet occasion. Though it posed a serious financial conundrum for the 25-year-old, it also provided her with a slight sense of relief because she was able to leave a low-paying job with a working culture that clashed with her own values.
"When I realized I would no longer have a few months' salary, I started panicking, especially because I have to support two households," she said.
Leow, who has been living independently for over five years now, is currently earning a couple of hundreds by sewing PPEs for a social enterprise. She also earns some extra income by freelancing as a writer and editor.
She admits that though she's currently struggling to make ends meet, her current situation is still better compared to her family's earlier days during the recession in the 90s. With all their jobs combined, she says her middle-class family still manages to get by.
Her motivation to push forward and juggle multiple jobs at once, Leow said, comes from the harsh reality of just needing to get by. "I'll remind myself constantly that I'm going to have to suffer for a bit in the next few months," she said.
Though Leow has secured a new job, there are uncertainties surrounding the position, as she won't be able to start work until the education sector reopens. "It's in education, so my new workplace won't be able to operate until the MCO ends," she said.
"And I heard that centres, like mine, are going through bankruptcy. I don't know if the centre that employed me is going through the same thing, so though I have a job lined up, I don't know if I'll still have a job after MCO," she shares.
Over the years, Leow has pretty much pulled herself up by her own bootstraps, from sewing her own clothes and batu seremban pockets to earn extra income, to cooking extra meals to sell with her mother. Leow and her family would do anything they can - big or small - to make ends meet.
"My advice to anyone out there who is in a similar situation, is to not be too fussy.

If you can't get a job in your own field, you can gain experience somewhere else. Every experience is a good experience, even if it is way out of your interest range." - Leow to CompareHero.my
The Airbnb Whiz Who Owns 21 Units

Umar posing inside one of his Airbnb units
When Umar Abdul Aziz, 26, joined a local online travel platform in November 2019, he had hopes of expanding his skills and knowledge in the travel and startup industries. But little did he know that a few months down the road, he'd end up without a job. It was only his second professional gig since graduating from college in 2017.
"When the virus hit, companies in the travel and hospitality industries got affected really badly. Since January, they (my employer) have been making zero sales and they are expecting to make zero sales for the next six months," he said. Almost all of Umar's colleagues are either on pay cut or taking an unpaid leave; his own supervisor was retrenched as well.
Though Umar said he was expecting to be retrenched because of the company's poor financial results, it still caught him by surprise. To prep himself for future opportunities, he has upskilled himself by taking online courses and increased his online presence on LinkedIn. "I don't tell them I'm looking for a job. I just put myself out there," he said.
Umar said he's currently not looking for new opportunities, and is instead choosing to focus on growing his side hustle, an Airbnb business in i-City Shah Alam.

Photos from one of Umar's Airbnb units
"I will give myself some time and focus on my side gig. I would like to see where those things can go," he said.
Today, Umar gets by with his Airbnb business, which was birthed out of a combined passion for the smart homes industry and his expertise in hospitality. Since its inception, his business has grown from one Airbnb unit to 21 units.
Though the MCO did hit Umar's business quite badly when it was first announced, his quick thinking of tapping into a demand vacuum for quarantine centers paid off. By changing his target market to quarantine center seekers, he was able to save his business. "I will say that we are lucky, and we've managed to survive because of that situation. I'm quite surprised it's doing okay, if not, we would need to shut it down because the overhead is quite high," he said.
To manage his finances, he keeps expenditures down and makes sure all his commitments are in order. He also applied for a credit card before being retrenched because he wanted to fully utilize his payslip, and sees it as a proper cushion to fall onto in case of any unforeseeable emergencies. If you're also on the lookout, it wouldn't hurt to check out some of the credit cards available to see which can help you in your current situation. Click here to view a list of available credit cards by CompareHero.my.
Related: Ultimate Guide On Using Credit Cards Responsibly
A big lesson he learned from being retrenched is to always be prepared for the worst.
"If you are working with the government, your job security is higher than in a private company. However, there's no such thing as complete job security, regardless of your experience, because at the end of the day, businesses still need to make money [in order to keep you employed]," he said.
The Marketer Who Just Never Gave Up

Photo courtesy of Soffian
Before getting retrenched, Soffian Abdul Manaf, 36, was part of the internal marketing team at a foreign business process outsourcing company with offices across the Southeast Asia region, including Malaysia. Though the company was already underperforming before the MCO and cutting costs, the COVID-19 pandemic accelerated his exit.
"They said they couldn't justify engaging only one person in Malaysia and I was made redundant. I was given a reasonable VSS package and within two hours, I was out of the office. It was quite brutal," said Soff, who is the sole breadwinner of a family of four, including two small children.
"It was a bit of a shock, I thought I was doing pretty reasonably and meeting all expectations," he shares. "There was panic as well because I have a family to take care of, and it was really just a slap to my ego. But I also felt a sense of relief because I could finally do things I wanted to do."
Immediately after being retrenched, Soff updated his LinkedIn profile, CV, and portfolio, and also signed up for freelance websites as well as networking sites to increase his visibility in the market.
His persistence on LinkedIn eventually paid off when a connection from his current employer approached him, and the rest, as they say, is history. "I was approached by my current company. We had a chat, then fireworks, chemistry and all that stuff... we saw eye to eye on a lot of my ideas and now we've got exciting times together to look forward to."
As a senior copywriter at his previous company, Soff got an upgrade at his new company, and now holds the position of a Digital Marketing Lead. Currently, he is looking to hire a pool of different talents to fill up his digital marketing team, with a focus on hiring people affected by COVID-19.
His advice to job seekers, especially in today's job market, is to be as versatile as you can. "It's really about adapting or dying. From my personal experience, I had to figure out what I wanted to do, and figure out where I was willing to compromise," he said.
"Whatever opportunities that were happening around me, I was constantly readjusting my strategies. I tweaked my CV and portfolio accordingly and tweaked my approach over a period of time," he said. Soff also took online courses and attended many webinars while he was unemployed.
"It's the perfect time to update your resume. Keep updating your portfolio and start building your network. Don't wait till you dah jatuh to only push forward." - Soffian to CompareHero.my
What To Do If You Get Retrenched From Your Job?
Are you one of the unfortunate few to lose a job because of COVID-19, and now you're not sure what to do next?
Losing your job can be an incredibly stressful and scary experience. It's easy for the panic to set in when you mull over the mounting monthly expenses and debt, and your dwindling bank balance.
Thinking about the serious personal, financial, and professional losses that come with unemployment can be daunting. But it's really important to stay cool and collected during this difficult time.
To help, here are five things you can do to deal with retrenchment in Malaysia:
1. Take a step back for clarity
Your retrenchment doesn't speak to your value as a person or a worker. Rather, it's a reflection of the state of your organization and the circumstances, such as COVID-19 or changes in structure, that they are in. There are a lot of reasons why organizations change or are forced to restructure, and most of it has nothing to do with your skills or you as a person.
2. Claim benefits from EIS
This benefit, managed by the Social Security Organization (SOCSO), aids Malaysians who are trying to get back on their feet after being retrenched. If you're released or forced to resign abruptly, you can claim a percentage of your wages back for a minimum of three months and maximum six.
3. Update your CV and referrals
Ensure your CV and LinkedIn page is up-to-date, and let recruiters know that you are on the lookout for new opportunities. Optimize your use of other social media platforms such as Facebook, Instagram, and Twitter because employers usually post job postings there as well. Examples of job pages include:
Pro tip: Connect with old colleagues and friends because recruiters are more likely to hire someone through recommendations instead of walk-in interviews.
4. Think about your next steps
Now is a good time to really think about what your next career move is going to be. Though it may seem intuitive to jump straight onto the next opportunity that comes your way, it's good to take a step back and really mull over your options. Start with a pros and cons list to help you reason things out.
5. Be optimistic and proactive
Losing a job is never easy, especially during a difficult time like the COVID-19 pandemic. But it won't help to be caught in too much negativity as well. So the best option is to stay positive and be hopeful that things would get better.
In the meantime, look out for side jobs, part-time gigs and freelance work to help cushion the blow of being retrenched. Jobs like freelancing, online tutoring, delivery jobs, dropshipping, small online businesses, among others, can help pay the bills and keep you busy.
Related: 8 Side Jobs to Earn Extra Income Amid CMCO
Are Companies Allowed To Retrench Workers During COVID-19?
The short answer is, yes. According to the Malaysian Ministry of Human Resources, the decision to retrench staff is the prerogative of the employer but they must comply with three requirements.
1. Genuine financial impact on the business. At the end of the day, all decisions whether it's cutting budgets or retrenching staff, must make financial sense.
2. Is retrenchment the only means left? Employers must exhaust other means before deciding to retrench employees. This could be reducing working hours, going on a hiring freeze, reducing overtime, cutting wages, or even laying off employees temporarily.
3. If the retrenchment of employees is unavoidable, employers should consider terminating foreign workers first (Foreign Worker First Out), then comply with Last in First Out" rule. But companies do not need to adhere to these principles if strong justification can be presented.
Out Of A Job And In Need Of Financial Support? Here's What You Can Do
To cushion the effects of the pandemic, the Malaysian government has introduced a list of measures for Malaysians affected by the outbreak. If you are one of the unfortunate many to be out of a job, check out these aids to see if you qualify:
1. Cash Aid
Get RM500 or RM600 one-off payments if you are an e-hailing driver or your job is one that relies on tourism such as taxi drivers, tourist bus drivers, tour guides etc.
Get RM1,000 or RM1,600 in cash for families whose monthly household income is RM8,000 and below. Household incomes of RM4,000 and below will get RM1,600 in cash aid and household income between RM4,001-RM8,000 will get a cash aid of RM1,000.
RM500 or RM800 in cash for individuals who are single Malaysians aged 21 and above, earning RM4,000 and below per month. Incomes of RM2,000 and below will get RM800 and those who make RM2,001-RM4,000 will get RM500.
2. Employee Provident Fund (EPF)
Withdraw up to RM500 every month from your EPF Account 2, starting 1 April 2020. All EPF contributors must be below 55 years old to be eligible.
3. Program Perumahan Rakyat (PPR)
Exemption of rental payment for six months. The aid is open to all Malaysians who are under the PPR scheme.
For full details, check this info packet from the government.
Other commercial aids include deferment for automatic payment and for loans and financing payments starting from 1 April 2020 for a period of six months for HSBC, Maybank, Hong Leong Bank, CIMB, and Citibank. Do check the financial institutions' respective websites for the full terms and conditions.
Personal loans also provide great help in emergency situations, but must be managed wisely. Besides paying loans on time, cutting expenditures to settle loans, and to check credit scores constantly, here are other tips on how to manage personal loans better. You can also consider browsing some of the personal loans available on CompareHero.my here.
Related: 4 Tips to Ace That Personal Loan
Keep Your Head Up, Don't Be Discouraged
What are the job prospects in 2020? Unfortunately, not so good. Although 2020 looks set to be a tough year for the job market industry, and unemployment rates are increasing, the economy is still finding its footing in this volatile market marred by unprecedented events and circumstances.
What goes down will eventually and surely go back up, the challenge is how long it takes to get there. Jobseekers, seasoned or fresh grads, don't be discouraged, continue to look for jobs, and fight the good fight - we just need to ride this situation out together. It's also promising to see various initiatives by both the government and private entities to help combat the financial crisis that we are facing in the country.
Now is the time to tighten our budget, and be open to any opportunities as much as we can. We can do this, Malaysians!