Between juggling work, kids and keeping the house clean, it can be an overwhelming experience for parents. Not to mention, spending long hours in the kitchen preparing wholesome meals for their families. Make it easy breezy with an air fryer!
Here's why air fryers are the perfect gift for busy parents.
1. It's the perfect gift because it's *FREE.
Before you scroll down, we'd love to share this amazing news! You can get a GUARANTEED Russell Taylors Air Fryer Large (3.8L) AF-24 worth RM700 when you successfully apply, activate and spend with an AEON Credit Card.
How 'bout that? You don't have to spend a penny for this gorgeous, sleek design air fryer! Sign up now, click here! Full promo deets down below.
2. Prepare healthier versions of comfort food.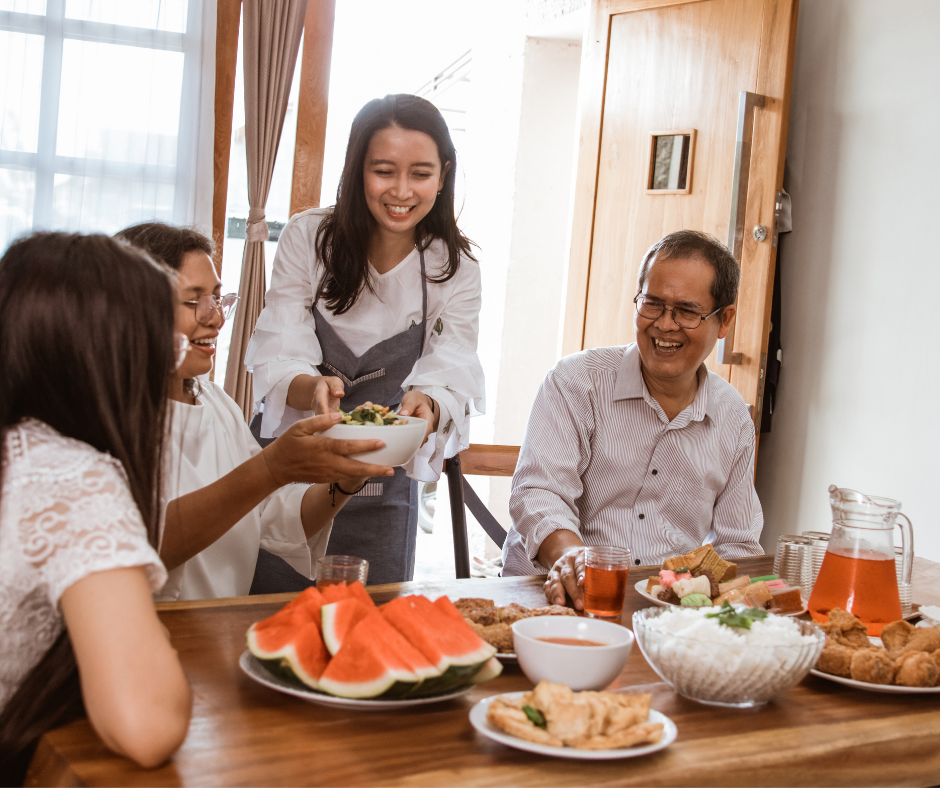 There are days when the kids are craving for their favourite fast food or frozen meals and parents would sometimes be reluctant to feed their kids unhealthy, greasy food. But with an air fryer, everyone can bite into delicious crispy nuggets, fries, burger and more without deep frying.
The Russell Taylors air fryer's latest Rapid Air Technology gives out a crispy fried texture using little or no oil. This eliminates lots of calories, fat, and cholesterol!
3. Air fryer allows for faster cooking.
Think of air fryers like a mini convection oven with fans to quickly circulate hot air around the food, only that it's much smaller than ovens with large cubic-foot capacities. Hence, allowing it to cook food even faster! Not to fret, although it works fast, it's pretty great at keeping food nice and crisp too. Thinking of cooking roast chicken for a family party but only have less than an hour to do so? No problem. It only takes about 20 - 25 minutes to cook with an air fryer!
4. Make a variety of scrumptious dishes.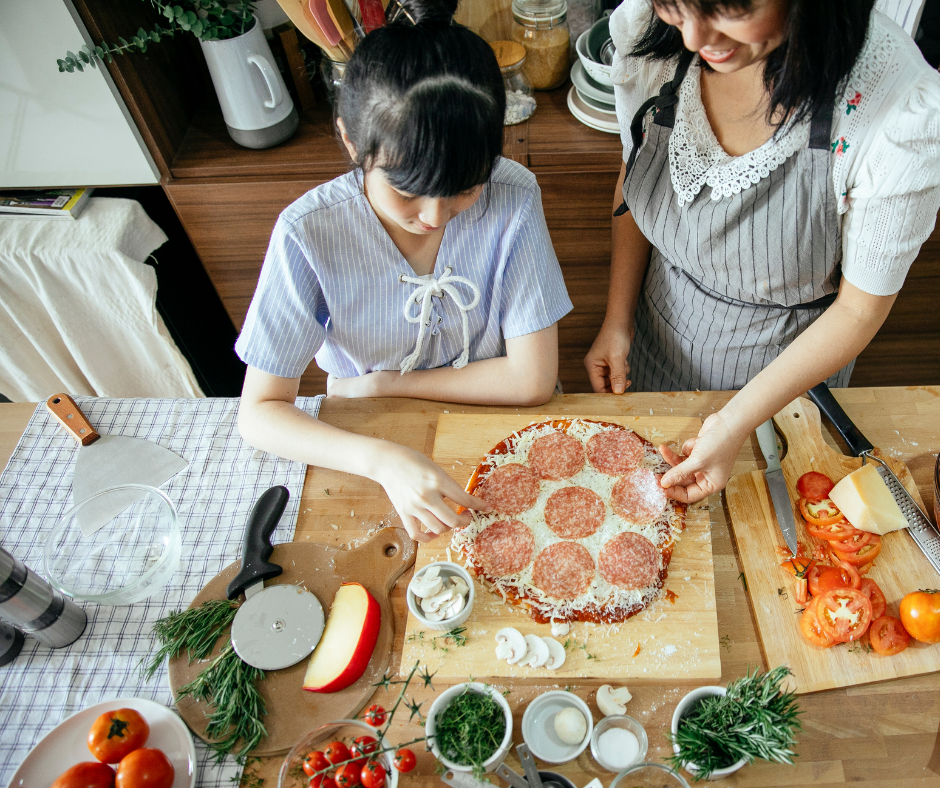 Time for parents to have fun in the kitchen! Put on that chef's hat without worrying about spending time washing dirty dishes because one can make a variety of dishes and cuisines with an air fryer. Whether it's main dishes such as chicken rendang or steam fish to desserts like brownies and cheesecake, all you need is an air fryer to make one!
Ready to cook with your air fryer? Just shop for ingredients at Aeon with your NEW Aeon Credit Card and enjoy:
Aeon Points
4X AEON Points on the 10th of every month at AEON Stores.
2X AEON Points everyday for every RM1 spent at AEON Stores.
Cashback
5% Cashback on the 20th of every month at AEON Stores.
5. It's super easy to clean.
Most air fryers come with a removable basket and tray that can be washed by hand or pop it right into the dishwasher! While for the exterior part, you don't really need too much. You can either leave as it is if it's not dirty or simply wipe it with a damp cloth to keep it shining on your counter. It's that easy-peasy!
6. Conveniently 'set and forget'.
Probably one of the most crucial reasons for every parent to own an air fryer - it's the 'set and forget' concept! Just set the timer according to the presets which are labelled on the surface of the air fryer, once you've set the timer, you'll have the freedom to go about your day! When the timer has gone off, it'll automatically turn off.
The Russell Taylors Air Fryer comes with an auto-shutoff feature that ensures added safety and security. You don't have to worry about food getting burnt or over-spilling from the pot! No more wishing for the ability to split yourself. You can attend to your kids or have a cheeky me-time while waiting for the food to cook!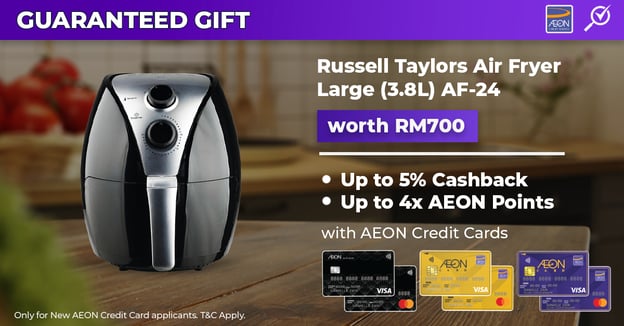 Want your very own air fryer? You can! Get a GUARANTEED Russell Taylors Air Fryer Large (3.8L) AF-24 worth RM700 when you successfully apply, activate and spend with an AEON Credit Card. Sign up now, click here!
Promotion Period
Sign-Up Period: 1 May 2022 - 31 May 2022
Spend Period: 60 days from the date of approval of the Eligible Credit Card issued by AEON Credit Service OR until 15 August 2022, whichever comes first
Redemption Period: 1 July 2022 – 31 October 2022
Promotion Eligibility
- You must be at least 21 years old, have a valid MyKad and have a residential address in Peninsular Malaysia.
- Only for New AEON Credit Card applicants.
Promotion Criteria
- You must activate and perform one (1) transaction of any amount within the Spend Period.
*Terms and conditions apply.