Just a decade ago, we are still running to bank branches and ATMs to complete our daily finance activities such as cheque deposit and fund transfer. Today, 73.1% of Malaysians are using internet banking and this prompted the banks to go one step further by introducing mobile banking apps.
CompareHero.my 2017 Mobile Banking Apps Awards
To date, 11 banks in Malaysia have their own mobile banking apps for its customers and they continue to bring new features and improvements in order to impress users like you and me. But just how happy are you with the mobile banking app you are using now? Features, layout, safety concerns and accessibility are important for a mobile banking app to serve a customer.
CompareHero.my has conducted its first Mobile Banking Apps Awards in Malaysia. Known as the CompareHero.my 2017 Mobile Banking Apps Awards, today we are happy to announce the winners.
CompareHero.my has reviewed all 11 mobile banking apps in Malaysia for the CompareHero.my 2017 Mobile Banking Apps Awards.
Read our review on each bank's app here:
Overall Maybank Mobile Banking App Review
Overall position: 2 / 11
Overall Score: 3.8/5
Score
Bank Apps
Layout
Functionality
Security
User-Friendliness
Final Ranking
Citibank MY
3.6
4.2
5
3.6
4.1
Maybank
4
3.8
4
3.5
3.8
CIMB Clicks
3.7
3.5
4
2.95
3.5
Standard Chartered Mobile Banking (Malaysia)
2.9
3
4
3.7
3.4
Hong Leong Connect
3.3
3.4
4
2.75
3.4
RHBNow
2.9
2.4
3
3.7
3
Am Online
2.9
2.4
3
2.7
3
HSBC Mobile Banking
2.8
2.6
3
3.2
2.9
OCBC Malaysia Mobile Banking
2.3
2.5
3
3.4
2.8
PB Engage
2
2.6
3
3.3
2.7
Bank Islam i-Info
1.8
1.8
1
3
1.9
Check out the summary below to know more about the app, read user reviews and our thoughts.
Maybank Mobile Banking App Screenshots: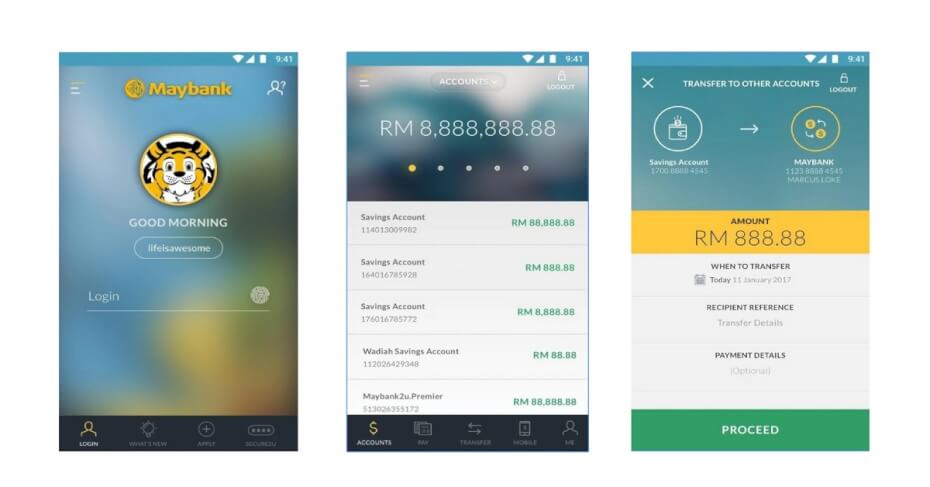 Overview of Features:
Combined account balances viewing
Open Transfer to your friends right on your mobile without having to add them as 'Favourites'
Mobile Transfer & Cardless ATM Withdrawal
Bill Payment
Prepaid Reload
Secure2u allows you to authorise web and mobile transactions conveniently with Secure Verification and Secure TAC. This new feature is set to replace SMS TAC
Add 'Favourites' for future transactions
Apply for M2U Premier current account
Apply for credit card with instant approval
CompareHero.my Review on Maybank Mobile Banking App
1. Layout/Design (Score: 4/5)
Improved interface and layout with its latest update
Nice concept that is relevant to Maybank's brand
2. Functionality (Score: 3.8/5)
Users are taken care of and can conduct most banking needs
Cardless ATM withdrawal is new and convenient
3. Security (Score: 4/5)
Provides biometric fingerprint login for users
SMS TAC is replaced with mobile TAC
4. User-Experience (Score: 3.5/5)
Smooth transition and easy navigation
Interface is simple yet engaging
Some users experienced slower navigation
User Reviews on Maybank Mobile Banking App
Boonwei Koh ★★★★
"All well. It can be better to get 5 stars in rating if it can show all the accounts that I have once logged in. Please improve. Thanks."
Chin ★★★★
"So far so good, but the app transitions animation is a bit laggy."
Hastha Chithiran ★★★
"A few problems to be addressed. 1) It (The app) only exit when you press the back button. However, when you press the home button, it returns to home screen without exiting the app. This means when one reopens the app, he/she is logged in; 2) Quick balance shows all of my account balances. However, this does not happen in Maybank2u option which only shows my Maybank2u account balance. I would like to see my multiple savings account balances in Maybank2u too."
Maybank Mobile Banking App Overall Remarks:
The Maybank app was updated in early 2017 and was a much-needed relaunch. The new tops the game with its sleek design and simple yet captivating concept. Font and choice of colours are relevant to Maybank's logo (black & yellow) without overkilling it.
Users can check all their account balances (savings, current, credit card, loans, fixed deposits) with just a swipe and other functions are easy to use too! However, we do hope the developers may introduce more functions in the future such as dashboard for cash flow records and mobile application for balance transfer (credit card) products. Also, Maybank may need to stabilise its app to optimise the user's experience as there have been a few instances of the app crashing.
Interestingly, Maybank is the only bank that responds to all the reviews on Android and iOS platforms to assist the users on their issues with the new app. Kudos to Maybank for being proactive!
Overall, we love it and certainly hope other banks can look up to this app for improvement and inspiration too.
Scoring Methodology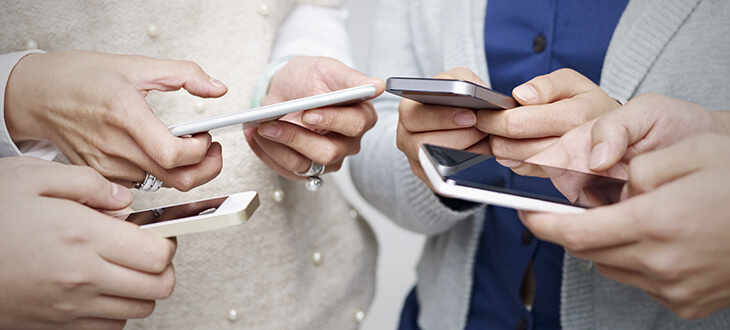 These apps were scored based on:
CompareHero.my aesthetical experts (for layout, functionality and security)
Objective list of what constitutes a 1,2,3,4 and 5 rating (for layout, functionality and security)
Writer's evaluation (for layout, functionality and security)
Apple and Android reviews (for user experience)
1. Layout and Design
A higher score of 4-5 meant the app had a simple yet effective design that added to its user's experience. The app's layout should also captivates user's attention while not being too confusing at the same time.
A score of 3 is given to the apps that have adequate layout design. However, there are still some rooms for improvement such as updates for the latest user interface (UI) and perhaps more exciting colors or graphics.
Apps that received a score of 1-2 meant that the layout was not updated, or it was not on par with the other apps you see in store. Most of them required some updating in terms of color choice, fonts, menu layout and also visibility.
2. Functionality
A higher score of 4-5 was given to mobile banking apps that have more than 8 features and were one step ahead of the rest, such as exclusive promotions, in store payment, manage global accounts and card-less withdrawal at ATM machines.
A moderate score of 3 was given to mobile banking apps that have more than 5 features including balance check, fund transfer, bill payment, prepaid reload and credit card management.
A lower score of 1-2 was given to mobile banking apps that provided (or failed to provide) basic or average financing functions as mentioned above.
3. Security
We tested the security features based on a consumer's perspective to determine the level of safety for a user while using the app.
We graded the apps based on:
Security layers
Biometric login availability
Easiness to reset password and username
Escalation of fraud or theft via the app
A high score of 4-5 was given to the apps that have incorporated biometric login system, provide adequate security action plans, and also fast responsiveness to resolve customers' issue in fraud or identity theft.
A moderate score of 3 was given to the apps that have adequate security system and biometric login system. However, it may needs to up its game in terms of prevention and educational efforts.
A low score of 1-2 was given to those that do not have login system or insufficient security steps to ensure the safe usage of the apps by the users.
4. User-Friendliness
A high score of 3-5 was given to those that had earned high favourability from the users based on the apps' transition, responsiveness, practicality and also banks' efforts to resolve users' issues.
A low score of 1-2 was given to the apps that did not meet the average users' demand and was filled with technological bugs like malfunctions, errors, and bad transitions.
So far, we noticed that almost half of the banks have at least updated or replaced their mobile banking apps to a newer one in the past six months, with better features and functions for the consumers.
About Maybank Malaysia:
Maybank Group has a global network of over 2,200 offices in 20 countries including in all 10 ASEAN countries. The Group commenced commercial banking operations in Malaysia in 1960 and today operates from its key home markets of Malaysia, Singapore and Indonesia as well as across the Asia-Pacific region and major international financial centres. These include the Philippines, Brunei Darussalam, Cambodia, Vietnam, Laos, Thailand, Myanmar, China, Hong Kong, Papua New Guinea, Pakistan, India, Uzbekistan, Saudi Arabia, Bahrain, United Kingdom and United States of America.
Find out the financial products offered by Maybank here:
Its range of services includes corporate and consumer banking, investment banking, insurance & Takaful, asset management, Islamic banking, offshore banking, stock broking, venture capital financing and much more.