Just a decade ago, we are still running to bank branches and ATMs to complete our daily finance activities such as cheque deposit and fund transfer. Today, 73.1% of Malaysians are using internet banking and this prompted the banks to go one step further by introducing mobile banking apps.
CompareHero.my 2017 Mobile Banking Apps Awards
To date, 11 banks in Malaysia have their own mobile banking apps for its customers and they continue to bring new features and improvements in order to impress users like you and me. But just how happy are you with the mobile banking app you are using now? Features, layout, safety concerns and accessibility are important for a mobile banking app to serve a customer.
CompareHero.my has conducted its first Mobile Banking Apps Awards in Malaysia. Known as the CompareHero.my 2017 Mobile Banking Apps Awards, today we are happy to announce the winners.
CompareHero.my has reviewed all 11 mobile banking apps in Malaysia for the CompareHero.my 2017 Mobile Banking Apps Awards.
Read our review on each bank's app here:
Overall Public Bank Mobile Banking App Review
Overall position: 10 / 11
Overall Score: 2.7/5
Score
Bank Apps
Layout
Functionality
Security
User-Friendliness
Final Ranking
Citibank MY
3.6
4.2
5
3.6
4.1
Maybank
4
3.8
4
3.5
3.8
CIMB Clicks
3.7
3.5
4
2.95
3.5
Standard Chartered Mobile Banking (Malaysia)
2.9
3
4
3.7
3.4
Hong Leong Connect
3.3
3.4
4
2.75
3.4
RHBNow
2.9
2.4
3
3.7
3
Am Online
2.9
2.4
3
2.7
3
HSBC Mobile Banking
2.8
2.6
3
3.2
2.9
OCBC Malaysia Mobile Banking
2.3
2.5
3
3.4
2.8
PB Engage
2
2.6
3
3.3
2.7
Bank Islam i-Info
1.8
1.8
1
3
1.9
Check out the summary below to know more about the app, read user reviews and our thoughts.
Public Bank Mobile Banking App Screenshots: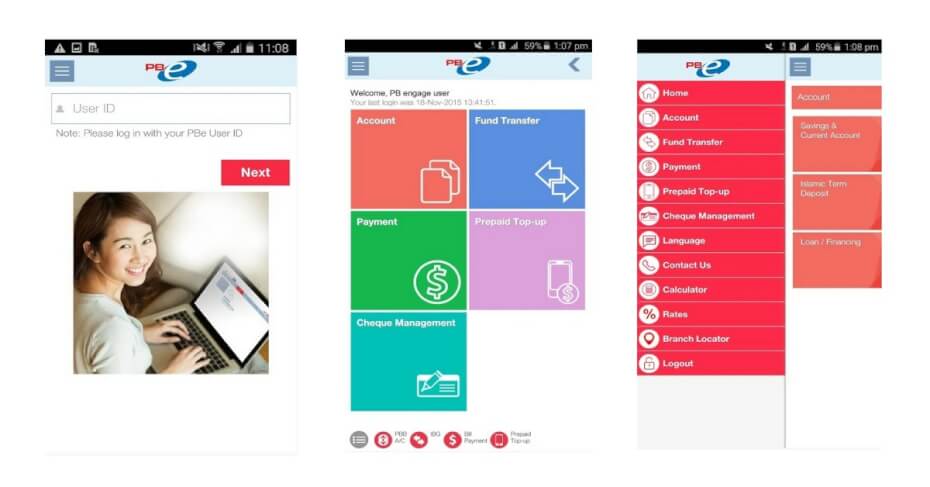 Overview of features:
Check account balances: loan, savings and current, credit cards, gold investment, Islamic term deposit and fixed deposits.
Fund Transfer
Bill payment
Prepaid reload
Cheque management
User reviews
Raymond3910 ★
"It is a good app but has a limited function such as a bank in to another public bank account. I only have one public bank account can transfer a balance, however, I tried many times and even reinstalled the apps, yet still facing the same issue. Another thing is I would like to transfer the balance to other bank account but errors keep appearing on the app. Please fix this issue ASAP. Thanks."
KBLim's ★
"It is time for you all to upgrade your UI interface to be able to support iPhone 7 and iPhone 7 plus, the navigation when in iPhone 7 plus is very inconvenient. And some of the functions are not working properly, an example is very hard for me to check my balance, I still need to login to the normal website to get the details. Please refer to HSBC and CITIBANK, where they did a great job in managing the content and the UI experience.'
Nicholas Poh ★★★
"It's a rather good & useful app. However, the hassle login procedure is actually defeating the purpose of having the app on the phone. I'm afraid to use it in public as I'm worried that someone might see all those security identification and password during login (cameras and the crowd). It should introduce PIN login which has no relation with actual username & password or support fingerprint login."
Wafy Musa ★★
"I think, that PB engage should enable transfer for a non-favourite account because we don't like to use an internet browser to make a transaction. Thank you."
Kai Yang Lim ★★
"Time for a new app. This app is obsolete without fingerprint sensor and is merely like a mobile website version instead of the app. Even more, Public Bank does not have FB support page."
CompareHero.my Review on Public Bank Mobile Banking App
1. Layout/Design (Score: 2/5)
Unattractive interface and layout
Too many colours across the app and it is distracting
2. Functionality (Score: 2.6/5)
Should introduce more exclusive functions such as privileges, cashless withdrawal or mobile payment
3. Security (Score: 3/5)
Provide biometric fingerprint log-in for users
Security needs to be enhanced in next app upgrade or update.
4. User-Experience (Score: 3.3/5)
Looks dull
Arrangement and choice of colours are not optimised for users' view, missing relevance to Public Bank brand identity
Fix the bugs and be consistent.
Bank is not responsive enough to help customers resolve issues
Public Bank Mobile Banking App Overall Remarks:
Overall, we think Public Bank has huge room for improvement. First, they need to look at revamping the app's design and concept from its current dry and unappealing layout. Next, though the app has most of the basic features, consumers are demanding more including the option to apply for financial products, exclusive promotions, cardless ATM withdrawal and open transfer to all accounts (including non-favourite accounts).
We are also concerned with the fact that PB engage has not incorporated the fingerprint log-in system for easier and safer log-in.
Scoring Methodology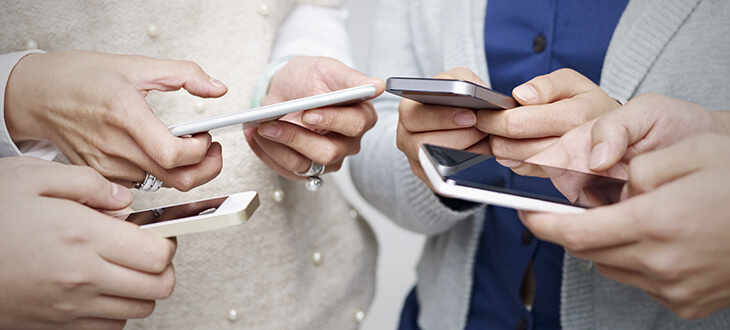 These apps were scored based on:
CompareHero.my aesthetical experts (for layout, functionality and security)
Objective list of what constitutes a 1,2,3,4 and 5 rating (for layout, functionality and security)
Writer's evaluation (for layout, functionality and security)
Apple and Android reviews (for user experience)
1. Layout and Design
A higher score of 4-5 meant the app had a simple yet effective design that added to its user's experience. The app's layout should also captivates user's attention while not being too confusing at the same time.
A score of 3 is given to the apps that have adequate layout design. However, there are still some rooms for improvement such as updates for the latest user interface (UI) and perhaps more exciting colors or graphics.
Apps that received a score of 1-2 meant that the layout was not updated, or it was not on par with the other apps you see in store. Most of them required some updating in terms of color choice, fonts, menu layout and also visibility.
2. Functionality
A higher score of 4-5 was given to mobile banking apps that have more than 8 features and were one step ahead of the rest, such as exclusive promotions, in store payment, manage global accounts and card-less withdrawal at ATM machines.
A moderate score of 3 was given to mobile banking apps that have more than 5 features including balance check, fund transfer, bill payment, prepaid reload and credit card management.
A lower score of 1-2 was given to mobile banking apps that provided (or failed to provide) basic or average financing functions as mentioned above.
3. Security
We tested the security features based on a consumer's perspective to determine the level of safety for a user while using the app.
We graded the apps based on:
Security layers
Biometric login availability
Easiness to reset password and username
Escalation of fraud or theft via the app
A high score of 4-5 was given to the apps that have incorporated biometric login system, provide adequate security action plans, and also fast responsiveness to resolve customers' issue in fraud or identity theft.
A moderate score of 3 was given to the apps that have adequate security system and biometric login system. However, it may needs to up its game in terms of prevention and educational efforts.
A low score of 1-2 was given to those that do not have login system or insufficient security steps to ensure the safe usage of the apps by the users.
4. User-Friendliness
A high score of 3-5 was given to those that had earned high favourability from the users based on the apps' transition, responsiveness, practicality and also banks' efforts to resolve users' issues.
A low score of 1-2 was given to the apps that did not meet the average users' demand and was filled with technological bugs like malfunctions, errors, and bad transitions.
So far, we noticed that almost half of the banks have at least updated or replaced their mobile banking apps to a newer one in the past six months, with better features and functions for the consumers.
About Public Bank Malaysia
Founded in 1966 by its Founder and Chairman, Tan Sri Dato' Sri Dr. Teh Hong Piow, Public Bank enters into its 50th year of operations in 2016. Today, the Public Bank Group is the third largest banking group in Malaysia with an asset size of RM363.76 billion as at the end of 2015.
Find out more on the financial products offered by Public Bank here:
Listed on the Main Board of Bursa Malaysia in 1967, the group is the third largest company with a market capitalisation of RM71.90 billion as at the end of 2015. With five decades of sustainable growth, the group employs more than 18,000 staff and serves more than 9 million customers across the region.