Want to get your money's worth for both your internet and satellite TV package? Here's a plan that gives you the best of both worlds. Get all of the information you need about the Astro IPTV broadband plan here!
What is Astro IPTV?
IPTV stands for Internet Protocol Television, which means you can watch television programs with a high-speed broadband connection. So instead of watching your favourite shows via satellite TV (only for it to get interrupted when it rains), Astro IPTV broadband lets you watch all of your favourite paid channels via high-speed broadband.
Astro IPTV broadband is Astro's collaboration with Maxis and TIME to bring you both high-speed broadband and satellite TV in one bundle. All you have to do is pick out any one of the nine different Astro IPTV packages and choose which broadband plan to suit your needs.
Perks with Astro IPTV Broadband
FREE channels when you sign up for Astro IPTV broadband from now until 30 April 2016
Unlimited Internet bandwidth
FREE Astro On The Go for Super Pack subscribers
FREE Astro Go Read, which gives you free content such as news and e-magazines.
One bill for both your Astro and broadband plan
Here's how it works. First you choose one IPTV package from below: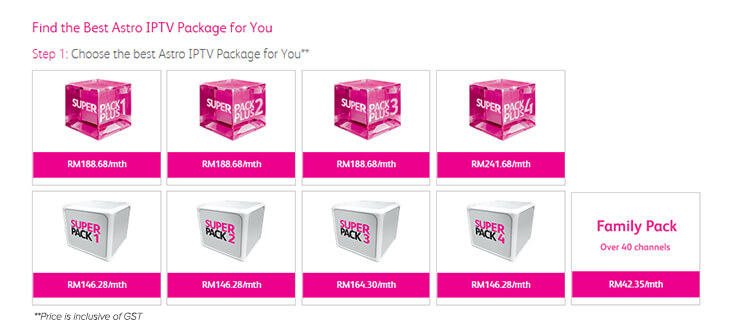 For more info on the channel listings offered by each Astro IPTV package click here.
Then you pick the broadband package with your preferred speed: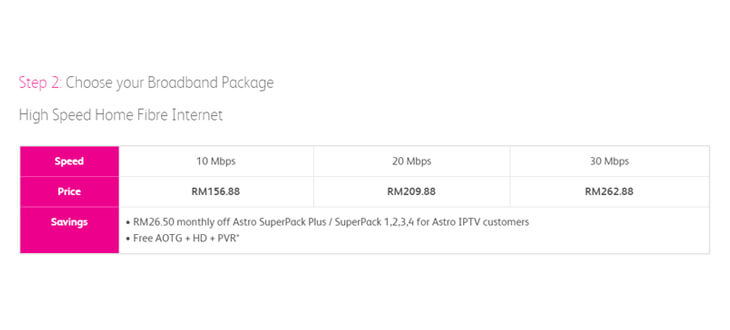 For example, if you're a movie buff and planning to get Astro IPTV Broadband, we suggest you pick the Super Package 4 priced at RM146.28 which gives you access to Hollywood movies and latest blockbuster movies from across the Asian regions. Then you opt for the 10Mbps speed for RM156.88. The total will then be:
Super Pack 4 (RM146.28) + 10Mbps unlimited broadband (RM156.88) = RM299.16.
But with Super Pack, you enjoy an additional RM26.50 discount every month on your broadband over 24 months. So you save:
RM26.50 x 24 months = RM636
All Super Pack subscribers will also get free Astro On The Go so you can bring your entertainment with you wherever you go!
Conclusion
In terms of value for money and convenience, subscribing for the Astro IPTV broadband package is ideal as it consolidates both your Astro and broadband bills. The Astro IPTV bundle package comes with unlimited data quota on fibre connection and discount (RM26.50 monthly discount for Super Pack subscribers) making it a value for money offer.
Although UniFi offers a slightly cheaper broadband option (RM210.94 for 30Mbps) Astro IPTV offers more channels compared to Unifi's HyppTV. But do take note that you must check if your area has fibre coverage for Astro IPTV broadband.
Interested to apply for the Astro IPTV? It's just a click away!
Save
Save