Alliance Bank Malaysia is now running an exclusive offer for its personal loan with an interest/profit rate from as low as 3.99%, including other benefits. Read more to find out the requirements, how you can apply for it online, and how to get fast approval in just 10 minutes!
---
If you're in need of a fast approval personal loan, why not consider one with Alliance Bank? In this exclusive partnership with CompareHero.my, you'll be able to enjoy a straight-through processing (STP) with the bank, giving you an approval speed faster than it takes to finish your lunch.
Alliance Bank Personal Loan: Why Should You Choose?
Whether you prefer conventional (Alliance Bank CashFirst Personal Loan) or Islamic financing (Alliance Bank CashVantage Personal Financing-i), our partnership with Alliance Bank offers the following:
Rate as low as 3.99% p.a. (for 1 year tenure only)
Approval in as little as 10 minutes for initial loan/financing
Loan/financing tenure up to 7 years
No guarantor required
Disbursement within 24 hours
Loan/financing from RM5,000 to RM150,000
No processing fee
No collateral required
Can be applied anytime, anywhere
However, these are some general terms that need to be observed:
Financing Amount: Minimum RM5,000, Maximum RM150,000
Tenure: From 1 Year (12 months) to 7 Years (84 months)
Interest/Profit Rate:

1 year tenure: 3.99%
2 - 4 years tenure: 6.99%
5 - 7 years tenure: 8.38%
Here's what you will need to pay:
A stamp duty (0.5%) on total approved financing amount, to be deducted from financing amount
For even more information, just click the links below:
Alliance Bank Personal Loan Checklist: What do you need to apply?
Are you eligible? What are the Alliance Bank personal loan requirements? Here's a checklist of what you need, and what you need to be.
Eligibility:
Malaysians
Malaysians working and residing in Malaysia will be considered
Age requirement:

Aged between 21 to 60 years old (upon maturity of Facility)

Income requirement:

Minimum gross monthly income of RM3,000 or RM36,000 per annum

Documents to prepare if you're a Government Servant/Private Employee:
EPF, and
Latest month pay slip, and
Latest month bank statement that show income crediting

Read also: Top Tips To Get Your Loan Application Approved
How to apply for an Alliance Bank Personal Loan
Applying for the Alliance Bank CashFirst Personal Loan or the Alliance Bank CashVantage Personal Financing-i is super easy and fuss-free. Here's a step-by-step guide to help you in your journey.
Step 1: On CompareHero's Alliance Bank personal loans page, key in your intended loan amount to automatically calculate your monthly repayment. Choose 'CashFirst Personal Loan' if you prefer conventional financing, or 'CashVantage Personal Financing-i' if you prefer Islamic financing. Click on 'Apply Now' to proceed.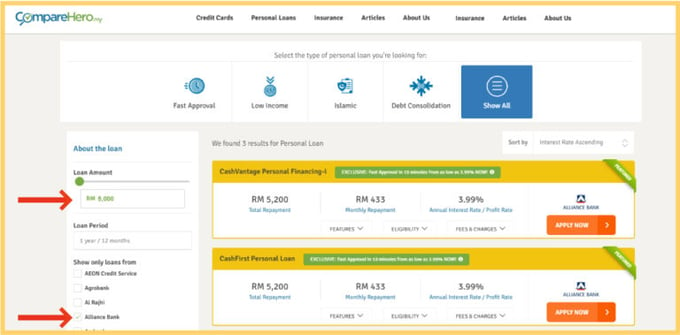 Step 2: You'll then be prompted to key in some of your details for us to know you a little better.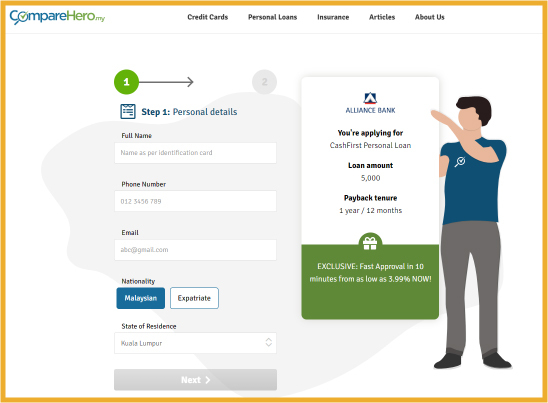 Step 3: After providing your details, you will then be immediately directed to our partner's site. There, you will also be asked to provide some additional details. Just remember to share accurate information, as it will determine the approval of your loan application.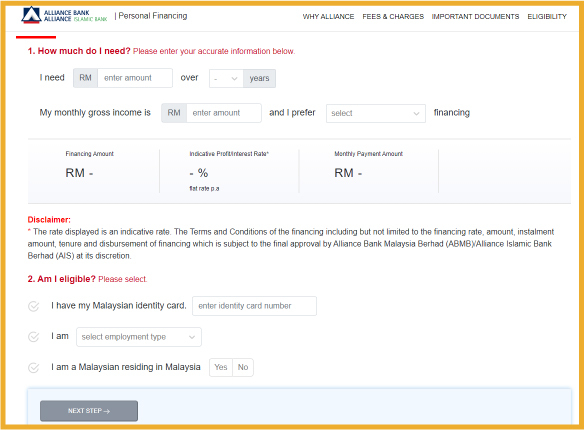 Step 4: Submit your application and wait to be contacted via email and/or phone. You will be notified in 10 minutes! While you wait, prepare the documents needed according to your employment status. (See checklist above.)
It really doesn't get any easier than this. Click below to apply for an Alliance Bank personal loan on CompareHero.my today.