E-wallets are one of the fastest-growing payment trends in Malaysia, with over 53 e-wallets now available in the country. This growth is being driven by a number of factors, including the government's aim to transform Malaysia into a cashless society, the convenience and security of e-wallets, and the growing popularity of online shopping and mobile payments.


What is an e-wallet?
E-wallet is a digital version of your wallet. You can use it to pay for things online, in stores, and in apps without carrying cash or credit cards.
To use an e-wallet, you download an app and create an account. Then, you add your payment information to the app. To pay for something, you simply scan a QR code or tap your phone on a contactless payment terminal.


Types of e-wallets


Open-loop e-wallets
These e-wallets can be used to make payments to any merchant that accepts e-wallets. Some examples include Touch 'n Go eWallet, GrabPay and Boost.


Closed-loop e-wallets
These e-wallets can only be used to make payments to merchants that are affiliated with the e-wallet. For example, the Shell Go+ is a closed-loop e-wallet that can only be used to make payments at Shell petrol stations.


Prepaid e-wallets
These e-wallets need to be topped up with money before they can be used to make payments. Prepaid e-wallets are a good option for people who want to control their spending or who do not have a bank account. Some examples of prepaid e-wallets in Malaysia include BigPay and Setel.


Bank e-wallets
These e-wallets are linked to a bank account. This makes it easy to transfer money between your bank account and your e-wallet. Some examples of bank e-wallets in Malaysia include MAE and CIMB Clicks.
Perks of using e-Wallet
Convenience
Using e-wallets saves you time. With a few clicks, you can make a transaction in just a few minutes. It saves the hassle of typing out bank account numbers for online transfers or counting bill changes physically.


Security
Your payment information is encrypted and stored on your device, making it difficult for unauthorized users to access it. E-wallets also offer features such as two-factor authentication to further protect your account.


Rewards
Many e-wallets offer rewards programs that allow you to earn cashback and discounts on purchases. You can also redeem your rewards for products and services from participating merchants.


How to Choose the Best e-Wallet
Acceptance rate
Where can you use the e-wallet? Some e-wallets are more widely accepted than others, especially in smaller towns and rural areas.


Types of merchants
Look for e-wallets that can be used for multiple purposes such as online shopping, food delivery, or transportation.



Promotions and benefits
Some e-wallets offer cashback, discounts, or other rewards for using their service.


Top eWallet Comparison in Malaysia
Feature

Touch 'n Go

DuitNow QR

MAE

Apple Pay

Setel

Payment Acceptance

Over 1.4 million merchants nationwide like Giant, Mydin, Tesco, Watsons, Lazo Diamond, Converse

Over 1.5 million merchants nationwide like 7-Eleven, FamilyMart, Harvey Norman, Malaysia Airlines

Over 500,000 merchants nationwide like AEON, Jaya Grocer, Krispy Kreme, TGV Cinemas, Mydin

Over 200,000 merchants worldwide like Apple, H&M, and Air Asia.

Over 1,200 Petronas stations nationwide

Rewards

TNG points for every transaction can be redeemed for rewards.

Earn cashback and rewards for using DuitNow QR.

Earn MAE points for every transaction, which can be redeemed for rewards.

Earn cashback and rewards for using Apple Pay at participating merchants

Earn Setel points for every transaction, which can be for rewards.

Additional features

Pay for Touch 'n Go toll and parking charges, reload prepaid cards, and make online payments. TNG has a Money-back Guarantee policy that promises full compensation within five days if your e-wallet is being charged with unauthorised purchases or reload.

Peer-to-Peer transfer, Pay bills, buy tickets, and make donations

Open to non-Maybank customers as well.



Upon registration, users will get a Maybank account number and a virtual debit card.



You can pay bills, buy insurance, and invest

Make contactless payments at stores and online

Pay for parking, tolls at selected highways and petrol at Petronas stations

E-wallet Vs Credit Card

Vs Debit Card - What's The Difference?
Allows you to pay for goods and services with borrowed money from a bank.
You'll need to pay the bank back at least a partial amount of the money spent at the end of each month, plus interest.
Can be used to build your credit history, which can make it easier to qualify for loans and other forms of credit in the future.
Debit Card
Linked to your bank account and allows you to spend money that you already have.
Transactions made with a debit card are deducted directly from your bank account.
Don't charge interest, but there may be fees associated with using a debit card, such as ATM fees or foreign transaction fees.
A good option for people who want to avoid debt or who want to have more control over their spending.
Related: When To Use A Debit Card Or Credit Card?


E-Wallet
Digital wallets that allow you to store and send money electronically.
Can be used to make online and in-store payments, as well as to send money to friends and family.
Often offer rewards and cashback programs, and can be a more convenient way to pay than carrying cash or cards.
You need to add money to your e-wallet first before you can spend it. This can be done through direct transfer from your bank account or via a credit/debit card.

FREE top-up for your e-wallet
Don't miss out on these promos to get Touch 'n Go eWallet Credit when you sign up for selected credit cards via CompareHero!


RM300 Touch 'n Go eWallet Credit






GUARANTEED RM830 Touch 'n Go eWallet Credit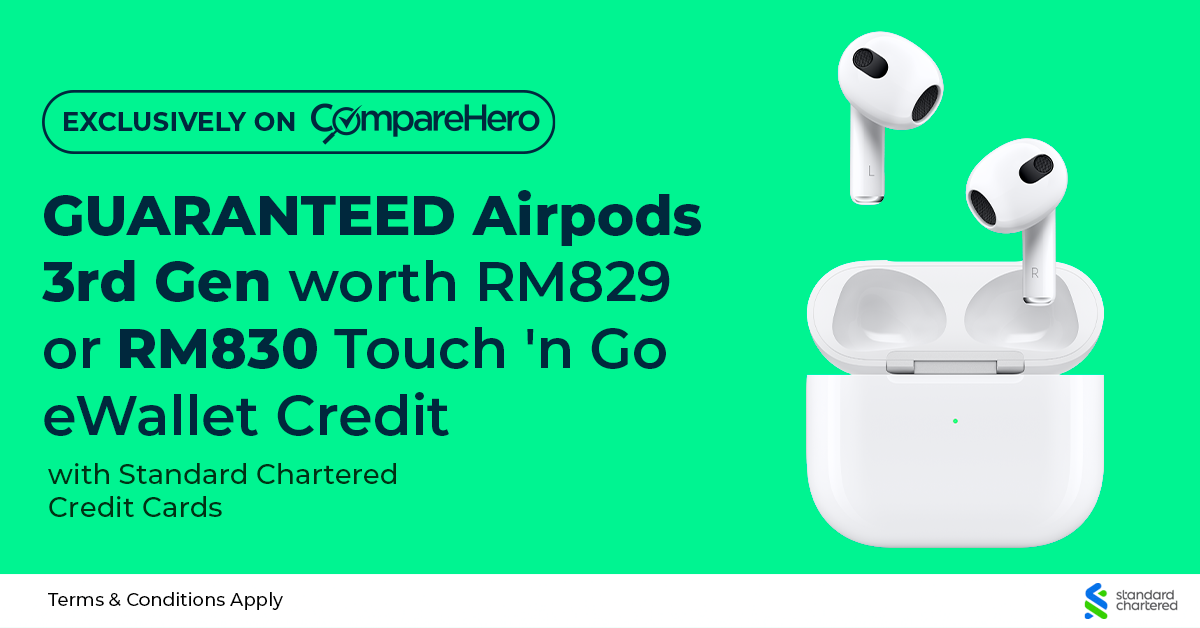 RM1,000 Touch 'n Go eWallet Credit