*Updated: Nov 7, 2019
Are you in need of financial assistance, but want it to be Shariah compliant? Or are you looking for more financing options? Why not consider Islamic personal loans? Lets see what exactly is an Islamic loan?
An Islamic personal loan is one that follows the Islamic banking principles. An Islamic personal loan, also known as an Islamic personal financing, is issued by Islamic banks in Malaysia. The financing tool uses the concept of Bai' Al-'Inah, making it Shariah compliant. Being Shariah compliant means the loan does not have fixed or floating interest rates or fees (also known as RIBA, or usury) for the loan of money. This is prohibited according to the Islamic banking principles. We've done the work for you and sorted out the best Islamic personal loans in Malaysia below.
This is a hassle-free Islamic personal loan from Maybank as you don't need a guarantor or collateral. There are no documents stamping, no processing fee, and no handling fees so you'll get to save more money! They also offer fast approval, although this is subject to certain terms and conditions. The minimum loan amount is RM5,000 up to a maximum amount of RM100,000. The tenure is 2 years up to a maximum tenure of 6 years.
The Takaful contribution amount will be deducted upfront from the approved loan amount, but it is an optional facility. You will also need to open a Maybank Islamic Personal Savings or Current account prior to submission of the loan application. The downside to this Islamic personal loan is that there is no rebate even if you make an early settlement before the end of your loan tenure.
The profit rate is fixed and the tier is as below

To give you an idea, below is the monthly instalment payment table according to the amount of loan taken and the tenure:
| Amount | Profit Rate | 2 years | 3 years | 4 years | 5 years | 6 years |
| --- | --- | --- | --- | --- | --- | --- |
| RM10,000 | 8% | 483,33 | 344,44 | 275,00 | 233,33 | 205,56 |
| RM25,000 | 7% | 1.187,50 | 840,28 | 666,67 | 562,50 | 493,06 |
| RM60,000 | 6.5% | 2.825,00 | 1.991,67 | 1.575,00 | 1.325,00 | 1.158,33 |
For the complete monthly instalment payment table, click here.
Requirements
Malaysian citizen aged 21 to 60 years old.
Minimum monthly income of RM2,500.
Are you looking for more Shariah-compliant financing options? Why not compare Islamic credit cards and other Islamic personal loans for free on CompareHero.my, and get yourself the best deals in Malaysia!
2. Kuwait Finance House
Planning for a dream wedding or vacation you've always wanted? Need funds for the start-up you have in mind? KFH Personal Financing-i is the best possible way to get you started. One such way to consider its Murabahah Personal Financing-i Generic. Check out some of its features below.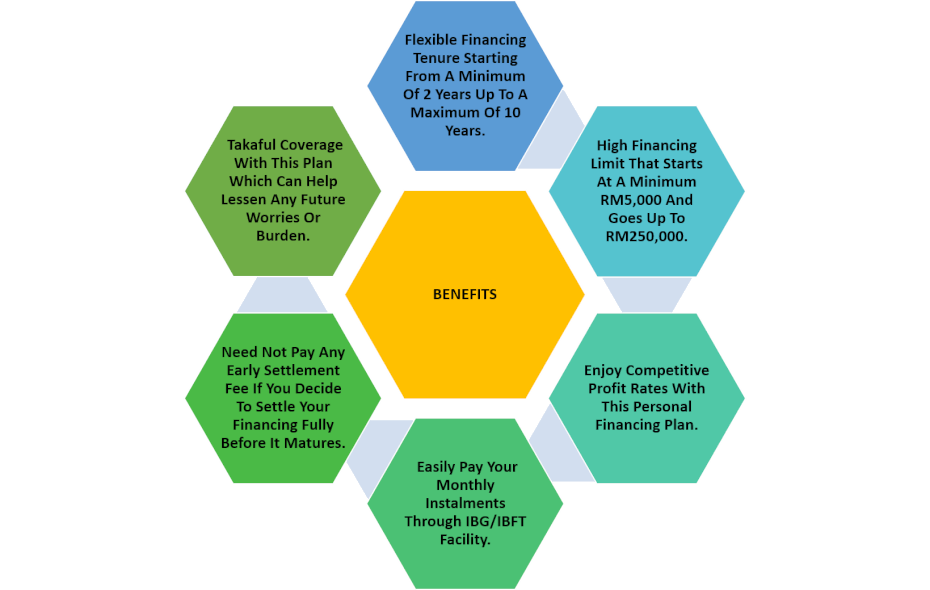 Financing amounts
Financing amount of up to RM250,000 with a flexible tenure from 2 to 10 years.
Requirements
Applicant must be at least 21 years or up to 2 years before retirement age (60 years old)
A confirmed and permanent staff of the private sector who is working with multinational companies, public limited companies, government-linked companies and their subsidiaries
Malaysian resident with a minimum gross salary of RM3,000 per month*
A Group Credit Term Takaful (GCTT) is required to be taken up by the customer.
Benefits
No guarantors needed.
"Takaful" protection for total peace of mind.
Easy payment via Interbank GIRO (IBG) or Interbank Fund Transfer (IBFT).
No early settlement penalty.
A Group Credit Term Takaful (GCTT) is required to be taken up by the customer.
Other charges
Unsecured Financing:
6.88% with an effective profit rate ranging from 11.51% depending on the tenure of the financing.
Financing with collateral of KFH International Commodity Murabahah:
As low as 6.18% with an effective profit rate ranging from 10.48% depending on the tenure of the financing.
Brokerage Fee: Proportionate as per the financing amount.
Stamp duty of 0.5% on financing amount to be deducted upfront before financing disbursement (as per Stamp Duty Act 1989).
Takaful contribution: As per customer's profile (age, gender, tenure, etc).
Monthly payment comprising principal amount and profit charge.
Late penalty charge:
compensation charges which may be imposed by KFH Malaysia for late payments.

3. Alliance Islamic Bank CashVantage Personal Financing-i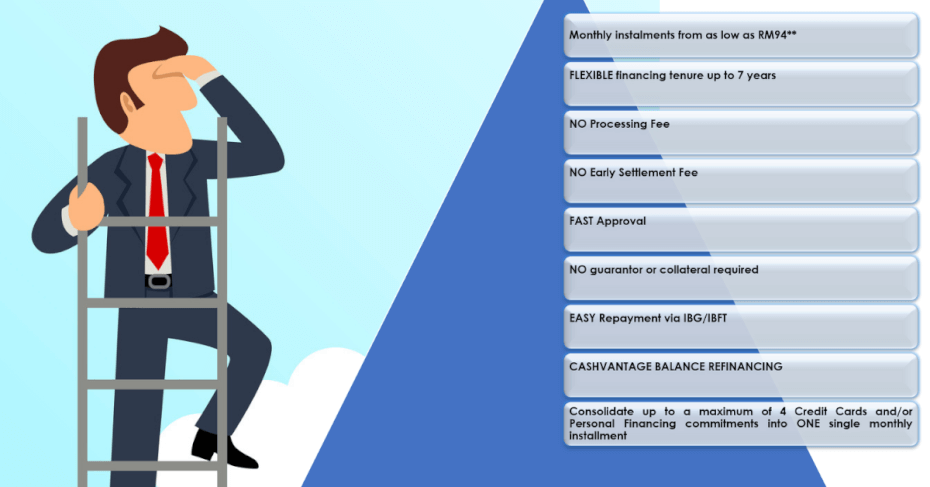 An unsecured Islamic personal financing of up to 7 years for Malaysian citizens and permanent residents working and residing in Malaysia. The scheme operates on a flat rate basis and offers a profit rate from approximately 8.38% p.a to 14.78% p.a. A Group Credit Family Takaful (GCFT) is optional. The facility allows you to consolidate outstanding dues and lets you combine up to 4 of your credit cards and/or personal financing commitments into one individual monthly instalment.
Financing Amount
Minimum RM5,000, Maximum RM150,000
Eligibility
Malaysians and permanent residents working and residing in Malaysia only.
Malaysians working in Singapore, but residing in Malaysia will be considered.
Age requirement:

minimum 21 years old
maximum 60 years old (upon maturity of Facility)

Income requirement: minimum gross monthly income of RM3,000 or RM36,000 per annum.
No guarantor or collateral is required.
Other charges
Stamp duty (0.5%) on total approved financing amount.
Brokerage fees charged by Bursa Malaysia Islamic Services Sdn. Bhd. or any other commodity trade service provider is currently borne by the Bank

4. Al-Rajhi Islamic personal loan
Al Rajhi Personal Financing-i helps you to meet your financial requirements. Al Rajhi Bank's Personal Financing-i provides you the platform for you to obtain cash for personal use. Be it for home renovation or to meet your child's education funds whereby our facility caters for such purpose. Take a look at some of the key features of the said loan.
Al Rajhi Bank has been one of the flagship Islamic retail banks for many years, but its performance in 2017 was particularly strong in the retail banking space.
Basic Requirements
Minimum age: 25 years old
Minimum gross income : RM4,500* & above
*Subject to a minimum annual income of RM60,000 & fixed income earner only
Benefits
Attractive rate is as low as 4.99% p.a.
High financing limit up to 5 or 8 times your monthly income or RM150,000 whichever is lower
Financing tenure of up to 8 years
No guarantor required
Financing product approved by Al Rajhi Bank Malaysia Shariah Board

So we have provided you with some insightful information as to which Islamic financing best suits your needs.

See also: How Does An Islamic Personal Loan Work?
Save