Many have wondered how a personal loan from an Islamic bank differs from a conventional bank. You won't have to after today, because we've got you covered with the facts you need to know to help you understand Islamic personal loans to broaden your financial options!
Basics of Islamic Banking
Islamic banking adheres to Shariah, which is the Islamic religious law as defined in the Quran, hadith and sunnah. The difference between conventional and Islamic finance is that no money is actually loaned to the client as the bank will "buy" the item for clients and sell it back to them at a marked up price.
Islamic banking is governed by both Islamic law and financial industry rules so it is also tightly regulated, like its conventional counterpart. Islamic banks must comply with a variety of principles besides not charging interest, such as ensuring the products offered to clients are halal and shariah compliant. In order to do so, there are shariah boards which consist of Islamic scholars who are qualified to give opinions on Islamic financial products.
Although the Islamic banking system is different from a conventional banking system, there are some similarities between the two. For instance, Islamic banks offer products and services similar to those offered by conventional banks. However, Islamic bank conducts their activities in accordance with the Islamic shariah principles that strictly prohibits all of the below:
Haram business (alcohol, gambling etc)
Riba (the practice of lending at high rates of interest)
Gharar (speculative or hazardous sales where the value is uncertain)
Zulm (exploitative, oppressive or cruel activities and practices)
Operations of Islamic banks in Malaysia must also be carried out according to certain procedures as determined by the Shariah advisory council of Bank Negara (SAC). The SAC is the highest Shariah authority for Islamic finance in Malaysia. Part of the SAC's duties include examining and endorsing the validity of application of Shariah laws in Islamic financial products.
In Islamic principles, money does not have an intrinsic value and time does not create any returns. Money cannot become more valuable simply with the passing of time which is why asking for compensation for lending someone money in the form of interest is prohibited and is not allowed in Islamic banking.
However, the value of money can be increased if it is invested in a project that itself is for example, increasing in size, success and more. An economic activity that takes place and the time spent on the economic project can create value for the money. So Islamic banks charge profit rate instead of interest rate with their financial products.

How Does An Islamic Personal Loan Work?
Personal loans from Islamic banks in Malaysia are based by utilising the concept of Bai' Al-'Inah. It is a concept widely used by Islamic financial institutions for 'personal financing' which is a commonly used term in Islamic banking instead of the term 'personal loan' as per conventional banks.
Bai' Al-'Inah is a concept which involves the selling and buying back transaction by a seller (bank) on a deferred payment basis. A seller will sell to a buyer (client) on a cash basis. The seller will later buy back on a deferred payment basis where the price is higher than the cash price. It can also be applied when a seller sells to a buyer on a differed basis. A seller will later buy back on a cash basis at a price which is lower than the deferred price, thus the transaction amounts to a loan. In personal financing, the asset involved in the Bai'Al-'Inah concept of buying and selling would be the cash.
Islamic financial institutions will then charge customers an amount known as 'profit rate' for providing them with a personal financing facility. Again, this is because charging interest is not allowed in Islamic banking. So unlike personal loans offered by conventional banks, Islamic banks will offer personal financing with a profit rate that will be defined in the personal financing contract. The list of Islamic banks in Malaysia are:
• Affin Islamic Bank Berhad
• Al Rajhi Banking & Investment Corporation (Malaysia) Berhad
• Alliance Islamic Bank Berhad
• AmBank Islamic Berhad
• Asian Finance Bank Berhad
• Bank Islam Malaysia Berhad
• Bank Muamalat Malaysia Berhad
• CIMB Islamic Bank Berhad
• HSBC Amanah Malaysia Berhad
• Hong Leong Islamic Bank Berhad
• Kuwait Finance House (Malaysia) Berhad
• Maybank Islamic Berhad
• OCBC Al-Amin Bank Berhad
• Public Islamic Bank Berhad
• RHB Islamic Bank Berhad
• Standard Chartered Saadiq Berhad
Aside from the Bai'Al-'Inah concept some Islamic banks use the Shariah principle of Murabahah via Tawarruq for personal financing. By definition Murabahah is a type of sale where the commodity is sold for cash or deferred price. Tawarruq refers to purchasing an asset with deferred price and then selling it to a third party to obtain cash.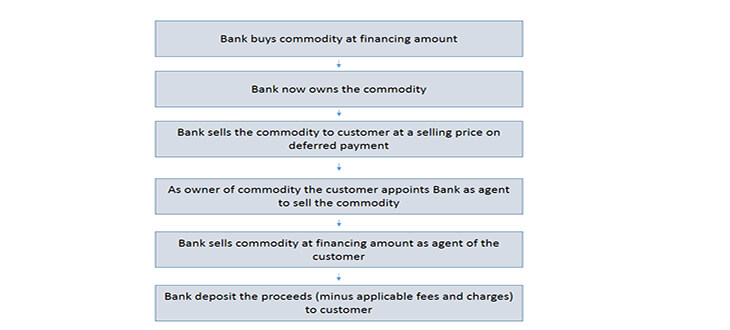 Most Islamic personal loans also come with Takaful (insurance) coverage but it is optional with certain Islamic banks such as Hong Leong Islamic Bank and Bank Rakyat. So you can opt to take a personal loan with or without Takaful. However, the profit rate will defer and depends on whether or not you decide to take personal financing with Takaful coverage. The rate is lower if you take Takaful, because it reduces the risk for the bank and because the banks can also make money from selling you Takaful coverage.
A plus point with Islamic personal financing is that should there be any late settlement of loans, charges may actually be lower than conventional loans because compounding interest is prohibited by Shariah.
Check Out Some These Best Deals For Islamic Personal Financing!
Maybank Islamic Personal Financing
• Minimum amount RM5,000
• Maximum amount RM100,000
• Fixed monthly installment
• Minimum tenure 2 years, maximum tenure 6 years

• Minimum amount RM5,000 and Maximum RM150,000
• Profit rate at 7.5% per annum up to 13.5% per annum, however the final profit rate will be stated in the Disbursement Notice that will be given to you upon disbursement
• Takaful is optional
• Fast approval rate within 48 hours
• Minimum income eligibility RM2,000 per month
Interested? You can apply for this loan here!
Bank Rakyat's Personal Financing-I Private
• Catered for private sector professionals
• Minimum amount of RM3,000 and maximum amount of RM150,000
• Profit rate 6.16% without Takaful, 6.74% without Takaful.
• Ibra (rebate) will be given for early repayment based on profits gained.
• Minimum loan tenure of 1 year, maximum loan tenure up to 10 years
• Minimum income eligibility RM2,000 per month
See also: Which Type of Loan Should You Get?
Islamic banking is fast gaining recognition around the globe with both Muslim and non-Muslim clients. So if the principles of Islamic banking appeal to you there are other financial products you should check out aside from personal financing. For more options of shariah compliant personal loans and Islamic credit cards try out our free comparison tool!
Save