Maybank has formed a partnership with Shopee to introduce an e-commerce credit card called Maybank Shopee Visa Platinum Credit Card. Not only do you get to collect more Shopee coins, but you will also earn extra rewards and benefits for your online shopping experience. Read this article to find out everything you need to know about this credit card.
---
Last year, Maybank, Visa, and Shopee introduced their very own Maybank Shopee Visa Platinum Credit Card in a media launch that was live-streamed on YouTube. The card is Maybank's first co-branded e-commerce credit card, and aims to be the only lifestyle and e-commerce Platinum card for Malaysians.
"Between 2017 and 2019, we saw a 43% jump in our card billings for e-commerce platforms which indicates a significant shift towards online shopping," Dato' John Chong, Group Chief Executive Officer, Community Financial Services of Maybank said during the launch. "This partnership with Shopee will allow us to create value for our customers, tap into Malaysians' e-commerce spending growth and thus give us a competitive advantage to further strengthen our leadership in the cards business."
Adding to that, Ng Kong Boon, Country Manager of Visa Malaysia said that e-commerce is growing five times faster as compared to face-to-face shopping. "Our role is to work with our partners to ensure that Malaysians have a seamless and secure online shopping experience so that they can shop and pay with confidence," he adds.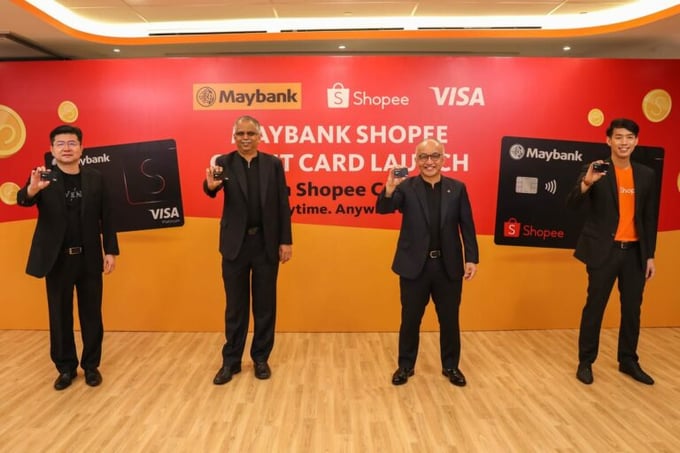 At the launch of the Maybank Shopee Visa Platinum credit card. Image courtesy of Shopee.
On Shopee's side, they see this collaboration as a way to help Malaysians cope with the rising cost of living amid Covid-19, mainly because it offers cash rebates in the form of Shopee Coins for all transactions, whether on the Shopee platform or not.
So… what does this card actually bring to the table? Who is it for, what do users get, and how much does it cost? Here's a quick rundown of what to expect with the Maybank Shopee Visa Platinum Credit Card.
1. The Maybank Shopee credit card is tailored to digital users
We're seeing an emergence of credit cards specifically tailored to users who live their lives depending on all things digital. In fact, even CIMB launched their very own e Credit Card just the other day too - read all about it here.
So, why is this ideal for digital users? For obvious reasons, it's tied to Shopee - one of the two biggest e-commerce platforms in Malaysia. When users use the card to spend on Shopee, they'll get even better rewards than they would with other cards, or on other platforms.
"The card was designed to answer the needs of consumers today where shopping preferences have shifted as more are now relying on e-commerce even to get their staples, daily essentials and household necessities compared to years ago when users would only purchase things online if they are unable to get it offline." - Ian Ho, Regional Managing Director of Shopee
Apart from that, it also gives users extra rewards when they use contactless payments a.k.a. Paywave, a.k.a. tap-and-pay. (If you're already opting to wave your card instead of keying in a PIN, this card could basically give you more bang for your buck.)
Read also: Lazada and Shopee shopping tips every online shopper should know
2. It's a rewards card… that also kinda works like a cashback
Speaking of getting more bang for your buck, this card allows you to collect Shopee Coins. The great thing about Shopee Coins is that it's essentially currency on the Shopee platform. (100 Shopee Coins = RM1.) Users can use these coins to offset purchases on the platform, meaning which they'll get to save money for future purchases.
If users use their Maybank Shopee credit card to pay for purchases on Shopee, they'll also get to collect more Shopee Coins as rewards, which can eventually be used in the future. Rinse and repeat, and the cycle can easily help users shave off some money with each purchase on Shopee.
Just be aware that users can't use these coins for every single purchase - they can only use them on orders from Shopee Mall or Shopee Preferred Sellers. (Which, to be honest, has a very wide range of sellers. Don't worry.)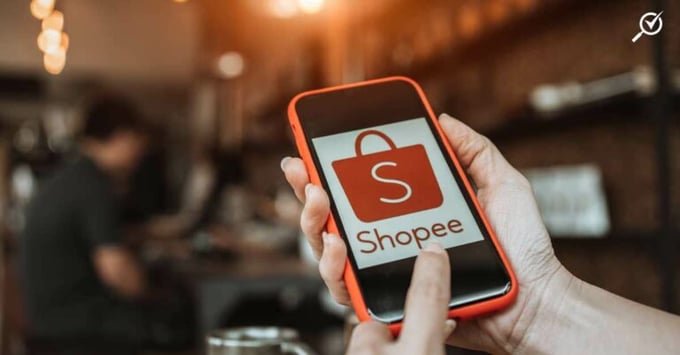 3. Users can collect Shopee points even when the card is used outside the platform
If anything, this would be the biggest plus point about the card. The fact that users still get to collect Shopee Coins with everyday purchases outside the platform makes this card extremely versatile.
But of course, this could be something that would be of most value to Shopee users. If you'd prefer getting reward points from the bank itself, or a cashback that returns a percentage of your spending in real cash, there are more ideal cards to consider here.
4. The Maybank Shopee credit card has various reward levels
In a nutshell, here's what users can expect to receive with this card:
5X Shopee Coins on Shopee purchases on Special Days (28th of every month, CNY, Raya, 9.9, 11.11, 12.12)
4X Shopee Coins on dining, entertainment, and contactless payments
1X Shopee Coins on all transactions with card, online or offline
On top of that, earnings beyond 5,000 Shopee Coins each month will be rewarded in the form of Maybank TreatsPoints which users can use to redeem gifts from Maybank.
5. The requirements for the Maybank Shopee credit card is pretty minimal
Malaysians aged between 21 and 65 with an annual income of RM36,000 (RM2,000 monthly) can sign up for the card. There's also a lifetime annual fee waiver, which means users pay nothing to keep this card active. But of course, a standard interest rate of 15% p.a. applies for all outstanding debt that doesn't get cleared on time.
Interested to apply for the Maybank Shopee Visa credit card? Just click the link below: