Are you an avid online shopper? Learn how to shop smart online on Lazada and Shopee by learning these clever online shopping tips to save more money and earn extra rewards for your next online shopping spree. Here's how you can also make use of these tricks to get more benefits from 7.7 sales 2020.
---
By now, you would probably already know that we're living in an increasingly digital world. From how we work, play, live, and even die (choy!), being immersed in technology has become part of our daily lives.
Same goes with our shopping habits - more and more of us are becoming dependent on shopping online instead of the traditional brick-and-mortar stores, and the recent Movement Control Order (MCO) has only accelerated the shift. But even way before the MCO, Malaysians were already heavy on their digital shopping.
"Between 2017 and 2019, we saw a 43% jump in our card billings for e-commerce platforms which indicates a significant shift towards online shopping," Dato' John Chong, Group Chief Executive Officer, Community Financial Services of Maybank said during the launch of the Maybank Shopee credit card earlier this week. With Maybank being the largest conventional bank in Malaysia, this jump tells a lot about the shift in the nation's shopping behaviour.
To that, Ng Kong Boon, Country Manager of Visa Malaysia said that e-commerce is growing five times faster as compared to traditional shopping. "One in eight active Visa cardholders who did not use e-commerce last year made their first purchase online this year," he said, adding that the top categories include essential goods and services, and retail purchases.
With the 7.7 sale coming up on Lazada and Shopee (aaand our team of writers being online shopping addicts anyway), we thought to ourselves - hmm… why not list out some of the ways our readers can get more value for their money?
Now, if you're a seasoned online shopper, chances are you'd already be pretty familiar with some of these tips. If you're not, read on and arm yourself with these Lazada and Shopee online shopping hacks and strategies before your next shopping raid.
(P/S: Get a sneak peek into the Lazada 7.7 sale and Shopee 7.7 sale at the end of this page!)
1. Add to cart before the sale starts
To get shoppers in, platforms like Lazada and Shopee run sale campaigns literally all the time. While the daily sale promos can eventually start to feel like a given, there are times (e.g. Crazy Flash Sales) when prices can drop lower than a millennial's expectation in life.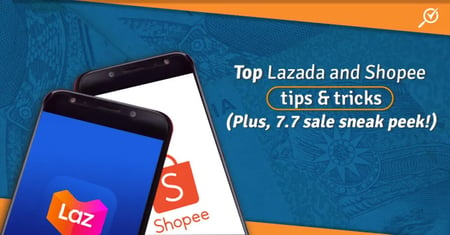 RM1 for a robot vacuum cleaner? Ay caramba!
Thing is, the number of units available can be extremely limited - sometimes as few as 1 or 2 units. In cases like these, how does one successfully seize the item?
There are usually previews for these sales, so if you see something that you like, just quickly add the item to your cart. There's also a countdown so you know exactly when the item will be on sale, so set a reminder on your phone a few minutes before the sale happens so you have sufficient time to open up your app and hover your finger over the checkout button.
Remember that you should be at your cart page before the sale happens! Keep your finger right above the checkout button, and as soon as the clock strikes, hit that button and quickly check out.
Pro-tip 1: Make sure you're on the best internet connection, whether it's your house WiFi or your own 4G.
Pro-tip 2: Count the seconds with a timer (this writer uses Time.is) and hit that checkout button half a second before the sale starts to increase your chances of securing the item.
Pro-tip 3: Ensure you have sufficient money in your platform e-wallet so you can immediately checkout without going through additional payment steps. These additional steps WILL cause you to lose the item on sale.
2. Consider using credit cards tied to each platform
While you can technically use any card to make your purchases, there are credit cards that are designed specifically for online shoppers. Most credit cards fall under either a rewards or a cashback system, and online shopping credit cards typically fall in the former category.
Just in case you get confused, these cards are no different from other credit cards. You can still use them like any other card - you'll just get added benefits when you use them on their respective platforms.
Here's a snapshot of the e-commerce exclusive credit cards available now:
Citibank x Lazada
Rewards:
10X Citi Rewards Points for all Lazada (including Lazada Wallet) spend
5X Citi Rewards Points for selected Citi Strategic Partner(s) spend & 1X for Other spend
1,000 bonus Citi Rewards Points with min. RM1,500 monthly spend
Offset Lazada Spend via Citi Rewards Points

Requirements and fees:
RM2,000 minimum monthly income
RM100 annual fee, waived for first year upon activation
15% interest rate p.a.
9.99% balance transfer fee
To apply, click here.
Maybank x Shopee
Rewards:
5X Shopee Coins on Shopee purchases on Special Days (28th of every month, CNY, Raya, 9.9, 11.11, 12.12)
4X Shopee Coins on dining, entertainment, and contactless payments
1X Shopee Coins on all transactions with card, online or offline
Earnings beyond 5,000 Shopee Coins to be rewarded as Maybank TreatsPoints
RM500 Shopee Vouchers (only for early birds who sign up for card by 7th July 2020 and spend RM300 within 45 days; first come first served basis)
(FYI, 100 Shopee Coins will entitle Shopee users to RM1 discount off any order from Shopee Mall or Shopee Preferred Sellers. The fact that users get to use the credit card for everyday purchases outside the platform gives this a big plus point.)
Requirements and fees:
RM2,000 minimum monthly income
RM0 annual fee (Lifetime annual fee waiver)
15% interest rate p.a.
To apply, click here.

CIMB e Credit Card
Rewards:
12x bonus points with featured partners
10x bonus points with non-featured partners
5x bonus points for online and auto-billing transactions
1x bonus points with in-store contact-less and other transactions

Requirements and fees:
RM2,000 minimum monthly income
RM100 annual fee, waived for the first year, waived for subsequent years with total annual spend of RM12,000
15% interest rate p.a.
7.99% balance transfer fee
To apply, click here.
3. Add to cart and watch for price drops
While this isn't really related to sales, it still helps you save a ringgit or two. If you see something you like, just add it to your cart because the platform sometimes prompts you when the price drops. Do note that we currently only see this feature on Lazada, and not Shopee.
This is a great way to monitor the item that you want but don't necessarily want to buy at the time. Helps with controlling impulsive purchases, too!
Pro-tip: Sometimes, you can find the same item at a cheaper price on another seller's page. But to be honest, the lowest price doesn't always make the best option. Do remember to also look at buyer reviews, as they will tell you whether or not a seller is trustworthy.
4. Collect all the vouchers and coins you can get
To encourage people to shop in their stores, sellers on Lazada and Shopee oftentimes put up vouchers for users to collect. These vouchers are different from the vouchers from the platform itself, as the ones who bear the cost of these vouchers are the seller themselves.
There are a gazillion vouchers which you can collect, and in most cases, they're also stackable. What this means is that you can sometimes use multiple vouchers to shave off more money from your purchase.
To add to that, you can also collect coins on the platform that you're shopping on. These coins act as real currency on the platform, allowing you exchange them for cash and vouchers.
There are various ways to collect coins on both platforms, which include writing reviews, browsing products, sharing products, purchasing products, watching live videos, checking in - the list goes on.
So, imagine if you've accumulated vouchers and coins. Here's what would happen.
Let's say you want to buy a computer mouse worth RM100 on Shopee. You managed to grab a voucher from the seller which gives you 5% off with a minimum spend of RM80. Then, Shopee itself has a voucher for free shipping. On top of that, you have accumulated a bunch of coins that amount to RM8. Here's how much you'd save:
Without coins and vouchers:
RM100 + RM3.50 (delivery) = RM98.50
With coins and vouchers:
RM100 - RM5 (5% seller voucher) - RM8 (coins) + RM0 (free delivery voucher)= RM87
Pro-tip: You get to claim coins when you do certain things - writing reviews being one of them. If you have bought a number of items, don't be gungho and review them all on the same day - pace your reviews and submit one each day to fully maximise your point collection.
5. Use the in-app wallet
By now you would likely be familiar with the platforms' e-wallets (namely Lazada Wallet and ShopeePay). Both platforms have their own close-loop e-wallet, which basically means that the money in your e-wallet can only be used on the platform itself.
While you may not like the idea of parking your money in yet another e-wallet, just think about it this way. If you're already going to be spending on the platform, might as well use a payment system that actually rewards you.

Incentives for Lazada's upcoming 7.7 sale. More info here.
Both platforms have their own perks such as cashbacks and rebates. Take for example Lazada - if you're a first time Lazada Wallet user, just top up a minimum of RM50 with your RHB debit or credit card and get an extra RM5. Lazada has also recently introduced the Lazada Wallet Members Day, where on the 26th of every month, you can get exclusive discounts of up to 40% off when you purchase using the wallet. More info here.
There are also time-limited promotions with offline vendors too. At time of writing, we found a Black Whale promo where you can get one Black Whale ice cream for RM1 just by using ShopeePay. Yum! We also saw other ShopeePay cashback promos with Secret Recipe, Mydin, Go Noodle House, The Alley, CoolBlog, and Mama Kim, to name a few.
To help Shopee users get more mileage for their Ringgit outside the platform, they're also roping in an RM3 cashback with a minimum spend of RM15 with ShopeePay at any of their offline merchants. (P/S: We hear that new ShopeePay users can get RM8 free cash when they activate their ShopeePay.)
Having an e-wallet also makes refunds extremely easy. Plus, considering banks are always on maintenance at midnight (the same time as when most major sale campaigns happen), pre-loading your wallet will easily allow you to take full advantage of sales as you can easily check-out without issues.
Pro-tip: The in-app wallet makes refunds extremely easy. In that sense, you can make impulsive purchases, change your mind, and get instantly refunded when you cancel your order (provided the seller hasn't begun processing it).
Read also: Ultimate e-Wallet Comparison in Malaysia 2020
6. Take advantage of bank promotions
Both platforms have various partnerships with different banks, and depending on which bank your credit card is tied to and the day you shop, you can get additional value for your money. We found a handy list from mypromo.my, which we've summarised below.
Disclaimer: There are various terms and conditions, such as minimum spends, excluded products, and utilisation periods. We encourage you to read them in the link above, or on Lazada or Shopee itself. These promotions are also at the discretion of the platforms and banks, and are subject to change.
Mondays
Lazada: Citibank credit card users can get RM28 off
Shopee: Standard Chartered Mastercard users can get RM30 off
Tuesdays
Lazada: Get 12% cashback when you top up your Lazada Wallet using Mastercard; get 20% off and RM10 off (existing users) with minimum spend of RM10 (new users) storewide
Shopee: Maybank credit card users can get RM15 off
Wednesdays
Lazada: Maybank credit card users can get RM15 off
Shopee: Citibank card users can get 15% off
Thursdays
Lazada: Public Bank credit card users can get RM10 off
Shopee: UOB credit card users can get RM30 off
Fridays
Lazada: Bank Muamalat credit card users can get RM15 off
Shopee: RHB credit card users can get RM18 off; RHB credit card users can get RM10 ShopeePay voucher upon e-wallet top-up
Saturdays and Sundays
Lazada: Maybank credit card users can get RM20 off from 12pm - 2pm; RHB credit card users can get RM16 off (existing customers) and RM10 off (new customers)
Shopee: AmBank credit card users can get RM30 off
Read also: CIMB Launches New e Credit Card: Here's What You Need To Know – So Far
7. Buy from the same seller
It's funny how we keep hearing this very old misconception of Lazada and Shopee. Seasoned shoppers may know this, but those who are pretty new may be surprised to learn that these sites are essentially platforms. What this means is that almost everything on the site is being sold by independent sellers, and not necessarily the platform itself.
So, how does buying from the same store help you save money on Lazada or Shopee?
Let's say you want to buy a kuali. Just search for it on the platform and you'll see a long list of kualis available for sale, all at different prices according to the sellers that sell them. Let's say you also want to get a saucepan and a ladle. Instead of buying it from other sellers, to maximise your money, you can try to buy it from the seller with the kuali that you want.
By adding on items, you may be able to reach the minimum purchase price to utilise the seller's vouchers or promos (if they have one) and enjoy rewards such as discounts or free shipping. Of course, this cross-checking exercise would take a little bit of effort... but if you can save some money, why not?
Pro-tip: Not every item in the same store would be delivered at the same time. Some items may already be available in the seller's warehouse/storage, but some may require the seller to pre-order from an overseas supplier. In cases like these, you will have no option but to pay additional shipping. To avoid this, try to match all your items' places of origin before checking out.
Read also: These Two Malaysians Turned Their Passion for Shopping Into A Career
8. Watch livestreams
If you want more bang for your buck, catch some of the live videos that happen on the platform. In these videos, sellers typically demonstrate and hype up the stuff they're selling while answering questions from their audience.
More often than not, they'll also throw in exclusive vouchers and share special promotions during the livestream. There are times where they'll also run auctions! These deals are specifically for those who watch the livestream, and may not be repeated once the livestream ends.
On major sale campaigns, Lazada and Shopee would also host live concerts with celebrities and influencers entertaining you from wherever on earth the stream is being broadcasted. These live concerts are also infamous for throwing massive amounts of vouchers and rebates, along with special deals only available there and then.
Pro-tip: If you're watching a livestream from an SME seller, you may be able to negotiate a better deal since they have less red tape.
Lazada 7.7 sale and Shopee 7.7 sale deals to look out for
Now that you're armed with some of the best ways to get more value for your money, put them into practice in the upcoming 7.7 sale happening on both platforms. Here's a quick snapshot of what you can expect:
Lazada 7.7 Mid Year Super Sale (happening now till 7th July 2020)
Claimable platform-wide Free Shipping vouchers with a minimum spend of RM15
Lowest Price Guaranteed (LPG) - If you find an item under 'Chup Dulu' and 'Mid Year Sale' cheaper on another site, you'll get 200% of the price difference credited back to your Lazada Wallet
Enjoy lower prices for items under 'Chup Dulu'. In this category, you pay a non-refundable deposit before 7th July, and make the remaining payment on 7th July
Get a robot vacuum cleaner, guitar, Skechers shoes, and more for as low as RM1 during their Crazy Flash Sale. More items available at discounts of up to 90%
Win prizes (e.g. Realmi 6i smartphone) by being the fastest to accumulate LazCoins
Use LazCoins to redeem cash and rewards, such as free shipping vouchers, 50% discounts, RM7 vouchers
Participate in the Lazada Wallet Heartbeat Experience and stand a chance to win a prize from a total prize pool worth close to RM100,000
Top-up Lazada Wallet with minimum of RM100 and stand a chance to win a total of RM27,777 cashback
New Lazada Wallet users to get an RM5 wallet surprise to be used on 7th July
First 77 existing Lazada Wallet users to purchase items from the sale will get RM77 credited into their wallet
All Lazada Wallet users will get an RM3 payment voucher to be used on 7th July
Various other brand-sponsored cashbacks on 7th July
The sale will also mark the start of the LazMall 'Guaranteed Delivery' promise to the entire West Malaysia (instead of only within Klang Valley). FYI, sellers with the LazMall logo indicate items that are 100% genuine, with a 15-day return policy and guaranteed delivery. Guaranteed delivery basically indicates faster, more reliable deliveries and deliveries which are made the next day. Customers can also automatically receive compensation (to Lazada Wallet) if the delivery exceeds the promised time.
Shopee 7.7 Mid Year Sale (happening now till 7th July 2020)
50% Shopee Coins cashback on a daily basis
Stand a chance to win up to seven million Shopee Coins through the in-app games (e.g. Shopee Claw, Shopee Candy, Shopee Garden, Shopee Poly, Shopee Dance)
Deals as low as RM0.77 during upsized Shocking Sale on 7th July
Lowered minimum spend of RM10 to enjoy free shipping from 12am - 2am on 7th July
Special Shopee 7.7 Maybank Concert happening from 9pm to midnight on 6th July via Shopee Live, Astro Prima, and YouTube
The live concert will feature celebrities like Adira Suhaimi, Awal Ashaari, Hael Husaini, Jaclyn Victor, Nabila Razali, Naim Daniel, Sherry Alhadad, Yonnyboii and Zizi Kirana
The live concert will also feature special voucher giveaways for viewers who tune in
Happy shopping, peeps!