We bet your pockets are filled with tons of ang pows from the recent Chinese New Year celebration! Now if you're thinking of depositing your ang pows, do so on Li Chun 立春 day.
What is Li Chun 立春 ?
Li Chun; Li means to start and Chun means springtime, hence it marks the beginning of spring in the lunar calendar. This year, Li Chun falls on 4th February 2023.
What is the significance of Li Chun and good fortune?
Every year, each Chinese Zodiac will have its own auspicious time throughout Li Chun day. It is believed that depositing money into your bank account according to your Chinese zodiac's auspicious time will make your finance prosperous and help make a stable income for the rest of the year!
The best time to deposit money according to Zodiac sign: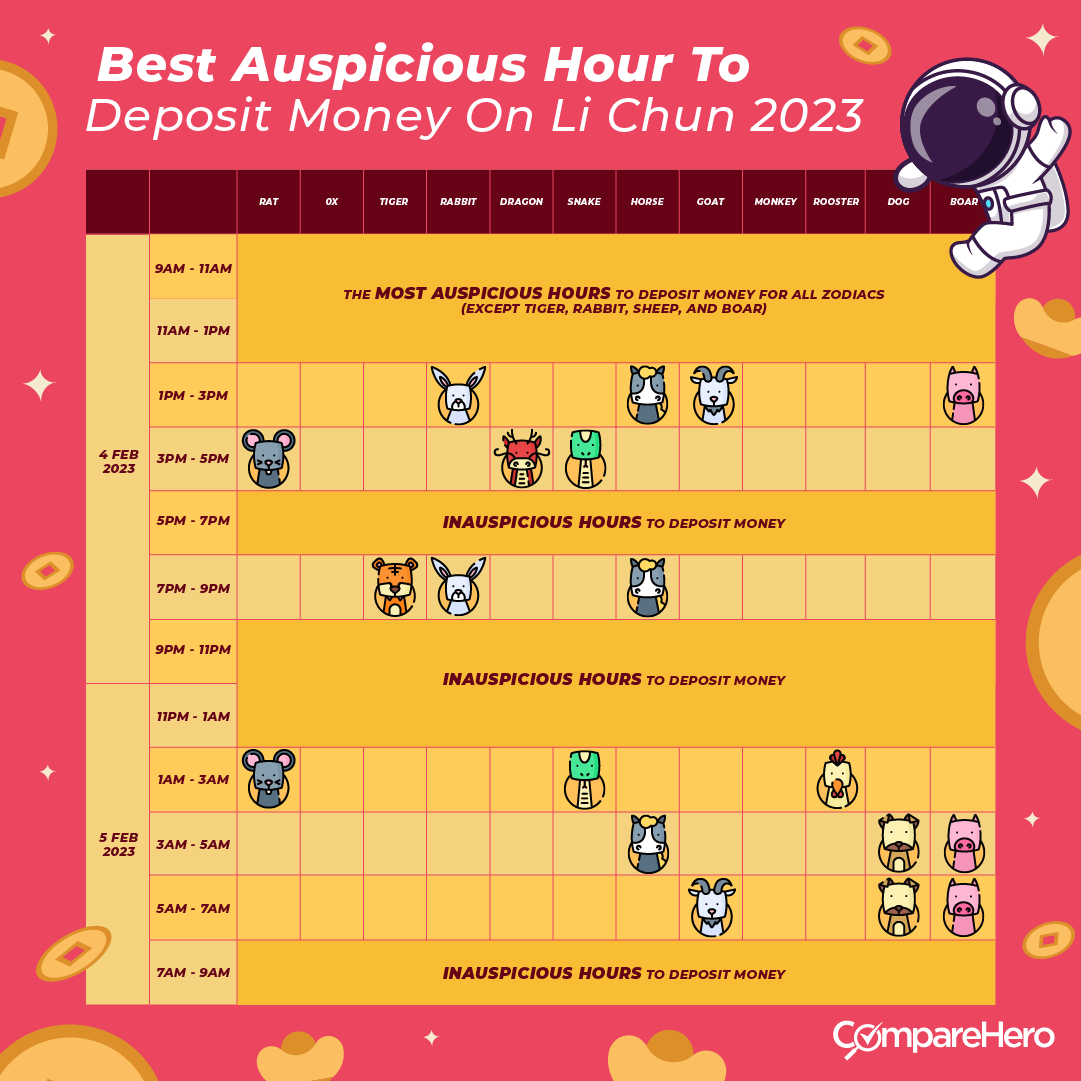 Auspicious hour
Now, the most auspicious hour to deposit money for every zodiac sign except Tiger, Rabbit, Goat and Pig are 9AM - 11AM and 11AM - 1PM on 4th February 2023.
Inauspicious hour
But also, don't deposit money during these inauspicious hours:
4 Feb: 5PM – 7PM

4 Feb: 9PM – 11PM

5 Feb: 11PM – 1AM

5 Feb: 7AM – 9AM
Do you have to deposit money via ATM?

Today, there are plenty of ways for you to make a deposit, as opposed to depositing money only via the ATM. For example, you can also take out money from your e-Wallet and transfer them into your savings account.

However, if you ask the older generation, they would probably shun the idea and suggest that you do it the traditional way, which is to take out physical money from your physical wallet and deposit it into your bank account via ATM.

Don't forget to wear clothes in your auspicious colours!

That's right, it's also said that you can reel in better prosperity by wearing clothes in your lucky colours when you make your deposits.

Zodiac signs' auspicious colours

Rat: Yellow, brown, white and gold.

Ox: Blue and black.

Tiger: Red, orange, yellow and brown.

Rabbit: Green, yellow and brown.

Dragon: Blue, black, white and gold.

Snake: Red, orange, white and gold.

Horse: Yellow and brown.

Goat: Green, red and orange.

Monkey: Blue, black, yellow and brown.

Rooster: Yellow and brown.

Dog: Green, red and orange.

Pig: Blue, black and green.

Now you know what to do to get huaaaats of prosperity for the entire year! Set your alarm and deposit your money on Li Chun day!

Source:

WayFengShui