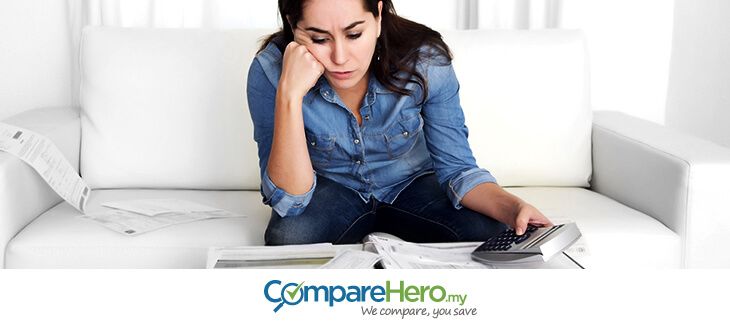 How To Compare And Save Thousands Of Ringgit On Your Personal Loan
Comparing personal loans in Malaysia used to be a hassle: calling bank's contact centers, visiting their branches to obtain quotes, and surfing all their websites to look up the terms and conditions.
But all of that is now in the past, as CompareHero.my has already done all the work for you, for all the banks and all personal loans in Malaysia and the results will surprise you. We found out that the interest rate difference between a cheap and an expensive 3 year, RM10,000 unsecured personal loan can amount to almost RM5,000 in interest charges!
Whether you are looking for a Shariah-compliant loan, if you need cash urgently and require a fast processing time, or you are a Government or GLC employee, comparing banks and loans at CompareHero.my will always save you money!
Save Up To RM4,850 Now On A Personal Loan Now!
We did a comparison for a 3-year, RM 10,000 unsecured personal loan and found that the difference in interest rate between the cheapest and most expensive bank was a staggering 16%!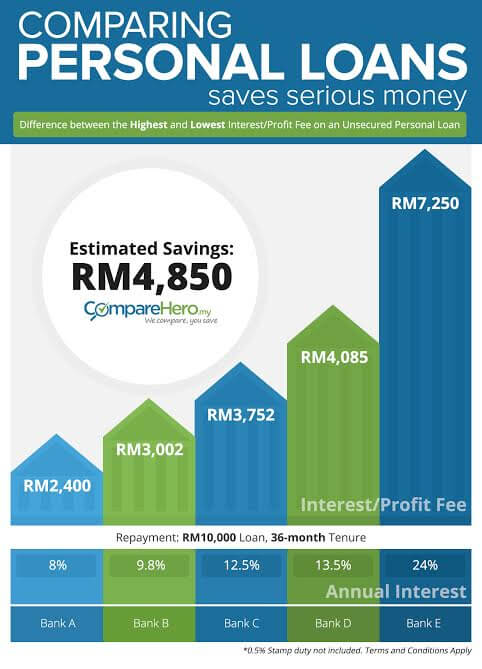 If you were unlucky enough to have purchased the most expensive personal loan in Malaysia, you have paid RM4,850 in interest charges more than if you would have gotten the much cheaper personal loan from Bank A. RM4,850 on a RM10,000 loan is a huge difference, as it is almost half the original loan amount! That is why CompareHero.my is dedicated to increasing the transparency in the market, to prevent Malaysians from forking out more money on interest charges than strictly necessary.
Both the most expensive and cheapest personal loans were Shariah-compliant loans. If you had chosen to apply for a conventional personal loan, you would still have saved thousands of ringgit after comparing them first on CompareHero.my!
We also compared personal loans for Malaysians that work in the public sector or as a GLC employee and though they typically get better rates, they can still save more than RM600 by comparing loans on CompareHero.my.
However, interest rates should not be the only determining factor when choosing a personal loan. The speed of the loan approval process, income requirements, bank service levels, early settlement and late payment fees and other terms and conditions are important factors to ensure that you get your money's worth.
CompareHero.my strives to empower Malaysians with financial literacy and the tools to make better financial decisions in life. Find and compare the best personal loans on CompareHero.my today, be it for weddings, home improvement or debt consolidation.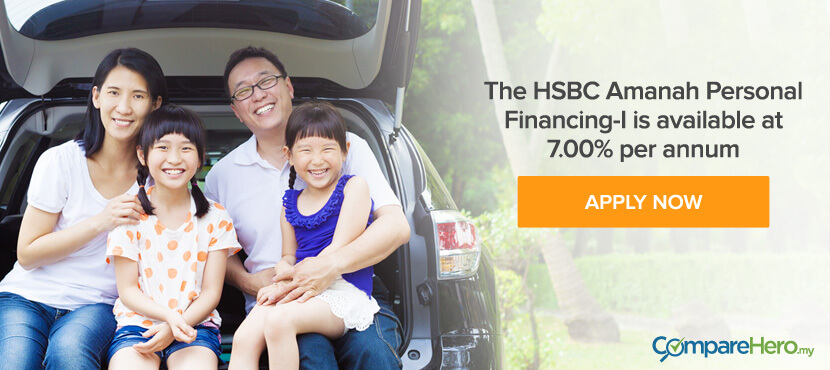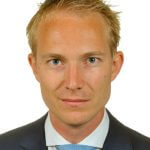 By Mark Reijman
Mark Reijman is the Managing Director of CompareHero.my. He is passionate about increasing financial literacy and helping consumers make better informed decisions by creating greater transparency.
Save