Phew!
Anticipation was through the roof as we diligently listened to what was broadcasted last Friday. I'm talking about the annual national budget that was tabled in Dewan Rakyat on October 11, 2019. With themes 'Shared Prosperity' and 'Kemakmuran Bersama' spearheading the highly-anticipated event, we were all eager to know if the proposed key initiatives for year 2020 would live up to its name.
While it was no easy feat trying to keep up with our finance minister Lim Guan Eng's speech during the Belanjawan 2020 presentation, we managed to capture some key highlights.
In case you've missed it, catch a live version of what went down here: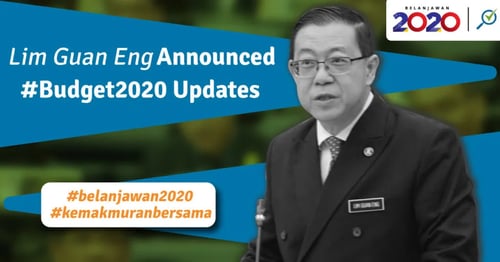 Otherwise, let's start with some visuals of the key initiatives that will be implemented next year.
Last year, a sum of RM314.5 billion was allocated for Budget 2019 which was themed as 'Credible Malaysia, Dynamic Economy, Prosperous Rakyat'. This year, the government has allocated RM297.02 billion — a drop of 5.6% compared to the previous year.

Budget 2020 is anchored on four thrusts:
Driving Economic Growth in the New Economy and Digital Era
Investing in Malaysians: Levelling Up Human Capital
Creating a United, Inclusive and Equitable Society
Revitalisation of Public Institutions and Finances
The objectives of the 15 strategies outlined under the budget includes future proofing the economy and bridging wealth as well as income disparities that is in line with the aspirations of the Shared Prosperity Vision 2030.
See also: Budget 2020: What Can We Expect?