Find the best cashback credit card to take with you when you go shopping for groceries! We've also done all of the research for you so you'll know the pros and cons of each card below.
Hong Leong WISE Gold Card
This is the card you should not leave home without when you go groceries shopping! It's the best cash back credit card for groceries shopping as of now with 10% fixed rate cash back. The cash back is capped at RM100 which is the highest amount when compared to the other cards on this list. The monthly minimum spending required to receive maximum cash back is also reasonable, which is RM500.
However, a limitation to this card is that the 10% fixed rate cash back, which is only limited for two categories. But you can choose the two categories to suit your spending style. Aside from groceries, the other categories you can choose from are petrol, mobile, pharmacies, dining, department stores, book stores, utilities, entertainment and travel. If you want to make changes to the categories for your cash back, you will be charged RM10.60 for each change.
RM160 annual fees
RM2,000 minimum monthly required
HSBC Amanah MPower Visa Platinum Credit Card-i
Here's another cashback credit card to consider for groceries shopping as the cashback applies at participating stores like Giant, Tesco, Mydin and AEON Big. The cashback rate is 8% for groceries and petrol charged to this card, but do take note that cashback is capped at RM50 per month. And to qualify for the 8cash back you have to spend more than RM2,000 per month, or you only get a cashback rate of 2% if your spending is below RM2,000.
RM240 annual fees (not inclusive of GST) waived with minimum 12 swipes per year
RM3,000 minimum monthly income
Apply for this card before 22nd May 2016, and you get an additional 5% cashback on your spending for 6 months!

Maybank Islamic Mastercard Ikhwan Gold Card
Want a cash back credit card with no annual fees? Look no further! This card has no annual fees as it's also an Islamic credit card.
The cash back rate is 5% for spending on petrol and groceries. However, spending needs to be on Fridays and Saturdays only in order for it to qualify to get cashback. The cash back cap is RM50 per month and card holders will need to charge at least RM1,000 of petrol and groceries to the card to get the maximum cash back amount.
Another plus point for this card is that card holders will be doing their bit for charity because for every time any purchases are charged to the card, the bank will contribute 0.1% of the total amount that you've spent to charity (Mercy Malaysia & Islamic Relief Malaysia). Additionally, you also get a free Touch 'n Go Zing card with this credit card and late charges are non-compounding, unlike conventional credit cards.
No annual fees
RM2,500 minimum monthly income.
It's also hassle-free because you don't have to be a Maybank account holder to get this credit card. Are you interested? You can apply online now by clicking the button below!

See also: The Best Islamic Credit Cards in Malaysia
Public Bank Visa Signature Card
This credit card offers the second highest cashback cap on this list which is RM60. It offers 6% cashback rate for groceries, dining, online shopping as well as domestic and overseas transactions! While the minimum spending required in order to receive the maximum cash back is RM1,000.
Annual fee: RM 411.28 including 6% GST (waived for first year, waived subsequently with minimum of 12 swipes per year)
RM8,333 minimum monthly income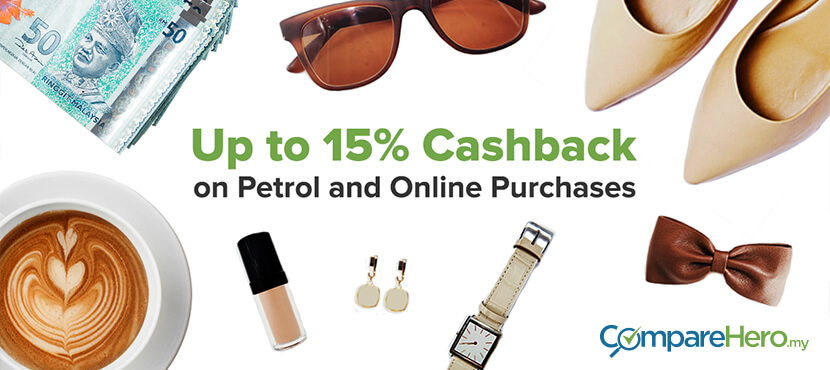 Are you looking for more credit card options? Compare credit cards for free on CompareHero.my and be on your way to more savings and rewards!
Save
Save
Save
Save
Save