Menu Rahmah has been the talk of the town - well, the whole of Malaysia, actually! For a really good reason too, you can now enjoy a decent meal at RM5 only.
An initiative by the Domestic Trade and Cost of Living Ministry (KPDN) that was launched on 31 January 2023, the Menu Rahmah meal programme aims at helping the public - especially the B40 group - cope with the rising cost of living by providing lunch or dinner meals at an affordable price.
When Menu Rahmah was first introduced, there were already 15,000 participating food premises covering states across the country.
Seriously, less than RM5 for a set meal? What does it include?
This is a full-on proper meal! For RM5, you get to enjoy a set meal that includes rice, a type of protein (usually fish or chicken) and, vegetables. It also comes with a drink, typically a bottle of mineral water. However, there may be slight variations to set offerings - and prices, depending on the F&B operators.
How to find participating F&B outlets?
Just visit Menu Rahmah official website at menurahmah.kpdn.gov.my and scroll down to view the full list of restaurants around Malaysia that are offering Menu Rahmah.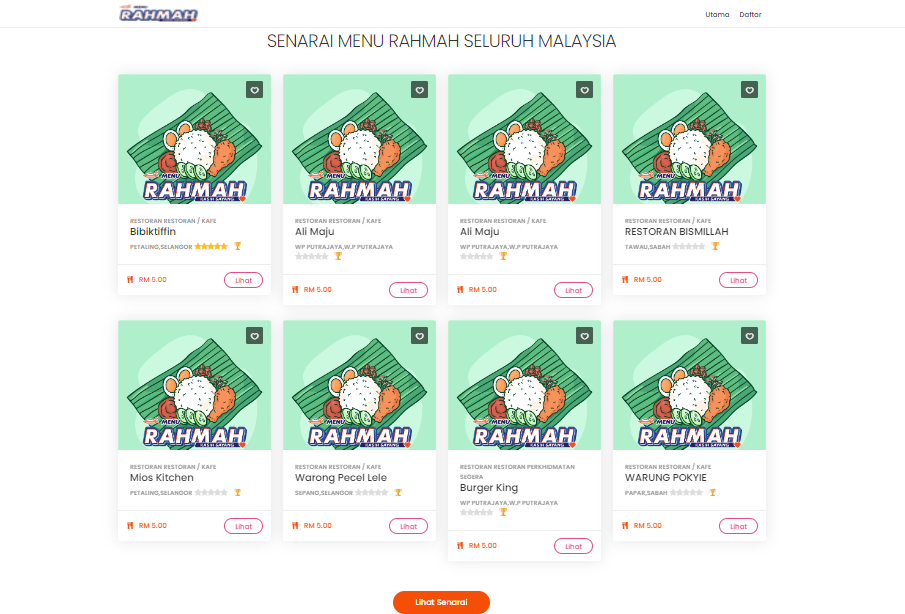 You can also sort by state, name of the restaurant and, type of food.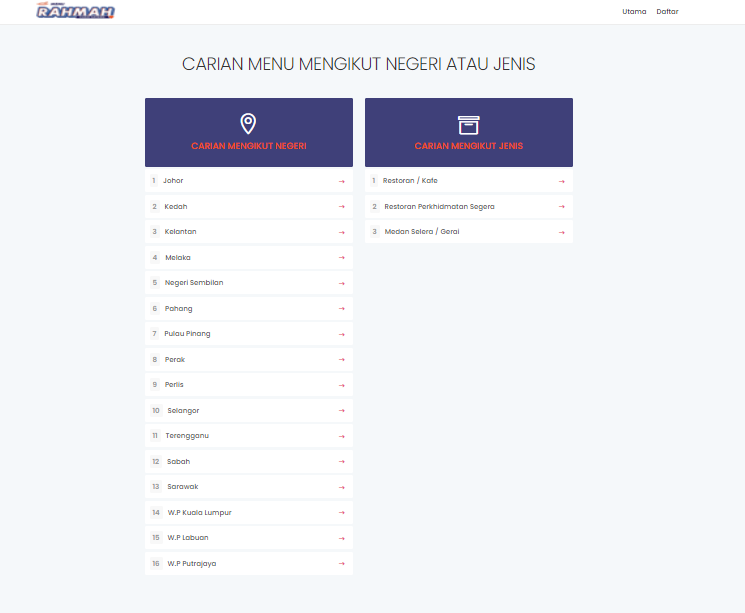 Here are some outlets that offer the Menu Rahmah meal programme:
1. Mydin
Mydin was one of the first few places to support Menu Rahmah and priced their meal at RM4.90 only! Different meals are offered for each day of the week, and are offered at all 28 branches nationwide. For example, on Friday, you get rice with chicken curry, bean sprouts with a bottle of water; while on Saturday, enjoy rice with fish "kicap", kangkung belacan, with a bottle of water.
2. Burger King

The very first major fast-food chain to join the Menu Rahmah initiative is Burger King! For only RM5, you get to choose between BK Chick'N Crisp or Cheesy Beef Burger. Each choice of burger comes with a bottle of mineral water.
3. PLUS R&R
Travelling a lot on the PLUS North South Highway? Menu Rahmah meals are now available at various Plus Highway's rest stops. Each meal set is priced at only RM5! Check out the participating restaurants for each rest stops.
4. OldTown White Coffee
Craving for nasi lemak at OldTown White Coffee? Now you can enjoy it at only RM4.50! It also comes with a refreshing lime drink. Not only that, you can also add sausage or minced chicken to your nasi lemak and the total will only cost RM5 per set.
5. AEON BiG
With a selection of meal of the day for the entire week, AEON BiG's Menu Rahmah includes "sotong kunyit" (Mondays), fried fish + curry gravy (Tuesdays), curry chicken (Wednesdays) and more. Each set meal comes with a bottle of mineral water. Do take note, the Menu Rahmah promo is available at all AEON BiG outlets except AEON BiG Sri Petaling and Midvalley.
6. Restoran Ali Maju
Fill your tummy with mamak comfort food from Restoran Ali Maju. They offer rice, chicken or fish, plus gravy and vegetables with a sweet drink for only RM5. With plenty of outlets in the Klang Valley, just head over to an outlet nearest to you.
7. Ayam Pak Sheikh
Get Nasi Sambal from Ayam Pak Sheikh at RM5! Their Menu Rahmah includes 2 crunchy pieces of fried chicken, salad, cucumbers, sambal hijau and white rice. However, there was no mention of a drink.


ICYMI The Menu Rahmah initiative is part of the Payung Rahmah short-term programme that includes other initiatives; Bakul Rahmah, Kafe Rahmah, Jualan Murah Rahmah, and Barangan Rahmah.