In less than two weeks, we will be celebrating the long-awaited Chinese New Year and if you are just as excited as we are, here are what we think, the top ten best restaurants to enjoy a reunion dinner with your family, friends, and colleagues.
Top Ten Restaurants For Chinese New Year Reunion Dinner
1. Restaurant Extra Super Tanker, Bandar Utama
You can enjoy traditional Chinese delicacies and choose from their many set deals starting from RM1,068 for a table of ten people. Dishes like Steamed Dragon Grouper Slice with Beancurd Stick & Cloud Fungus, Fried Crystal Prawn with Superior Soy Sauce, Baked Spanish Iberian Rib, and Braised 10 Head Abalones with Mushrooms.
There is no better way to enjoy a reunion dinner than a table filled with your loved ones and traditional Chinese dishes.
Location: The Club @ Bukit Utama, 47800 Petaling Jaya, Malaysia
Phone number: 03-7726 8877
2. Kechara Oasis Vegetarian Restaurant, Petaling Jaya
Vegetarians should be familiar with this restaurant located at Jaya One of its famous vegetarian Chinese dishes. Kechara Oasis is also serving a wonderful Chinese New Year reunion dinner set deals this year and if you are looking for a healthy option, this is the perfect place to go to.
The restaurant offers a choice of Banquet Menus for:
10 pax at RM688++
6 pax at RM468++
10 pax at RM888++
6 pax at RM568++
Click here to know more about the set deals!
Kechara Oasis Jaya One
Tel: +603 7968 1818
Location: Kechara Oasis Viva Home
Phone number: 03-9284 1818
3. OUG Jade Restaurant, Taman OUG
If you are looking for a great 'Poon Choi', a traditional Chinese dish that includes seafood, meat, vegetables and loads of other ingredients served in one huge pot, mostly for Chinese New Year's reunion dinner, OUG Jade Restaurant is one of the few places that can fulfill your cravings.
The restaurant offers dinner sets for 6 to 8 pax starting at RM999 nett and you can choose between two sessions: 5.30 pm or 8.30 pm.
Click here to find out the set deals offered by OUG Jade Restaurant.
Location: 2nd Floor, The Market Place, Jalan Hujan Rahmat, Taman OUG
Phone number: 03-7972 5885
4. The Elite Seafood Restaurant
This restaurant is one of the famous Chinese restaurants to go for weddings, lunches, dim sum and dinner by the locals. For the upcoming Chinese New Year, The Elite Seafood Restaurant has prepped 6 different dinner sets for you to choose and it serves up to 10 pax per table.
You can also order Yee Sang on their ala carte menu from as low as RM55 per set. Click here to find out more about The Elite Seafood Restaurant Chinese New Year's reunion dinner sets.
The Elite Seafood Restaurant
Location: Lot 9B, Jalan Kemajuan, Section 13, Petaling Jaya, Selangor.
Phone number: 03-7960 4988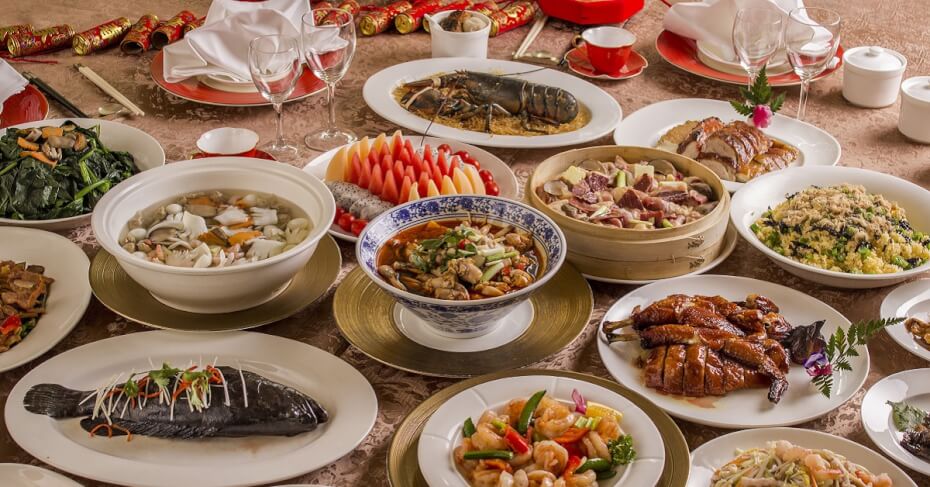 5. Tai Thong Restaurant
You can dine at this chain of restaurants located at several locations including Thai Thong Odeon Restaurant in Kepong Baru, Imperial City Restaurant in Cheras, Imperial China Restaurant in Subang, and Spring Garden Restaurant in KLCC.
The best thing is, you can accustom your reunion dinner according to pork-free or with-pork at their many outlets.
With-pork outlets: Imperial China Subang, Imperial Garden PJ, Imperial City Cheras, Tai Thong Odeon Kepong, Royal China Ipoh.
Pork-free outlets: Oriental Pearl Bukit Kiara, Oriental Pearl Bukit Jalil, Spring Garden Kota Permai
Click here to see the full menu, locations, and contacts!
6. Hakka Restaurant, Bukit Bintang
Hakka Restaurant located Bukit Bintang is one of the oldest Chinese restaurants and it is still standing strong for a reason, the delicious Hakka dishes! For the upcoming Chinese New Year, executives who are working in Bukit Bintang area can check out the reunion dinner sets offered by this restaurant starting at the price of RM788 for 10 persons.
Check out their Facebook page for full details!
Location: No. 90 Jalan Raja Chulan, Kuala Lumpur, Malaysia
Phone number: 03-2143 1908
7. Amber Chinese Muslim Restaurant, Bangsar South or 1 Utama
Looking for a halal restaurant to enjoy the upcoming Chinese New Year reunion dinner? Here is a legit halal Chinese restaurant run by Muslims to fulfill your cravings for Chinese dishes without any worry!
Other than dinner sets selling at the price from RM899 for ten persons, you can also order additional 'Poon Choi' and 'Yee Sang' as cheap as RM188 and RM49 respectively.
Location: Unit 14, 7, Jalan Kerinchi, Bangsar South, 59200 Kuala Lumpur
Phone number: 03-2242 1010 (Bangar)
Location: Lot F337 & F338, Level 1 @ Rainforest, New Wing, One Utama Shopping Centre, Bandar Utama
Phone number: 03-7680 1020 (1 Utama)
8. Muhibbah Seafood Restaurant, Sungai Penchala
In a comfortable and bright space, this restaurant serves exquisite halal Chinese dishes and fresh seafood delicacies. Perfect to celebrate this Chinese New Year, you can bring your Muslim friends and family to Muhibbah Seafood Restaurant for a feast with dishes like buttered prawns, beef in black pepper and Chinese cabbage in oyster sauce.
Location: Jalan Seri Penchala, Kampung Sungai Penchala, 60000 Kuala Lumpur, Wilayah Persekutuan Kuala Lumpur
Phone number: 03-7727 3153
9. Golden Valley Chinese Muslim Restaurant, Taman Tun Dr. Ismail
This Chinese Muslim restaurant is perfect for small families that seek to enjoy the sights of Nyonya-style steamed sea bass, lala in superior broth, marmite chicken, salad prawn, almond chicken, ginger and chicken fried rice and kong po chicken yam basket.
Check out their full Chinese New Year menu here!
Location: LGB Tower, Lower Ground Floor, 1, Jalan Wan Kadir, Taman Tun Dr. Ismail, 60000 Kuala Lumpur, Wilayah Persekutuan Kuala Lumpur
Phone number: 03-7722 1488
10. Lai Poh Heen, Mandarin Oriental Hotel Kuala Lumpur
Situated in one of the most renowned hotels in the city, Lai Poh Heen serves a grand Chinese dinner menu filled with Cantonese dishes, dim sum and more. This upcoming Chinese New Year is a perfect time for you and your loved ones to gather at this restaurant, under its luxurious atmosphere and open kitchen view.
Some of the must-try dishes here include yee sang with abalone, double boiled abalone soup, wok-fried lobster with lime and salted egg paste, stir-fried scallops with sweet basil in spicy sauce and more. Most importantly, this restaurant is a halal restaurant and Muslims can enjoy Chinese dishes during the festive season here.
Click here for more information!
Location: Mandarin Oriental Hotel, Kuala Lumpur City Centre, 50088 Kuala Lumpur, Malaysia.
Phone number: 03- 2179 8885
5X 360' Rewards Points for Dining, Departmental Stores & Overseas spend
1X 360' Rewards Points for Other spend
ZERO Annual Fee, FREE for life