Updated 4th September 2018
We're about to enjoy TWO long weekends this month folks, which makes it the perfect time to plan a quick getaway for a change of scenery. Whether you are a thrill seeker, a foodie, or looking for a nature escape, here is a list of getaways that won't break you budget!
For Nature Lovers
Malaysia is blessed with rainforests and plenty of hidden gems amongst nature that you can escape to when the concrete jungle proves to be too much. Some of the best are located in East Malaysia, a land which offers rainforests and also islands for you to choose from.
Sabah
In Sabah, you will be mesmerized by the crystal clear blue waters at the Tunku Abdul Rahman National Park. There are 5 islands within the park which are Pulau Manukan, Pulau Mamutik, Pulau Sapi, Pulau Gaya and Pulau Sulug. It is located 20 minutes via boat ride from Jesselton Pier at Kota Kinabalu. You can go for a snorkel, dive, or simply relax by the beach.
Tip: To keep the cost down, opt for day trips instead of staying at the luxury resort on the Islands. You will have better budget friendly accommodations at Kota Kinabalu and still be within reach of the Island. The return boat fare to Jesselton Pier is about RM30.
Suggested accommodation: Grand Borneo Hotel, from RM140++ per night.
Sarawak
For a lush rainforest experience, Sarawak is the place to go which offers the most amount of rainforest than any part of Malaysia. You can also experience the famous caves of Sarawak which are the Fairy Cave and the Wind Cave. These caves are located about 1 hour from Kuching town. Nature lovers should also visit the Bako National Park where you will get to see forest creatures, unique rock formations and even swim at a nearby beach. Choose from 16 of the color coded jungle trails to suit your preference.
Depending on your budget, you can get there either by bus which is RM3.50 one way, mini bus RM5 one way or by taxi which will be RM45 one way.
Suggested accommodation: Basaga Holiday Residences, from RM130++ per night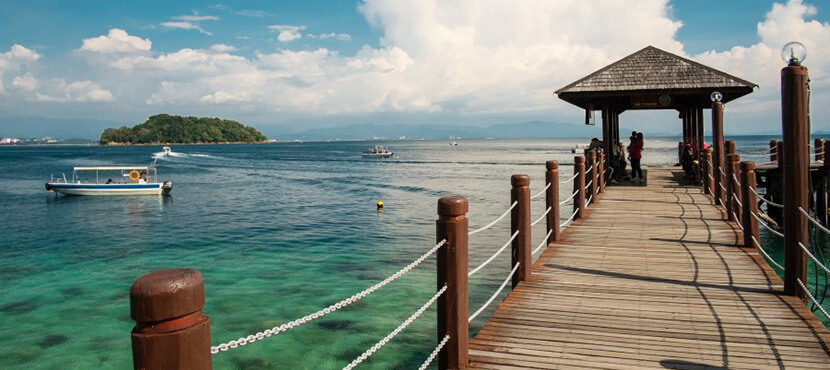 Pulau Gaya, Sabah
For Foodie Fans
Penang
First up is Penang, well known for its street food and hawker food stalls. When in Penang, you must try the famous Cendol, Nasi Kandar and the Kuey Theow Thn'g which is noodles in clear broth soup topped with meat. It's a dish usually prepared by the Chinese but for a good halal version we recommend Sifu Omar Hokkien Mee located at Kafe Goodal. After you've indulged in the feasting sessions, you can walk off the calories to enjoy the street art in George Town or along the beach
Suggested accommodation: Magpie Residences @ Jalan A.S. Mansoor, from RM54++ per person per night.
Ipoh
Next is Ipoh with its array of food choices to excite the foodie in you. Everyone who flocks to Ipoh will not miss the tantalizing Nasi Vanggey, where you will have to que to get your dish. Vanggey translates to 'come' and the standard dish is made up of rice, fried chicken, a mixture of gravy topped with sambal. But if you'd like to be adventurous, the squid and the Ayam Merah is also said to be a crowd favourite. The rice is also nicknamed Nasi Ganja as it is said to be so addictive! Ipoh is also known for some of the best Chinese food, and the must try is the famous nga choy kai or "bean sprouts chicken". Lou Wong Bean Sprout Chicken is known to be the go to place for nga choy kai. For those looking for a halal option, you'll need to make a trip to Gopeng Guesthouse which is the recommended place to get a good halal version of nga choy kai.
Suggested accommodation:Sekeping Kong Heng, from RM55++ per night
Melaka
For a location with a nice mix of history, charm and good food, Melaka will definitely deliver! Begin at Jonker Street with its many quaint cafes and antique shops. Don't miss the Jonker Street night markets (Fridays and Saturdays) where you can try out the famed Melaka Cendol, Assam Laksa, Coconut Shake and more. Other tasty treats you should try when in Melaka is the Chicken Rice Ball, Nyonya food and Melaka's Assam Pedas.
Suggested accommodation: Layang Layang Guest House, from RM90++ per night.
For Thrill Seekers
Perak
Looking for something you don't usually get to do every day? Why not experience the jungle with some adventure at Sungai Sedim Recreational Forest in Kulim, Perak. You will get to enjoy many activities within the lush forest environment with the tree top walk, water rafting or you can even trek up the mountains. Other activities are paintball, whitewater boarding, 4X4 off road experience and more.
Suggested accommodation: Sedim Rainforest, from RM150.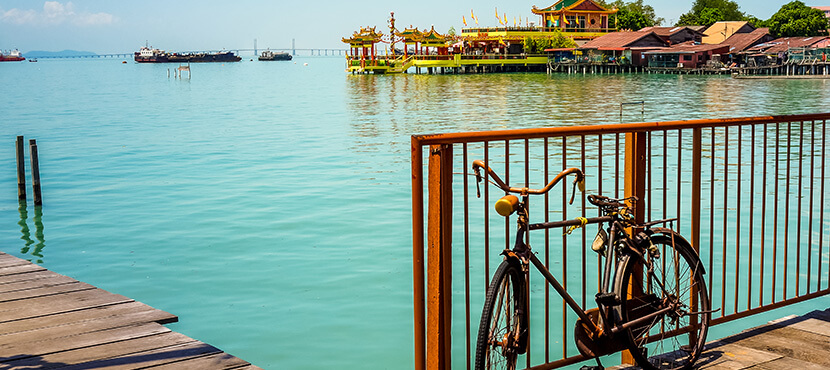 Penang
For Staycations
You don't necessarily have to venture out for a getaway as sometimes simply checking in to a charming accommodation nearby will also do the trick to help you unwind. Consider a staycation instead such as the D'Majestic Place in KL priced from RM168 per night. The best part is the scenic rooftop pool where you can relax with a view of the city.
If you want to be surrounded with greeneries without having to leave the city, Sekeping Tenggiri will transport you to a realm close to nature whilst still within the vicinity of KL. Rooms are priced from RM220 per night, and we suggest the pool view room. If you're willing to spend a bit more (RM330 per night), the glass room will give you unobstructed lush green views of the garden.
See also: Countries Malaysians Can Travel Visa-Free
Accommodation prices were correct as of time of writing and may vary.