Remember the good ol' saying "Save up for a rainy day"?
We hear that advice so often but nobody ever told us not to spend all our 'rainy day' savings on rainy days.
Among the many ways the monsoon season affects us, one of the more prominent areas include commuting around. There's a tendency to spend more on transportation to avoid getting caught in the rain. What more when the rain hits us towards the evening during the rush hour? Those living in Kuala Lumpur will be able to relate since the annual monsoon has been hitting us pretty bad since October.
But it's not all doom and gloom. Commuting around town doesn't have to be expensive if you practice the following budget hacks for traveling around the Klang Valley.

The revolutionary introduction of e-hailing platforms have undoubtedly changed how we commute around today. Back then, it was more reliable to own a car, but today that isn't necessarily the case. Think about the amount of time and money you can save from not having to hunt and pay for a parking slot. You also get to finally sit back and relax during traffic congestion.
But in recent months, the popular e-hailing giant Grab have been the talk of the town in not the most positive note.
GrabRewards Points
On October 1, 2019, Grab implemented a huge change in their popular rewards scheme that garnered a lot of mixed reviews. GrabRewards points no longer have an expiry date as long as the user continues to use Grab services. However, they have increased the threshold for its rewards points as you are required to spend more to earn points.
Government Requirements
Back in July, the Ministry of transport announced that new e-hailing regulations would come into full effect on October 12, 2019. Under this new regulation, all e-hailing drivers are required to obtain two new licenses to continue operating. This is the public service vehicle (PSV) license and the e-hailing vehicle permit (eVP).
However, due to the lengthy process, only 4 out of 10 drivers have obtained it as of October 9, 2019 as reported by Grab.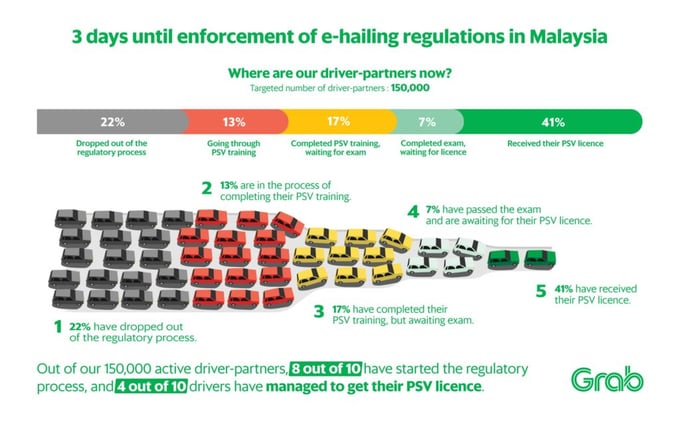 This lack of drivers on the road has caused longer wait times and increase in prices, resulting in numerous complaints.
But while there are 42 e-hailing companies in Malaysia to choose from, there are also plenty of other ways to save cost when commuting around Klang Valley — especially during the rainy season.

A recent survey conducted by The Centre for Governance and Political Studies (Cent-GPS) found that 87% of Malaysians residing in Klang Valley drive alone to work, which makes the rate the highest in the world for the single commuters category.
But just imagine the luxury of commuting home in your own space after a long day at work. It's a luxury that most of us would prefer, but comes at a higher cost. However, we have compiled a list of ways you can save money if you still prefer driving.
Download and use the Touch N' Go eWallet app
Although the government has announced that there would be an 18% discount off tolls beginning next year as part of a Belanjawan 2020 initiative, tolls can take up quite a bit in our monthly budget. Thankfully, the Touch N' Go eWallet has plenty of cost-saving benefits we can adopt.
Earn unlimited free toll rebates when you invite friends to use the app.
You no longer need to pay for reload fees if you top up via the app.
The app allows you to check the balance in your card. No more traffic-causing low-balance surprises at toll plazas!
On top of that, this is the best time to start learning how to use the app now that PLUS Malaysia Berhad have decided to abolish most Tambah Nilai lanes across highways nationwide effective November 5, 2019.
Save more with petrol cash backs and points
Kuala Lumpur is well-known for its nerve-racking traffic congestion. And did you know that most of our fuel is consumed in traffic? So, what does that tell you about where most of our money allocated for transport goes to?
But there are ways to earn cash backs or points on petrol if you use the right credit card. Browse through the list of best credit cards for petrol savings which we've prepared. The HSBC Amanah MPower Platinum Visa Credit Card-i offers up to 8% cash back for petrol that is capped at a maximum of RM50 whereas the Petronas Maybank Visa offers up to 8X TreatPoints on weekends. Compare between cards and select the best for your needs.
Also, check out our weekly-fuel price updates. Monitor the fluctuating prices and fill your tank accordingly.
Carpooling
I personally have not seen anyone that I know of carpool, although I have to admit that I am guilty of doing it myself. Sometimes after a long day at work, we just need our own personal space to recharge our social battery.
True enough, the Cent-GPS survey revealed that some of the reasons why the 87% preferred driving alone were due to comfort and alone time which gives them the freedom to listen to their choice of music or podcasts without feeling the need to entertain other passengers in the car.
But here are some of the benefits of carpooling if you're strapped on cash but still prefer driving as your main mode of transport.
You get to save money when you share the cost of driving with other drivers.
You get to sit back and relax during traffic if you're carpooling someone else's car.
You get to help save the environment because carpooling creates cleaner air and safer communities.
You get to prolong the life of your vehicle because shared driving puts fewer miles on your own car.
You get to help reduce the number of cars on the road and ease traffic congestions.

More often than not when people mention public transportation, we groan at the thought of having to squeeze in a crowded train or bus after work.
But think about the amount of money you get to save on petrol, tolls and car maintenance. Or even time spent going through hours of traffic. While I may be bias, I believe public transportation is a convenient and pocket-friendly alternative to get around town if you're on a budget.
Paired with the MY100 or MY50 passes, you get to enjoy unlimited travel passes for 30 days on Rapid KL rail and bus network. Just by traveling with public transport, I get to save up to 2 hours commuting back home from work. That's a whopping 44 hours saved a month (if we're calculating based on 22 days of work per month).