Updated 17 June 2017
Already thinking about where to go to shop for Hari Raya this year? Don't worry, you're not alone. We have listed down some of the best online and offline stores to shop at for your Hari Raya clothes and kuih, check it out!
Some of the key trends to look out for across these sites include: extravagant embellishments, a little bit of shimmer, floral prints, intricate lace and
Hari Raya 2017 Specials Online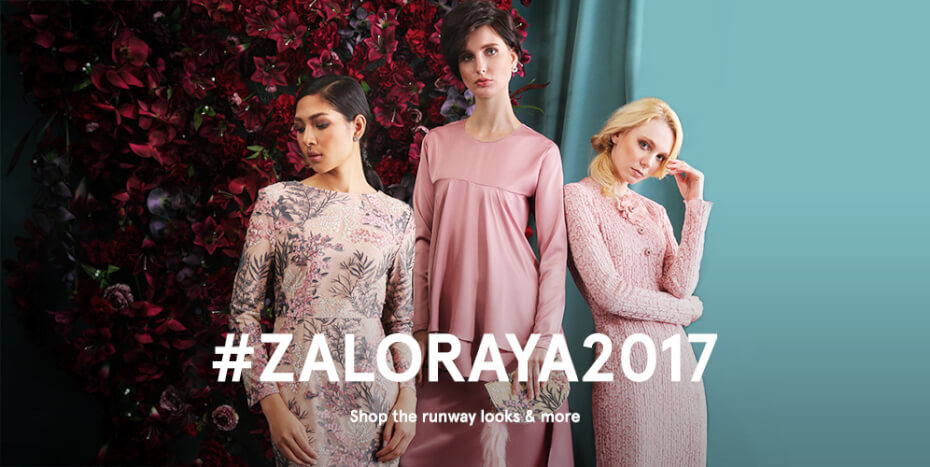 #ZALORAYA2017 has been available ahead of the market from 6 April 2017. The collection hosts ready-to-wear designs by brands like Kree, Pikat KL, Calacara, Mermaid Luxe, Kami Idea, Minaz, FZK, Lubna and designer collaborations with Tom Abang Saufi, Jovian Mandagie and Rizalman to name a few.
Being a trendsetting portal, you can be sure to find the latest Hari Raya designs on Zalora.com. If you prefer to skip the chaos of shopping malls, Zalora is the best alternative (in our opinions).
You'll be able to find baju kurung, kebaya, peplum kurung, modern baju kurung, jubah muslimah, kaftans, baju melayu siap, sampin and many others. You can shop by Brand or shop by categories and their collection comes complete with both Women and Men designs.
If you have set a budget for your baju this year, you can also do a search based on the budget amount. Zalora caters to all Malaysians of varying budgets so you'll be able to find an outfit from less than RM100, especially if you look at those that are on sale.
And if you want to keep updated with the latest design news on Raya, you can read their magazine here.
Zalora also offers a 30-days return policy and free shipping for orders above RM75.

#FVRaya2017 travels back in time for their collection to the idyllic times of kampung life back in the 1950s. A few names available on the online store include Alia B, Cala Qisya, Mimpikita, NH by Nurita Harith, Rizalman, and Yadotsa to name a few.
The collection includes designs for women, men and kids. You can shop by jubahs, kaftans, kurungs, scarves, shoes and more.

Lazada's Riang Ria Raya and Marhaban, Ya Ramadan promotions entails some really exciting and unbeatable deals up until 25 June 2017 including Raya Fashion.
These are two separate sales throughout the one month period of which you get to enjoy unbelievable prices and discount rates.
Look forward to a daily flash sale that runs three times a day from 5:00am – 6:59am; 12:00pm – 1:59pm; and 5:00pm – 06:59pm. You'll be able to find the latest and highly sought-after products that go on a sale for further reduction within a limited time frame, so act quick! Lazada gives you a preview of items that will be available for flash sale so you can prepare your shopping strategy.
With Lazada High-Speed Delivery service, for those who live in the Klang Valley area, any eligible item that you have ordered before 1 pm will be delivered to your doorstep before the day ends
You'll even get further deals with partnering banks on every other day of the week:
CIMB every Monday (RM20 off). Promo code: RAYACIMB20
Maybank every Wednesday (RM20 off). Promo code: RAYAMBB20
HSBC every Friday (RM30 off). Promo code: SCHSBC30
Citibank every weekend. Promo code: CITIWKND (for 10% off on desktop) and CITIWKNDAPP (for 15% off on mobile app)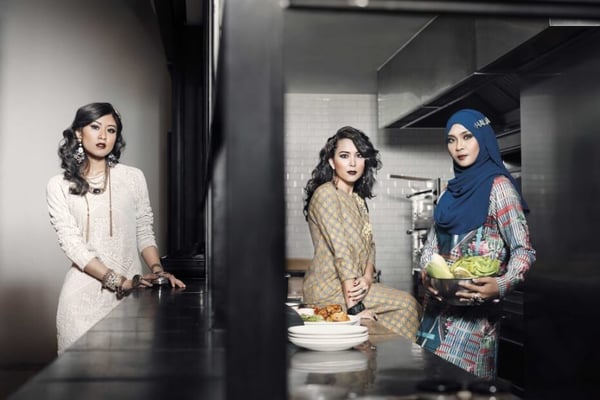 Her collection titled "Colourful Traditions" features luxurious and colourful baju kurung inspired by Malaysian traditions.
Geometrical lines were inspired by the weaving of leaves to make Ketupat, the symbol of Raya, whereas the flowers signify compassion and generosity, in line with emel by Melinda Looi's spirit of giving back.
Part of the sales from the Ramadan collection will go to charity, so while you're buying yourself a new outfit, you're also helping a good cause. This year, Melinda has partnered with B.I.G. (Ben's Independent Grocer) DS BORNE0 and THE GOOD SHOP to collect funds and food aid of RM70,000. The food and funds will be managed and distributed by CHARITY RIGHT, a charitable organization specialized in providing food aid to schools, refugee centers and orphanages.

The brand calls this its most exciting Raya collection with only the best designs of Baju Kurung Moden, Jubah Maxi Dresses, Tops and Pants.
They even have a Sale category for items that are Under RM199, Under RM249, and RM280 & Under. Look out for lace designs, peplum, ruffle designs, and chiffon maxi dresses.
CalaRaya 2017 has a collection that features Women outfits including baju kurung, jubah, peplum designs, pleated kurung and more. It also has outfits for men but this is quite limited to a kurta-inspired top which can be worn with slacks or pants and is priced at RM109.
Prices for women wear ranges from RM139 – RM399. For purchases above RM200, you can enjoy free delivery.
Hari Raya 2017 Sales at Stores
Most of us still prefer to touch and feel our baju raya before buying them, so here are a few physical stores that you can visit.
Ampang Park Clearance Sale
With the recent (and very sad) news that Ampang Park lost its appeal and will be closing down to make way for the new MRT line, this may be the last chance you have to shop for your Raya goodies at Ampang Park.
There is a clearance sale and we all know that Ampang Park has one of the best collections of Raya outfits. Other stores will also be clearing out their stock so if you need electrical items or anything else, Ampang Park is the place to be.
There is no certainty when the retail outlet's last day is, but for now, the Raya sales continue.
Metrojaya
Outlets are available at:
Metrojaya CityOne Megamall, Kuching
Metrojaya Mid Valley Megamall, Kuala Lumpur
Metrojaya Suria Sabah Shopping Mall, Sabah
Metrojaya Komtar JBCC, Johor Bahru
Metrojaya Plaza Pelangi, Johor Bahru
Metrojaya The Curve, Selangor
Uptown Puchong Night Bazaar
Between 20 May – 24 June, you can visit the Uptown Puchong Nigh Bazaar that runs from 7:00pm – 3:00am. It is one of the few Bazaars that are open for late-night shopping. The bazaar will have over 400 units featuring a range of brands and products from mobile accessories, salons, boutique perfume outlets, and fashion.
Address: Taman Meranti Jaya, 47100 Puchong, Selangor NIGHT ZAAR
Kamdar
Kamdar is available both online and offline. You can browse their Raya Collection 2017 online here. The best part about shopping from Kamdar is the ability to get a complete set for your entire family, if you're into the whole matching outfits thing. They even offer sets for brothers and sisters, so you can get a matching outfit for your children regardless of gender!
If you buy online, you can get free shipping with purchases of RM50 and above.
Jusco/AEON
From now until 31 August 2017, AEON is having a Raya sale at all their outlets. If you're looking for new clothes, this is the place for it. If you're looking for new appliances for your home, this is the place for it. It's also the place to find household fittings and decorations to spruce up your home before Raya begins. Check it out!
Click here for store locations.
Jakel is your one-stop shop for anything clothing and fabric related. If you're looking to tailor make your baju raya this year, venture into this multi-storey shopping mall to pick your fabric. Their fabric selection includes chiffon, cotton, lace, linen, silk, songket, and wool. You can also find ready-made outfits in store.
Head here to find a store closest to you
8X Rewards Points for Mid Valley Megamall & The Gardens Mall spend
5X Rewards Points for Malls & 1X for Other spend