With multiple options available in the market right now, we get it… It's hard to choose the best banking account that suits your needs. Check out the following tips to choose the right banking account.
Convenience
In this digitally savvy era, everything should be at your fingertips, especially the banking system to manage your daily banking needs. Gone are the days when we need to queue at the branch to perform transactions or get simple assistance. Always go for a bank that offers you great convenience!


High-profit/interest rate
Different banks offer different profit/interest rate structures. Some banks offer you a profit/interest rate based on your minimum account balance and some give you profit/interest rates with less or no minimum balance requirement.
Let's compare the profit/interest rates of OctoSavers Savings Account-i, EcoSave Savings Account-i, and Prime Account:
OctoSavers Savings Account-i

EcoSave Savings Account-i

Prime Account
Note: Click here to find out how to attain up to 4.5%* p.a. interest rates

Balance (RM)

Profit Rates (% p.a.)

Balance (RM)

Profit Rates (% p.a.)

Balance (RM)

Interest Rates (% p.a.)

First 3,000

0.00

First 50,000

0.15

First 5,000

0.00

Above 3,000

0.30

50,000.01 - 100,000

0.20

Next 5,000.01 - 30,000

0.20

100,000.01 - 200,000

0.40

Next 30,000.0 - 50,000

0.20

Above 200,000

1.00

Next 50,000.01 - 100,000 0.25

0.25

Above 100,000

0.75
If you're only thinking about getting the most out of your savings conveniently, we suggest you opt for OctoSavers Savings Account-i as you don't need to walk into a branch or waste time on branch queues to open this account. It can be done fully online via CIMB Apply App and your CIMB Octo Debit Mastercard will be delivered to your doorstep. This account offers higher profit rates with very low account balances. If you're into accumulating points to redeem more eVouchers, OctoSavers Savings Account-i is the right choice.
If you are looking for a higher return, Prime Account could be the right account for you. It offers high-interest rates of up to 4.50%p.a.* with no lock-in period when you perform the eligible transactions. Also, you can receive a consolidated statement of all your banking products & transactions for your easy reference. Find out more about our Prime Enhanced Campaign here.
Are you an eco-friendly person who cares about the environment? Sign up for an EcoSave Savings Account-i where the bank will contribute 0.2% of the total EcoSave average portfolio balance to support green activities. This environmentally-friendly savings account offers a complete online banking experience without paper statements, passbooks or mailers. You get to enjoy banking convenience with a clear conscience. Not just that, you will also be entitled to a monthly cash incentive of RM5 for an average monthly balance of RM5,000 with no over-the-counter transactions during that month.
It's important to compare bank profit/interest rates and also weigh in other factors like your life values and goals to make sure you choose the best banking account.
Perks and deals
This is another way to easily narrow down your banking account search. Since there are many options available, banks are competing to give the best offers and account benefits to win over their customers. These accounts below offer irresistible perks worth checking out. Let's dive into the details: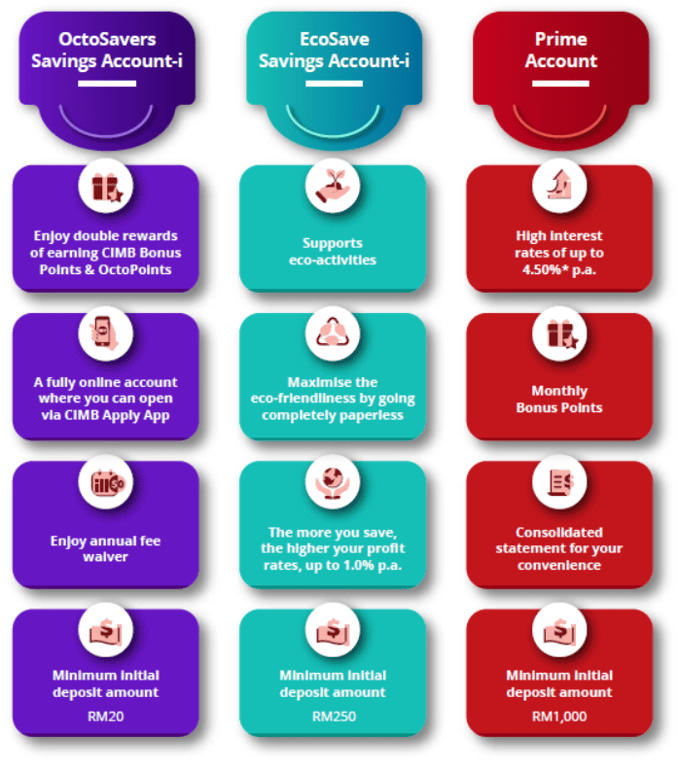 Here is more you can get now!
Open a CIMB Current/Savings Account/-i online account from 1 March 2023 - 31 May 2023 and retain a minimum month-end account balance of RM2,500 for 3 months continuously to enjoy up to RM150 cashback!
*T&Cs Apply
Learn more about the campaign, here.
Member of PIDM. CIMB Current/Savings Account/i is protected by PIDM up to RM250,000 for each depositor.
Need more savings account options? Check out CIMB website and find the one that suits your needs.