Hazardous earthquake and deadly monsoon flood: those are scenarios that every traveler dreads. We know that natural disasters are the last thing you want to think about when you are travelling.
With never-ending climate change issues, we may encounter more natural disasters these days and in time to come. But what do natural disasters mean for your travel plans?
Ever wondered what you can do if you are stuck abroad after a natural disaster takes place? Or if you are scheduled to travel to a destination in the path of a hurricane? What about if you are in a destination where an earthquake is imminent or has already wreaked havoc?
While you cannot control what nature has in store for us, you can prepare yourself financially for when it happens. Purchasing a travel insurance can help protect you and your travel investment in a wide range of situations like these by covering the costs and losses.
All you need to know about travel insurance.
Buying travel insurance early helps you to travel with peace of mind.
Some providers offer coverage for financial losses incurred due to natural disasters. Some of the areas of coverage typically include coverage for medical evacuation, lost bags, reimbursement of certain costs related to trip cancellation prior to departure for unforeseen reasons, or interruption of trip. Among the unforeseen reasons include weather, injury, terrorism or bankruptcy of the travel provider.
However, it's best to read the fine print of your policy to see the limitations of the coverage.
Tune Protect's Travel Easy offers coverage for natural disasters occurring near your place of residence within 14 days prior to departure from Malaysia. In this case, you may claim if you cancel your trip and suffer loss of payments that have been paid in advance. This could be in the form of an air ticket, hotel, tours or even car rentals.
What is natural disaster?
Allianz General Insurance defines 'natural disaster' as...
"A large‐scale extreme weather or environmental event that damages property, disrupts transportation or utilities, or endangers people, including without limitation: earthquake, fire, flood, hurricane, or volcanic eruption."
Not every major weather or environmental event may count as a natural disaster. If there is a hurricane that brings heavy rains but does not damage buildings, for instance, it may affect your vacation and yet not be called a natural disaster.
A natural disaster is typically defined by travel insurance plans as "a flood, fire, hurricane, tornado, earthquake, volcanic eruption, blizzard, or avalanche that is due to natural causes." But it is important to note that not all these disasters are included in every plan's description of coverage.
Having said that, claims for losses due to natural disasters that are known events are never covered.
Your insurer may also not cover you for what is often termed a known event. Usually, this means a civil commotion, natural disaster and so on that threatens your health or disrupts your trip.
They are typically made known to you by your airline or hotel, or publicised through media reports or government travel advisories, before you sign up for the policy. If the known event happens after you have bought your policy, you may be able to claim for cancellation of trip, if that is included in your policy.
How to save money with travel insurance?
Use a comparison tool to get quotes for plans suited for individual, family, or even couples. Easily compare across providers in the market and buy online!
Its coverage varies from policy to policy and deciphering the fine print can require professional guidance. Here are some tips and issues to consider. Most travel insurance plans cover natural disasters with these coverage options:
Trip Cancellation and Trip Interruption
Benefits will be paid if mandatory evacuation or official public evacuation orders are issued due to natural disaster, or a natural disaster renders your principal residence or destination residence uninhabitable. It also covers cancellation or interruption of your place of employment is rendered unsuitable for business and you're required to work.
Non-Medical Emergency Evacuations (also called Security Evacuations)
If a formal recommendation is issued from local authorities for you to leave the country due to a natural disaster.
Missed Connections and Trip Delays
If you miss a cruise or tour or are delayed more than a defined number of hours as a result of a natural disaster, benefits will be paid to reimburse your unexpected trip expenses and additional transportation costs.
If you are injured or killed while travelling as a result of a natural disaster, benefits will be paid to reimburse you, the medical facility who treated you, or your beneficiaries up to the travel insurance plan limits.
Emergency Medical Evacuation and Repatriation
If you are injured while travelling on a covered trip and require medical treatment that cannot be administered locally, your travel insurance provider will coordinate and pay for you to be evacuated to a medical facility where you can be treated. If you are killed while travelling as a result of a natural disaster, the travel insurance provider will coordinate and pay for your body to be returned home.
7 Best Travel Insurance Providers That Covers Natural Disasters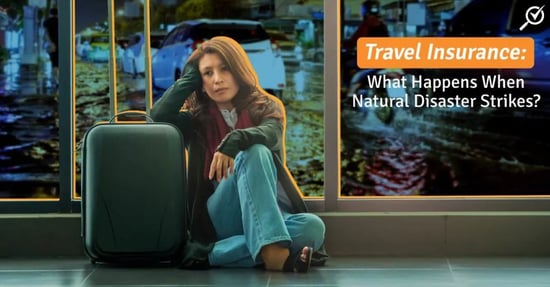 If you find yourself amid a natural disaster, contact your insurer as soon as possible, and preferably before incurring additional expenses like hotel bookings. Most travel insurance providers offer a 24/7 worldwide phone assistance. They will advise you on the documentation you need to provide in order to make a claim, which might include receipts or police reports.
However, travel insurance will not cover you if you deliberately enter danger or engage in high-risk behaviour. If you get hurt while chasing a tornado, or while climbing a volcano to see active lava flows, or when photographing a wildfire up close — your claim will be denied.
Finding the right travel insurance is not easy, but we make it simple to find the right travel coverage for your next trip.