Location weddings are becoming a trend these days. Couples are exchanging vows in exotic locations, bringing a wonderful and breathtaking experience for them and their guests to new heights (sometimes literally) and new horizons. (Crystal clear blue waters, anyone?)
Destination weddings might be expensive, but the location is worth the experience. Here in Asia, we are surrounded by beautiful seas, making the continent a prime location for beach weddings! Here's our list of 11 breathtaking destinations for a beach wedding.
1. Kota Kinabalu, Malaysia
This beach wedding destination is one of the most popular locations in Malaysia. Kota Kinabalu is a picturesque beach where you can have a solemn ceremony, and enjoy a romantic walk on the beach afterwards-- or during the honeymoon.
2. Ba Kan Tiang Beach, Koh Lanta, Thailand
White sand, blue waters, and a backdrop of a lush rainforest-- this 5-star location is a perfect wedding and honeymoon spot for young couples. It's a dreamy location with sand, surf, and sun!
3. Huvanfen Fushi, Maldives
Maldives is known for its beautiful beaches and crystal clear waters. Blue skies, perfect beaches, and the most serene location for a beach wedding, this beach resort in the Maldives is a wonderful choice for both your wedding and honeymoon.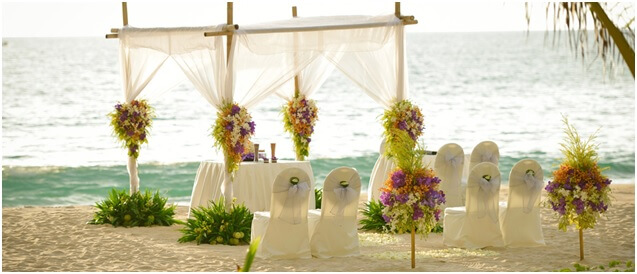 4. Pansea Beach, Phuket, Thailand
Looking for a quiet beach wedding destination? This secluded and private beach is a hidden gem with white sands, and crystal clear waters. It's the best location for an exotic beach wedding.
5. Boracay Island, Aklan, Philippines
A famous beach in the Philippines, it is a small island with the perfect beach, crystal clear waters, and blue skies perfect for a wedding. The tropical location makes it a picturesque wedding location—and a great post-wedding party venue.
6. Thong Nai Pan Beach, Koh Phangan, Thailand
Indulge yourself in a romantic and luxurious wedding at this beach located in the gulf of Thailand. Thong Nai Pan on the tropical island of Koh Phangan is private and secluded, and is the perfect mix of beach and tropical forest for that perfect beach wedding.
7. Irufushi, Maldives
It's more blue waters than beaches, but this luxurious location is a perfect wedding destination. This tropical beach location has everything you need for a romantic wedding, reception, and honeymoon.
8. Phra Nang Beach, Thailand
Voted as one of the top 10 beaches in the world, with white sand, limestone cliffs surrounding the beach, and framed with tropical gardens and coconut groves, this beach is definitely a beautiful wedding location.
9. Langkawi, Malaysia
There are many resorts to choose from if you want a beach wedding at Langkawi. Langkawi's beach is sandwiched between a lush rainforest and a breathtakingly blue sea. It's the perfect beach location for a wedding where the couple and their guests can enjoy a private celebration on white sand by the sea.
10. Laem Tong Beach, Koh Phi Phi, Thailand
If it's a barefoot beachfront wedding you're looking for, then Koh Phi Phi is the island paradise you're looking for. Quiet, secluded and surrounded by white sand, blue seas, and that perfect serene mood for a wedding.
Getting ready for your own wedding? Check out these amazing destinations now. Know anyone who might find this article useful? Email this article or share on your social media networks!