It's that time of the year again—durian season. MCO or not, Malaysians have still gone looking for the king of fruits. It's also been said that there's an increase in harvest this year, which is why you still might see a lot of durians even though the season began weeks ago.
While many Malaysians love durians, it can't be denied that the price range from this fruit is huge. You can have variations that are pretty cheap, and some that cost a few hundred ringgits per kg. So, here are 10 different durians with 10 different price tags for you. You can now easily decide which one would fit your budget best.
1. Kampung Durian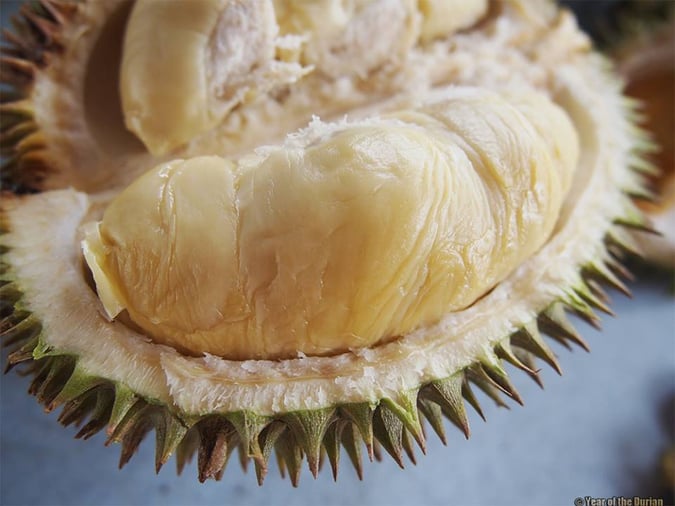 Image credit: Harakah Daily
There are actually many varieties for this type of durian, and kampung durian refers to durians that aren't hybrid or specially grown. They can be found in orchards all over Malaysia and it's usually difficult to tell exactly what type of durian you're getting until you open it.
Price: RM6-RM12/kg
2. D24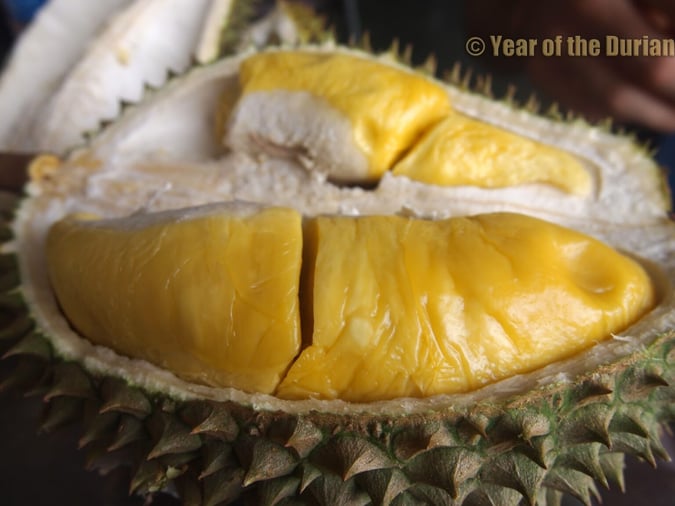 Image credit: Year of the Durian
Another one as famous as the Musang King, D24 also has a reputation for being a crowd pleaser. It's also known as Durian Sultan and people sometimes confuse this one for Musang King.
One way to tell them apart is that D24 has a greener shell compared to Musang King.
Price: RM18-RM25/kg
3. IOI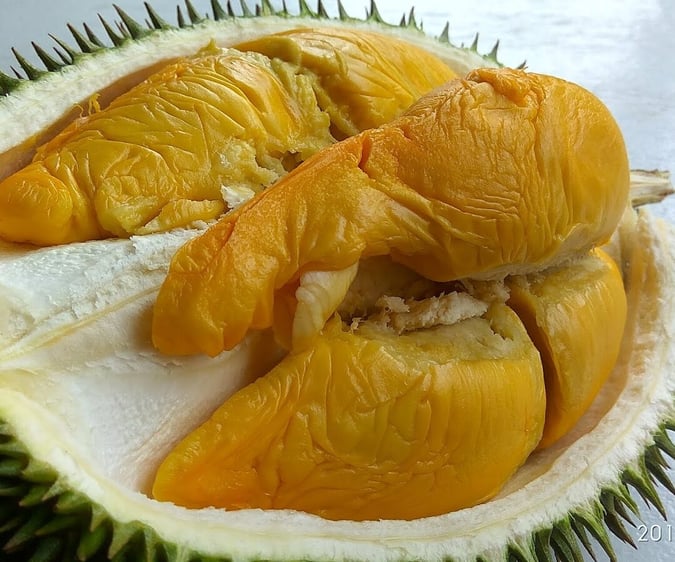 Image credit: Ezy Durian
Also known as D168, Durian Hajah Hasmah and Durian Mas Muar, IOI Durian is said to have a fruity taste and orangey flesh. It also has a round shell unlike others that are usually oblong.
Price range: RM20-RM25/kg
4. Red Prawn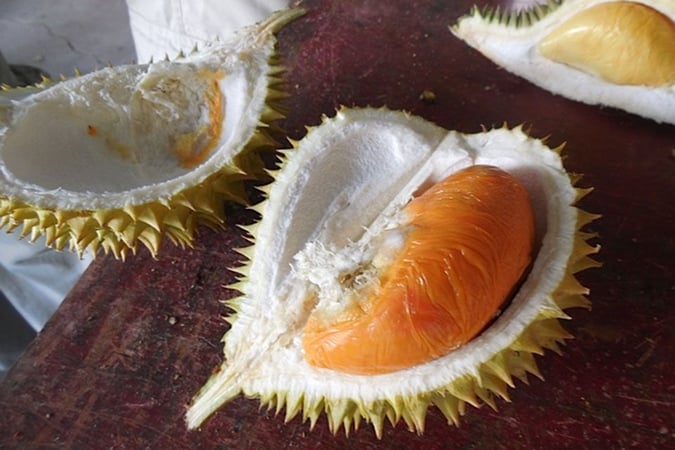 Image credit: The Straits Times
The flesh of this durian actually looks like red prawns sometimes, hence the name. However, there are some variations that aren't as reddish. It's said to be sweet and is suitable for first-time durian eaters as it's not overpowering. Even better, the price is also on the lower end.
Price: RM20-25/kg
5. Golden Phoenix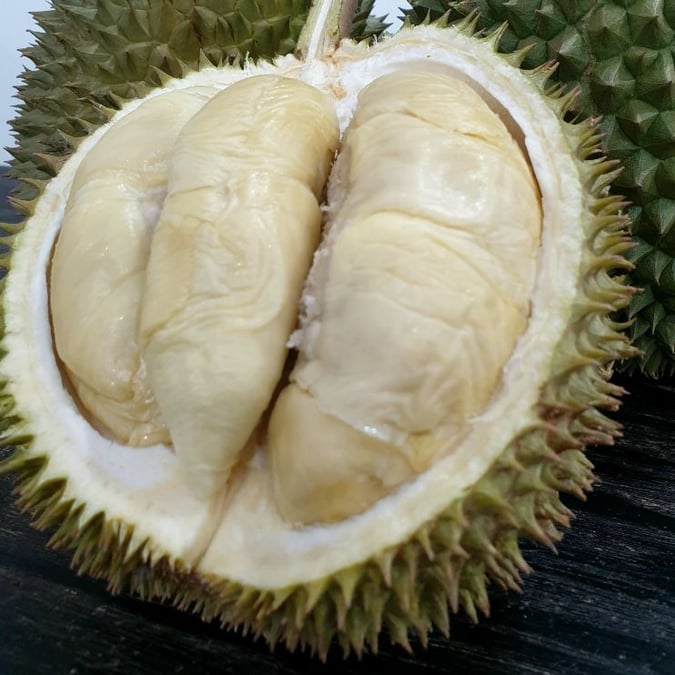 Image credit: Fruit Monkeys
Its name might fool you, but the flesh of this fruit is actually pale and whitish. Also known as Jin Feng/ D198, it has smaller seeds and has a thin husk. The taste of the flesh is said to be quite strong and almost alcohol-like.
Price: RM30-35/kg
6. Musang King

Image credit: SCMP
True to its name, this is said to be the king of the king of fruits. If you're thinking of getting 'premium' durian, you'll find people pointing you to the Musang King. Most durian lovers find its flesh very buttery and creamy.
Price range: RM40-RM70/kg
7. Black PearlImage credit: Pinterest
The Black Pearl is relatively smaller compared to other durian seeds, and it's believed that the name came from its tiny pearl-like seeds. The flesh is more pale/whitish and is more bitter than sweet.
Price: RM45-RM55/kg
8. Musang Queen/Tekka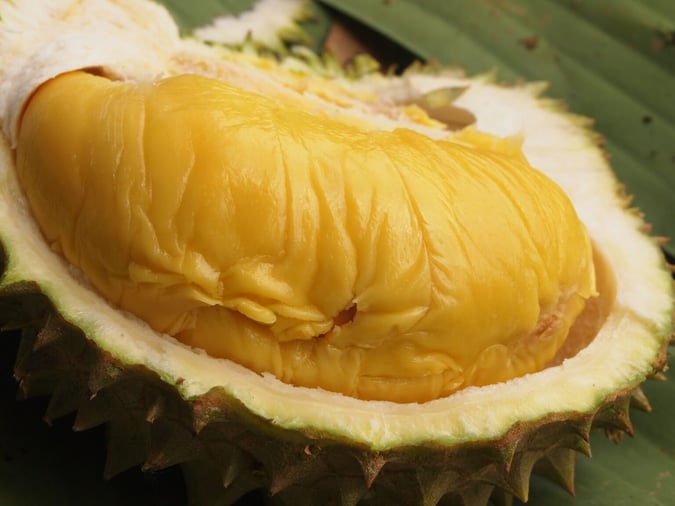 Image credit: Year of the Durian
This is the first time this writer had heard of this one, but the King happens to have a Queen as well! Musang Queen also goes by the name Tekka or D160.
The taste of this durian is described as creamy but also bitter at the same time, and it's also said to have a brownish-yellow hue. Interestingly, the Queen is slightly more expensive than the King.
Price range: RM60-RM75/kg
9. Black Thorn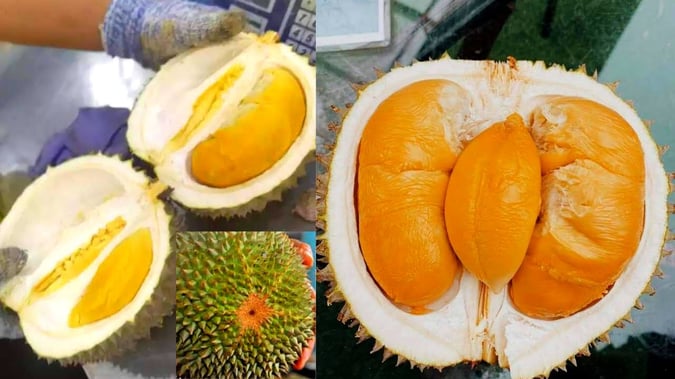 Image credit: YouTube
Also known as D200, this durian is a hybrid fruit and it's said to have a really nice taste. It's round in shape, just like the IOI durian.
If you think Musang King is a premium durian, this one actually takes the cake. Due to the fact that it's a hybrid, it's said to be one of the most expensive durians in Malaysia.
Price range: RM65-RM85/kg
If there's a shortage in durians, the price of this can go up to RM100/kg.
10. Tupai King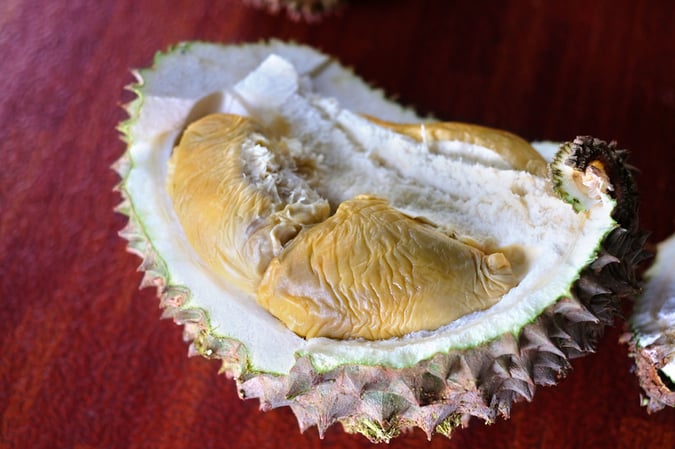 Image credit: Year of the Durian

You might want to move over, Musang King as Tupai King has been sharing your stage for awhile now. Also known as D214, Tupai King is a newer variety of durian. It's bigger in size than most durians and has a darker, browner flesh colour.
Price: RM70-RM100/kg
Where can you find these?
If you would like to try some of these for the first time, your next thought might be where to find them. Especially at this time, it can be difficult to go durian hunting. If you find durian sellers parked around your area, you just might be in luck.
If not, you can also get most of these online. We found out that many of these varieties are available on Shopee, Lazada and other online supermarkets. There's also an ongoing promo on the Grab app for durians that you can find on the homepage.
Of course, you might only be able to buy the flesh without the shell. But at least you'll get to give these all a try!
Just be sure to check for reviews and expiry dates to prevent getting scammed.
Meanwhile, if you've been buying a lot of food to satisfy your cravings and don't know what to do with the leftovers or scraps, here are some ideas for you: