At this time last year, Malaysians were clearing their annual leave and enjoying well-earned vacations. Today, most of us remain at home due to the COVID-19 pandemic. However, with the reopening of interstate travel on December 7, some Malaysians have taken advantage of the cheaper hotel rates to enjoy a local getaway. Should you join them and snag one of the best hotel deals ever?
---
In a recent article by The Straits Times, the Malaysian Association of Hotels (MAH) revealed that hotel bookings have risen over the Christmas and New Year period. This organisation represents more than 900 hotels nationwide.
The same article also highlighted that many hotels are offering promotions – with discounts of up to 70%, as well as optimistic reports about high occupancy rates at luxury hotels such as The Datai Langkawi resort and The Majestic Hotel Kuala Lumpur.
Even some airlines have increased the number of daily flights around Peninsular Malaysia. According to Malay Mail, AirAsia has recorded a surge in domestic flight bookings after the reopening of interstate travel.
Based on these updates, it seems like more Malaysians have started travelling again despite the sizeable number of COVID-19 cases recorded daily.
Taking a short, budget-friendly vacation (or staycation)
After a year filled with pandemic-related economic uncertainties and rising unemployment, we could all use a breather. Wouldn't it be nice if we can get away from it all and relax at a sunny beach or lush national park?
It doesn't have to be a long, expensive holiday. We just need a short, affordable vacation (or staycation) to recharge our batteries.
Speaking of affordability, many hotels and resorts are currently offering promotions and discounts in an effort to increase their occupancy rates.
So how "jaw-dropping" are these hotel deals? Are they enticing enough to make us consider taking a trip in the current climate?
Hotel prices have gone down
Search online for local hotel room bargains and you will be pleasantly surprised. Even five-star hotels are offering discounted rooms that go beyond 70% of the regular price!
Best of all, these places offer amenities such as body thermometers, hand sanitisers and free face masks.
1. G Hotel Gurney, Penang
When CompareHero logged on to online travel platform Agoda on December 30, we found a 72% discount deal for the five-star G Hotel Gurney in Penang.
With the trip duration set from December 31, 2020 to January 3, 2021 for two adults, Agoda members can book a room at the hotel for as low as RM509 per night, while non-members will have to fork out at least RM566.
This is a huge price drop from the hotel's standard price of at least RM2,000 per night. So even for last-minute bookings like this, you can expect a significant discount on room rates.
(Please take note that these deals will most likely change daily and vary according to the duration of your stay.)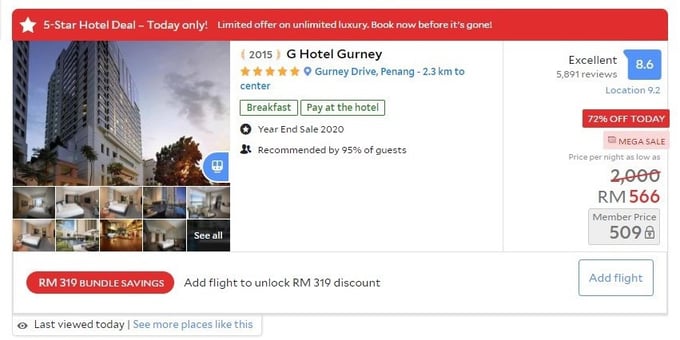 Agoda users were able to enjoy a 72% discount for G Hotel Gurney rooms during its promotion on December 30. (Image source: Agoda)
What else is jaw-dropping over there besides the hotel room price? In addition to Penang's famous street food eateries, you can enjoy a serene escapade at the Batu Ferringhi beach, Penang National Park and Penang Hill.
2. Symphony Suite, Cameron Highlands
Why stay at a hotel room when you can book an entire apartment instead? Agoda was offering a 65% discount for a Symphony Suite @ Cameron Highlands apartment during its December 30 promotion.
With the trip duration set from December 31, 2020 to January 3, 2021, a family of two adults and two kids can enjoy a holiday here for as low as RM439 per night, instead of paying the regular price of RM1,239 per night.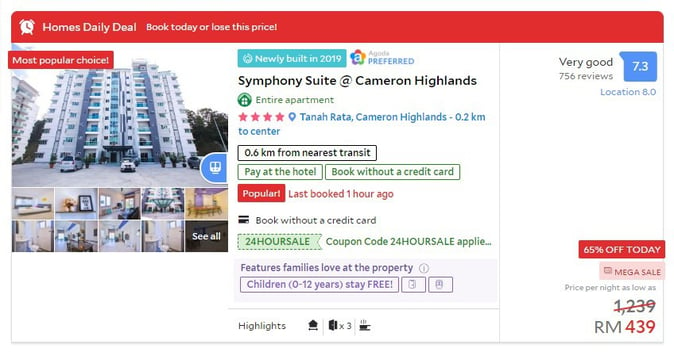 Symphony Suite @ Cameron Highlands offers a family holiday for as low as RM439 a night. (Image source: Agoda)
What else is jaw-dropping over there besides the price? Amid the cool air, you will find joy and tranquility at the tea plantations, strawberry farms and forested hills of Cameron Highlands.
3. The Westin Langkawi Resort & Spa
The Westin Langkawi Resort & Spa is currently offering a two-night stay at its Superior Room for RM960. This package, which is valid until April 30, 2021, also comes with a complimentary dinner for two guests and two 50% discount vouchers at the Heavenly Spa By Westin.
After braving through the ups and downs of 2020 together, you can start the new year by treating your loved one to a romantic island getaway here. This five-star resort, located on the sandy beaches of Langkawi, has everything from chic, comfortable rooms to luxurious amenities.
One of its main attractions is the Heavenly Spa By Westin. If you are looking to relax and de-stress amid tranquil surroundings, this beachside spa is worth checking out. Pamper yourself with therapeutic anti-aging facials, body exfoliations, foot and bathing rituals, as well as Malay, Ayurveda, Turkish, Swedish and Indonesian massages.
With the discount vouchers that are included in your package, you can enjoy all these luxurious pampering at half price.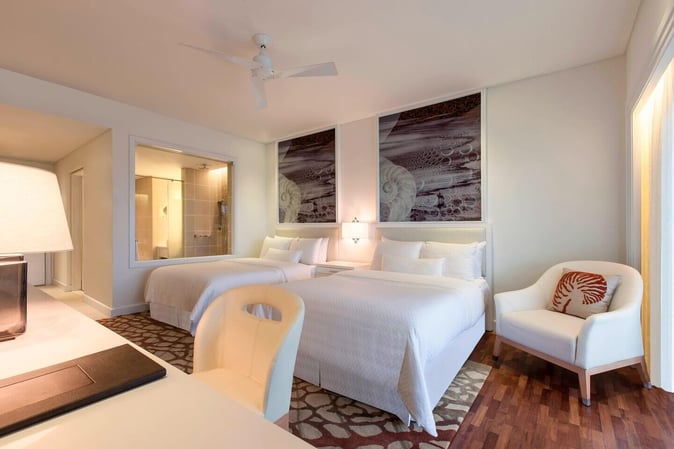 Enjoy a romantic two-night stay with your special someone at The Westin Langkawi Resort & Spa for RM960. (Image source: The Westin Langkawi Resort & Spa)
What else is jaw-dropping over there besides the hotel room price? Langkawi is a duty-free shopping paradise! You will be able to purchase premium chocolates, liquor, tobacco and perfumes at lower prices. There are also other attractions in Langkawi such as the Pulau Payar Marine Park and Underwater World.
These are just some of the amazing hotel deals that are available now. For more holiday options, you can continue your search online at Agoda and other digital travel platforms like Expedia and Traveloka, as well as hotel websites.
Related: 5 Best Credit Cards For Travel Insurance
How to prepare for your trip
If you have decided to travel, clothes are not the only items that you will be packing. In the new normal, it is important to take precautionary measures to ensure your safety. According to the guidelines set by the U.S. Centers for Disease Control and Prevention (CDC), you should:
Bring extra supplies such as face masks, disinfecting wipes and hand sanitiser (with at least 60% alcohol).
Know when to delay your travel. Do not travel if you or your travel companions are sick.
Wear a mask to keep your nose and mouth covered when in public settings, including on public transportation and in transportation hubs such as airports and stations.
Avoid close contact by staying at least six feet apart from anyone who is not from your travel group.
Wash your hands often or use the hand sanitiser.
Avoid contact with anyone who is sick.
Avoid touching your eyes, nose, and mouth.
Additionally, you ought to download the MySejahtera app to your phone. You should also follow the standard operating procedures issued by the National Security Council (MKN).
Travelling in a car
Malaysians who are going on a road trip will find these CDC tips extremely useful. As soon as you enter your vehicle, remember to use disinfecting wipes regularly on the steering wheel, gear shift, door frame/handles, windows, radio dials and seat belt buckles.
During the journey, you will most likely need to use a rest stop toilet. Do wash your hands with soap and water for at least 20 seconds after using the restroom. In the event where soap and water are not available, you should use your hand sanitiser.
When you need to refuel at a petrol station, you should use some disinfecting wipes on the handles and buttons of the petrol pump before you touch it. It is also highly recommended that you utilise contactless payment for all your financial transactions.
Related: #BreakingItDown – The True Total Cost Of Car Ownership In Malaysia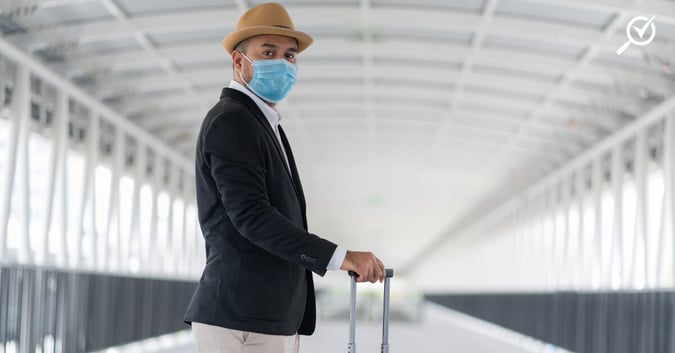 Malaysian airports and carriers have implemented advanced safety and hygiene measures to keep passengers safe.
Taking a flight
Malaysia Airports Holdings Berhad, the operator that manages KLIA and most of the airports in the country, has introduced various measures to ensure your safety as a passenger.
They have installed anti-microbial sneeze guards at service counters as well as hand sanitisers throughout the airport terminals. The operator also revealed that all terminals are regularly sanitised and disinfected using methods such as dry-mist fumigation, blu-ray anion nano sprays and micro-mist blowers.
The country's airlines are also doing their part in keeping you safe. According to AirAsia, all their planes regularly undergo disinfection by utilising cleaning agents that are in accordance with the Airbus Aircraft Maintenance Manual (AMM). After every night stop, their aircrafts will also go through a two-hour cleaning process.
Thanks to advanced technology, the air in their A320 flight cabins is also completely refreshed every three minutes. This is because AirAsia's A320 planes are equipped with High Efficiency Particulate Arrestors, which are also known as HEPA Filters.The technology implemented here is similar to the equipment you would find in a hospital operating theatre.
Enjoying a vacation in the new normal
Now that you have made all the necessary preparations for your trip, it's time to enjoy your holiday. Do remember to keep your family and loved ones safe as well. Have fun!