Malaysian Muslims may have to celebrate Hari Raya alone or away from home due to the Conditional Movement Control Order (CMCO) or PKPB. Here are 12 exciting things you can do to make your Raya more meaningful.
Traditionally, Hari Raya is regarded as a time of gathering for Muslims, who would open the doors of their homes to all people, regardless of religion, race, and background.
This year, however, many Malaysians may have to celebrate Hari Raya alone or away from home due to the Conditional Movement Control Order (CMCO) or PKPB, enforced by the Malaysian Ministry of Health to contain the spread of COVID-19.
Some parts of the CMCO rule include strict social distancing measures and a ban on interstate travel. This will likely affect other religious practices and sentimental traditions associated with Raya such as Aidilfitri prayers, customary salam - the act of seeking forgiveness from parents or the elderly, Duit Raya distribution and the Raya feast.
Though it may seem disheartening at first, being by yourself on a special day like Raya may not be the worst thing in the world because there's still a ton that can be done by yourself!
To help all Malaysians affected by these measures, we've compiled a list of fun things to do by yourself (or with others if within CMCO guidelines), on this auspicious day.
1. Cook up a storm for friends
If all you've known to cook in your entire adult life is Maggi, now is the perfect opportunity to take the initiative to learn more sophisticated, staple Raya delicacies! Host a Raya lunch for a limited number of invitees (within CMCO guidelines) while practicing social distancing. Here's a playlist of Raya recipes that are super easy to follow.
Alternatively, you can even bake goodies for friends in the same situation, and pay them a "drive through" visit to send them your cookies.
2. Bond with mom (or dad) virtually
Get your parents to teach you how to make their signature rendang or any other dish via video call. With the advent of technology, now you can cook side by side with them either through WhatsApp video, FaceTime, Skype, and more. There is no excuse not to connect.
Still don't have a fully functioning kitchen as an adult? Perhaps now would be the time to change that. Here are some great deals you can jump on when shopping for new appliances.
3. Treat yourself!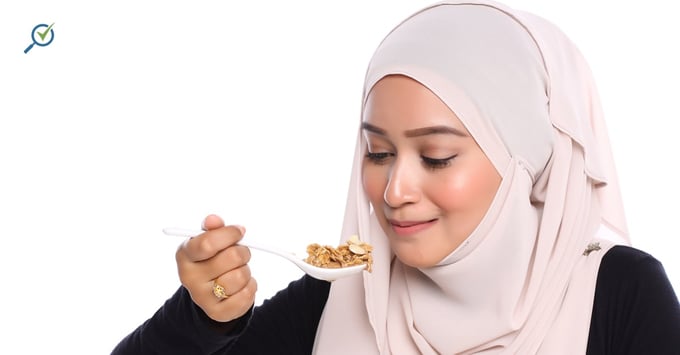 Celebrating Raya alone? No worries. Stock up your kitchen with the best Raya cookies and sweet treats like Onde-Onde, Tepung Pelita and more. Self love goes a long way, and if devouring a jar of Raya cookies all by yourself helps you feel good, then why not?
Not sure where to find your favourite Raya snacks? Fully utilize food delivery services such as Foodpanda and Grab, with the latter offering RM5 off for two deliveries when you send care packages or much-needed donated essentials via GrabExpress.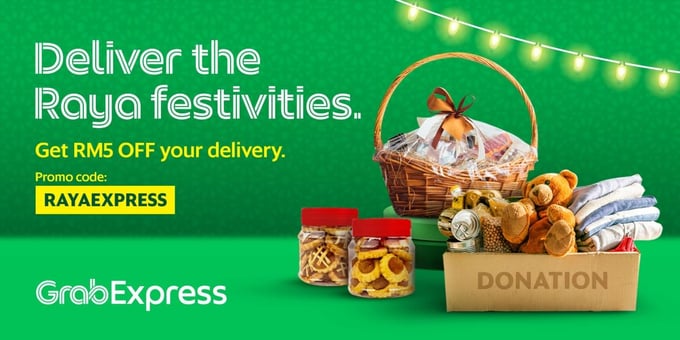 4. Hold Aidilfitri prayers at home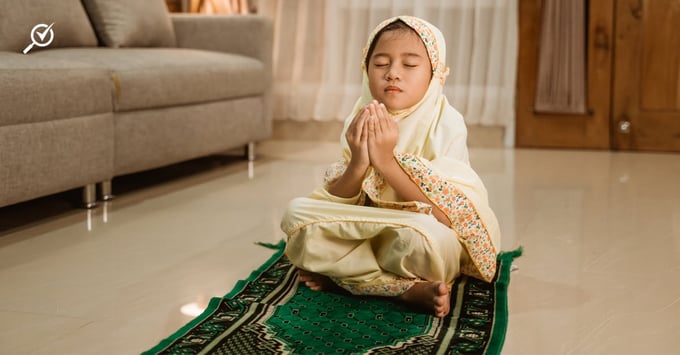 Though some states have allowed congregational prayers in the mosques, these are limited to a certain number of worshippers.
Kedah recently announced that it will allow all mosques in the state to perform the Aidilfitri prayers on the first day of Raya on the condition that attendance is limited to 12 people.
Rules vary by state - it's a no for Sabah, strictly limited in Perak and Johor, both limiting prayers to 12 people including the mosque imam and employees.
Be sure to check on the status of your state. We still recommend praying at home though, because high chances are you won't be able to snag a spot on time. The safest choice is just to hold prayers at home.
5. Do some self-reflection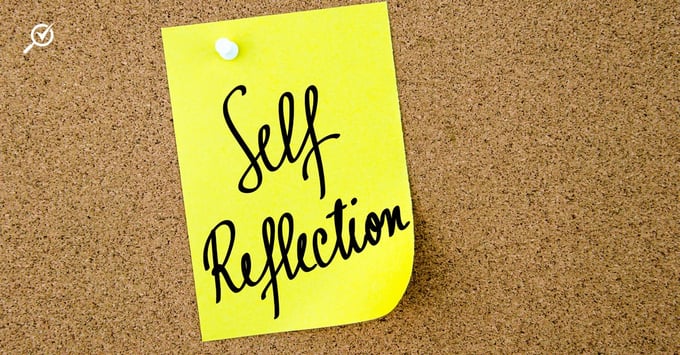 Hari Raya is not only a time for celebration, but also reflection. List down all your ups and downs, and blessings in life so far.
Whether 2020 - up till this point of the year at least - has been a positive or negative year remains to be seen, but it helps to put life into perspective with a bit of introspection. Self-reflection can even make you happier and more successful in life.
For triathlete Craig Alexander, a five-time Ironman World Champion and all around inspiring human being, self-reflection helped boost his confidence and performance.
Other plus points when one self-reflects include improved self-awareness, added perspective, enhanced confidence, heightened response to stress, and a refined level of learning. These are traits that are typically found in highly successful people.
6. Have a guilt-free Raya movie marathon
Rewatch the whole Harry Potter series or the Lord of the Rings trilogy while in bed in your pajamas, because why not? Raya is the best time to get that much needed rest from the hustle and bustle of life by just snuggling in bed.
Get into the Raya mood with some Malay film classics like Pendekar Bujang Lapok, Do Re Mi and Ana-ku Sazali. P/S: We found a full-length P. Ramlee movie someone uploaded on YouTube!
You can also head over to iflix to enjoy modern hits like Mami Jarum, Cinta Kolestrol, and Lady Boss. They have a broad set of Malay film options too.
7. Create your own Raya atmosphere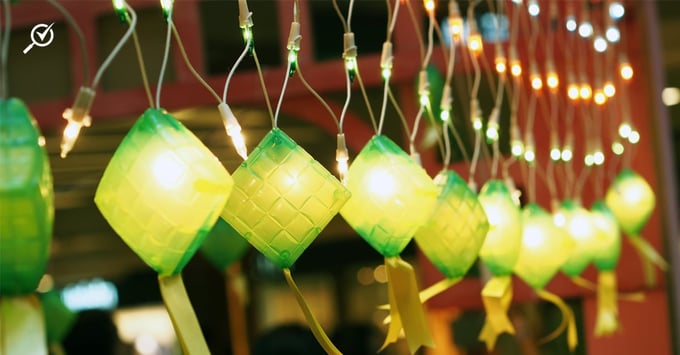 Jazz up your living room with colourful fairy lights, ketupat decor and anything with the colour green. The Raya atmosphere can be anything you want it to be, and sometimes that doesn't have to be a house full of people!
If you're shopping for Raya decor, it wouldn't be a bad idea to maximize your returns by shopping with credit cards. For instance, use a Maybank credit card on your Raya essential needs, and stand a chance to win RM50 cashback.
Also read: Ultimate Guide on Using Credit Cards Responsibly
8. Get creative with your Raya photos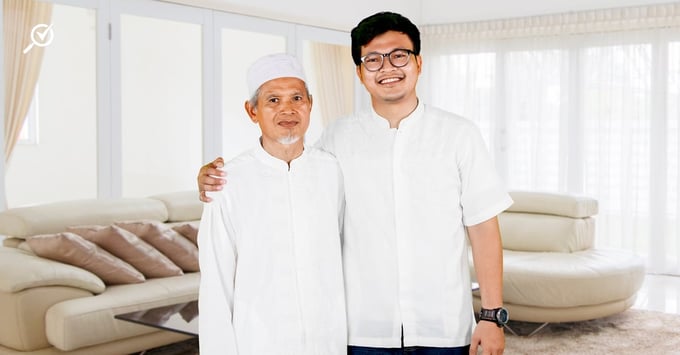 You don't need to play by the rules. Instead of taking the usual, boring screencap of everyone during a video call, use your Photoshop skills (even the basics would do) to add extra life and fun to your Raya photos.
For instance, Photoshop everyone's faces into a fun portrait and have it printed and framed as a reminder of the unique, social distancing-filled Raya you celebrated this year.
9. Karaoke (with yourself!)
What makes Raya, well Raya? The music. Raya wouldn't be complete without it, and there is absolutely no shame in playing (and singing) your favourite Raya tunes out loud - alone. Crank up the volume if you want, but still be mindful of your neighbors. Check out this awesome Spotify playlist to accompany you this Raya!
10. Make video conferencing more fun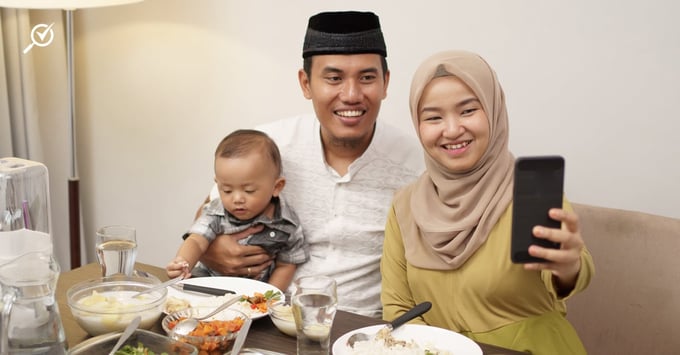 With video conferencing calls pretty much becoming the norm in today's new normal, it's easy to run out of things to talk about. Switch it up with some new challenges or games to boost both interaction and the amusement factor. The most important aspect is to get everyone on the call involved so it doesn't end up being a dull, "how are you doing?" catch up session.
Some tips - make sure you have solid wifi or data. Though video conferencing tools are amazing alternatives, the overall effectiveness of these platforms still depends on the network it's connected to. Check your connection a few days before Raya to avoid the annoying lag. P/S: You can also earn some Duit Raya in the form of Boost credit when you spend a minimum of RM35 on Yoodo data.
11. Get ready to go high tech with your duit raya
Share the love by giving to family and friends this Hari Raya. Since most Malaysians will be celebrating this Raya apart, find out how to send e-Duit Raya to others in our ultimate Raya guide.
Minister in the Prime Minister's Department, Datuk Seri Dr Zulkifli Mohamad Al-Bakri also confirmed that Muslims can fulfill their Zakat Fitrah, a form of religious obligation where Muslims donate to charity online as part of the new normal.
Muslims can pay online via the Federal Territory Islamic Religious Council (MAIWP)'s website, or via commercial means such as Maybank2u and Maybank QRPay . It's not only safer, but also more convenient.
On the topic of giving, get new household items for your parents as well - new bed sheets, new curtains, new kitchenware, or a new carpet - and deliver it to them. Check our ultimate Raya guide for the latest shopping promotions. Though you may not be able to be with your parents physically, it's assuring to know that you've done something to make their Raya feel more comfortable.
12. Practice mindfulness… or just get a good, long rest (really!)
It may seem like a crazy idea, but there is no harm in just sitting on your balcony or porch alone while enjoying nature this Raya.
Spending some time alone can be good for one's mental and emotional health. Block all the noise and distractions and just focus on being present in the moment.
A lot has transpired since the start of the year - the spread of a deadly virus and a potential global recession, among many other crazy events. If you have extra alone time on your hands this Raya, use it for some much-needed rest and relaxation. Just don't do anything.
You can also unwind, but still keep yourself preoccupied with more chill activities like reading a book, painting or journaling. Use this rare opportunity for more therapeutic and creative activities. Who knows, you might discover a new side to yourself this Raya?
Just because you're alone, doesn't mean you have to be lonely
That's right, friends. Though it may seem uneventful to be spending Hari Raya by yourself, a little reflection helps put things into perspective, and will remind you that it's not actually the worst situation to be in.
Whether you are spending Raya alone by circumstance or by choice, you can still have a wonderful time filled with joy and meaning. Heck - make the most of all your circumstances in life, be it good or bad. Your future self will thank you for it.
Lastly, as a reminder to all Malaysians, please maintain social distancing and strict hygiene while celebrating Raya this year. With patience and perseverance, we can beat this virus together as a nation.
Selamat Hari Raya Aidilfitri (in advance) from us at CompareHero Malaysia!