You know that feeling you get when you're in the process of checking your cart out on Lazada and realise you're eligible for a discount? Yup, most of us have been there before. We all love a good discount, and even if it's 10% off, it's enough to get us excited.
Imagine if you could have that feeling every single time you shop on Lazada.
Well, now you can. Citibank is turning that wishful thinking into reality with their latest partnership with Southeast Asia's largest e-commerce operator.
Introducing the Lazada Citi Platinum Card.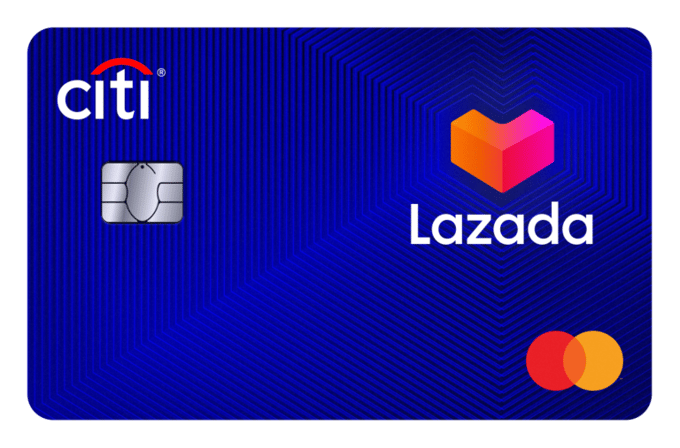 From attractive discounts to exclusive privileges and annual fees waivers*, this has got to be the best kind of news for shoppers. Take part in guilt-free shopping by getting rewarded for your purchases as well as offers from other brands to boot.
Here are the three ways you can make the most out of your Lazada shopping adventures when you use the Lazada Citi Platinum Card.
Collect points and let the points pay for your cart.
What's better than buying things at a discounted rate? Earning points for your purchases on top of that! Let's agree that a lot of us go crazy for points. The moment the cashier tells us that signing up for a loyalty card allows us to collect rewards points, we're sold immediately.
Hence, there are plenty of reasons for Lazada fans to rejoice with this card.
Lazada Citi Platinum Card Rewards Points Scheme
Earn 10x points for every RM1 spent on Lazada, 5x points for every RM1 spent with their partners,
and 1x point for each RM1 spent on other transactions.
With 10X Rewards points on every Lazada spend and top-ups on Lazada Wallet (capped at a maximum of RM500 every month), earning points can be a breeze with the Lazada Citi Platinum Card. Not only that, Citi Rewards points never expire!
Earning Rewards points isn't only limited to transactions made on Lazada. Citibank has partnered with a number of brands from the lifestyle, travel and wellness categories for this collaboration.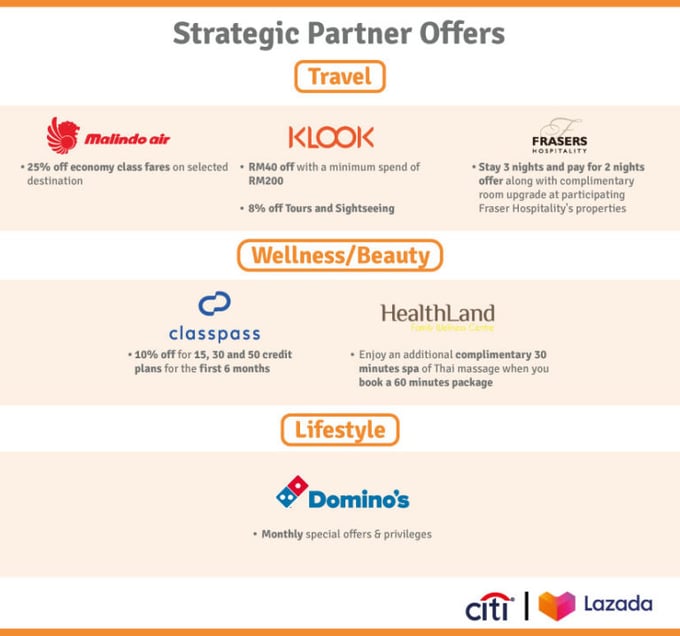 You can expect to receive exclusive offers and rebates from familiar names like Malindo Air, Klook and Frasers Hospitality from the travel segment; ClassPass and HealthLand from the health and wellness industry; as well as lifestyle brand Domino's Pizza. On top of rebates, you can also collect 5X Rewards points for every RM1 spent with these partners (capped at a maximum of RM500 per month).
Using the credit card for other transactions? Not a problem. You will still be able to collect 1X Rewards point for every RM1 spent.
The most exciting part is that Citi rewards you with a bonus of 1,000 Rewards points with a minimum spend of RM1,500 on a monthly basis. Sounds like a great way to speed up the points-earning process!
Accumulate these points and at the end of the day, you'll be able to use these points to offset your spends in Lazada. The shopping cycle will never end!
Take advantage of discounts up to 50%.
Besides the attractive points scheme, the Lazada Citi Platinum Card gives you the chance to enjoy up to RM500 off selected beauty products on Lazada each month.
Remember those months you were strapped on cash but needed to purchase basic necessities like shampoos and other toiletries? Using this card allows you to make those purchases without feeling too much pinch.
Avid shoppers of this category would be pleased to know that the products that are up for discounts will be refreshed on a quarterly basis, so they'll always get fresh deals to browse through.
Snag the RM500 Lazada voucher.
Don't miss the opportunity to grab RM500 worth of Lazada vouchers when you apply for the Lazada Citi Platinum Card. All you need to do is spend a minimum of RM2,000 within 60 days to get the RM500 vouchers.
Imagine all the things you can buy on Lazada with RM500!
Don't miss out on other #BudgetHacks.
It doesn't end there.
Shoppers with the Lazada Wallet are in for a treat as they get to enjoy exclusive sign up bonuses. For new Lazada Wallet users, get an additional RM10 when you top up a minimum of RM50 and save your Lazada Citi Platinum Card into your Lazada Wallet.
For existing Lazada Wallet users, the first 1,000 cardholders are entitled to an additional RM10 on a monthly basis when they top up a minimum of RM100 with their Lazada Citi Platinum Card.
Shopping on Lazada will definitely never be the same again.
Other Details:
Annual fee: Principal RM100; Supplementary RM70.
*First year annual fees waived and following year(s) waived if customer spends an annual minimum of RM15,000 during the current year.