CIMB Bank Berhad has recently unveiled the CIMB e-Credit Card as a way to address shifting customers needs, one that has become increasingly digital in this COVID-19 era by providing added value for online and contactless transactions without being limited to any e-commerce platform.
This move is echoed by findings in Visa's report: "The New Normal" Pandemic Response and Business Continuity Tips, which states that about 42% of consumers in Malaysia have increased online shopping during the pandemic, while 73% of consumers will still prefer electronic payment solutions instead of cash after the COVID-19 situation is over.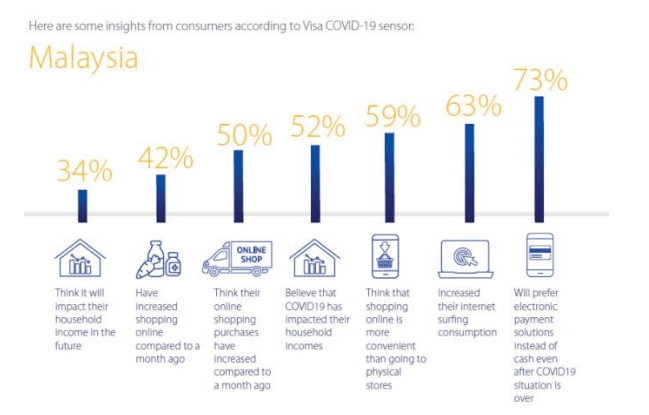 Data shows that consumers are more inclined to use electronic payment solutions instead of cash even after the COVID-19 situation is over. (Image source: CIMB Bank)
Most importantly, the report states that consumers will continue to hold onto most of their new digital-centric habits acquired during the pandemic when they return to their daily routines.
By the end of 2020 and into 2021, consumers will have adopted digital and contactless methods like contactless cards and mobile phones QR codes for brick-and-mortar purchases - habits that are predicted to have staying power, according to the report.
What are the key features of the CIMB e-Credit Card?
The CIMB e-Credit Card allows customers to fully maximise the value of all online shopping, e-wallet, auto-billing, and in-store contactless spending with up to 12 times bonus points in each transaction with no minimum spend.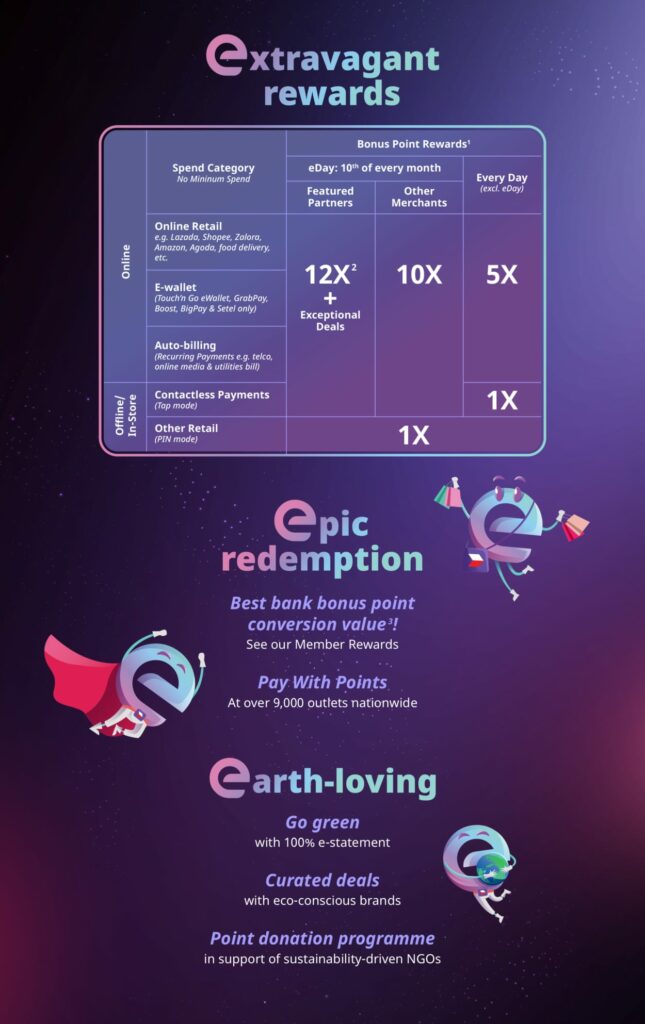 The CIMB e Credit Card is expected to address rising digital demands resulting from the COVID-19 pandemic. (Image source: CIMB Bank)
Impressive rewards
12x bonus points on the 10th of every month with featured partners such as Shopee, Lazada, Taobao, The Coffee Bean & Tea Leaf, REVO, The Body Shop, Setel, Happy Fresh, Foodpanda, Domino's Pizza, Biji-Biji, Dyson, Sasa and Watsons Online, with more to be added in the future.
10x bonus points on the 10th of every month with non-featured partners for all e-wallet, online, auto-billing and in-store contactless transactions globally.
5x bonus points on days other than the 10th of every month on daily spending for e-wallet, online and auto-billing transactions.
1x bonus points with in-store contactless and other transactions.
Offers one of the best bonus point conversion rates at 400 bonus points for RM1, accepted at over 9,000 outlets nationwide.
"The CIMB e Credit Card is timely given the accelerated shift to online, contactless and e-wallet transactions as the new normal for customers' banking and payments needs in the pandemic environment," said Samir Gupta, CEO, Group Consumer Banking, CIMB Group.
"People have increasingly relied on, and seen the benefits of e-commerce for essentials and other goods that they may have previously preferred to purchase in a physical store," he added.
Related: Ultimate Guide To E-Wallet In Malaysia 2020 – Which Should You Get?
The card represents two of CIMB's main pivots as part of their Forward23 business strategy, namely Customer Centricity and Sustainability, according to Gupta.
"We will continue to innovate in order to provide a more seamless and convenient experience to our customers, particularly during this challenging period," he said.
Designed with sustainability principles in mind, the monthly e Credit Card statements will be 100% e-statements only.
On top of that, CIMB credit card customers can support sustainable causes by redeeming bonus points for donations to various non-governmental organisations (NGOs) and COVID-19 support funds. Find out how you can donate at: www.cimb.com.my/covid19donations
Eligibility
Minimum income requirement: RM24,000 per annum
Annual Fees
Principal Card - RM100 (waived for the first year)
Supplementary Card - waived
| | |
| --- | --- |
| Annual Fee Waiver (For subsequent years) | Eligibility |
| 100% | Total annual spending* of RM12,000 |
*Total annual spend = Accumulated 12 months' retail spend prior to card annual fee date applies to a combined total of both principal and supplementary cards.
For more information on CIMB's e Credit Card, click here.
If you are curious about other CIMB cards available in the market, you can browse through a wide range of selections on our website.
Where can you use it?
The card covers every aspect of a person's daily spending behavior – but can be mainly used for:
Online shopping
Food delivery
Auto-bill payments
In-store purchases
e-Wallet transactions
Interested to apply for the CIMB e Credit Card? Just click here.