Did you know that you can pay for your purchases without having to sign or use the PIN for your cards? Learn more about contactless payment credit cards below and why you should be using it!
What Is Contactless Payment?
Contactless payment is technology which allows users to make faster payment for their purchases. Consumers can now make payment with their contactless cards at establishments which have the universal contactless symbol.
Contactless payment technology is not limited to credit cards only, as it is also available on debit cards, smart cards and other devices such as smartphones and wearables that have radio frequency identification (RFID) or near field communication (NFC). This enables cardholders with contactless payment to pay without having to insert their cards to the card terminal machine and there's no PIN required.
However, there is a payment limit of RM250 per transaction. Therefore, if you are making bigger purchases (above RM250) with your contactless payment credit card, you will be required to insert your PIN.
Benefits Of Contactless Payment
Security
As you won't have to hand over your credit card, contactless payment credit cards provide an extra layer of protection against fraud. Cards and devices enabled with contactless payment are embedded with multiple levels of security and will protect you against fraud. The RFID chip within the contactless payment devices will create a unique number for each transaction. So even if it was intercepted, the information cannot be used as the unique number is only for that specific transaction.
Convenience
It is faster, and easier to simply tap your card when making purchases. You can even make payment without having to take the card out of your purse or wallet with mobile wallets.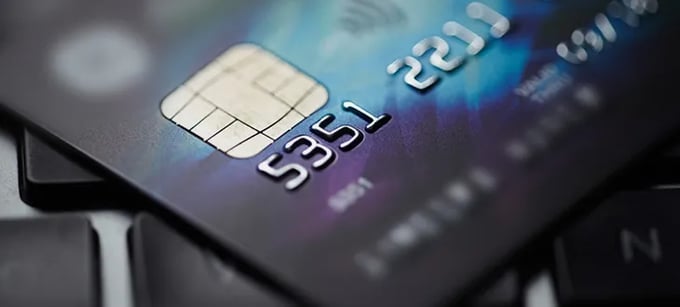 Contactless Payment Options in Malaysia
Although contactless payment is still not yet widely used in Malaysia, below are some of the available options for users:
Visa payWave
Credit cards that have the Visa payWave will allow the users to make payments easier and faster. But it will only work when the card is within 4cm of the card reader, and the Visa payWave terminal can only process one transaction at a time. Your personal information will be protected via data encryption when sending sensitive information to make payment, so you pay with a peace of mind.
Credit cards with Visa payWave are
HSBC Amanah MPower Platinum Credit Card-i
UOB Vox Visa
UOB PRVI Miles Card
AmBank TRUE VISA Credit Card
Petronas Maybankard Platinum Visa
Maybank Visa Gold
Public Bank Visa Signature
Hong Leong Essential
RHB Smart Value Visa Card
Maybank Wearable
In January 2016, Visa and Maybank launched Maybank Visa PayBand which is the first payment wearable in Malaysia which offers contactless payment technology. It is said that this payment wearable can be used at over 1,000 locations in Malaysia. So this is useful for people who are on the go and may not bring their purse or wallet with them, for example for a run at the park, should you need to pop in to the store to get a bottle of water, you can simply pay for it with the PayBand.
As of now, contactless payment via Visa Paywave is available at the stores below:
AEON BIG
Chatime
Golden Screen Cinemas
TGV Cinemas
Jaya Grocer
Village Grocer
McDonald's
Starbucks
The Coffee Bean & Tea Leaf
MasterCard PayPass
Aside from Visa's payWave, MasterCard also offers the contactless payment option via their PayPass. It works the same way as a Visa payWave card would. Credit cards which have MasterCard PayPass in Malaysia are:
Standard Chartered JustOne Platinum MasterCard
Public Bank World MasterCard Credit Card
Standard Chartered Cashback Gold MasterCard
Public Islamic Bank MasterCard Platinum Credit Card-i
AmBank M-Platinum MasterCard
CIMB Platinum MasterCard
RHB World MasterCard Credit Card
How To Know Where Contactless Payment Is Available?
If a merchant has the contactless payment symbol at the payment terminal this means that contactless payment option is available. So the next time you are at the cash register, look out for the contactless reader then tap your card, wait for the beep and you're done.
You may even have a card enabled with contactless payment technology without even realising it. Have a look at your card to see if it has the contactless payment symbol of a ripple wave similar to WiFi symbol rotated to your right. If you don't have a contactless payment enabled card and want one, you can compare and apply for a card for free on CompareHero.my!