A credit report is important because it helps you assess whether you are eligible to apply for a credit card, personal loan or mortgage. Read this article to find out how you can read and check your credit report for free!
---
Getting rejected for a credit card or loan isn't a personal slight against you, though it may feel like it.
And while rejection can feel frustrating, you can quickly bounce back by finding out why your application was declined, to help increase your chances of getting approval next time.
One of the ways you can recover from a failed credit application is to check your credit report.
What is a credit report, and why is it key to getting your financing requests approved?
Having a credit report alone simply won't cut it. If you want to make sure your financing requests are approved, you need to go beyond that, and take progressive steps to improve your poor credit score - which is the likely reason you got rejected for loan or credit in the first place. Thus, understanding what makes up a credit report will help a lot.
An academic report gives an overview of how you are doing in school and a health report offers insights into your health status. Similarly, a credit report shows how you have been managing your overall finances.
It's normally issued by a credit reporting agency or credit bureau and will include your credit history, outstanding debt, bankruptcy status, and other non-banking or legal related information, all of which have been sourced from various organisations or public sources.
Credit reports are also meant to be neutral, meaning they include both the good and the bad of your finances to help the evaluator come up with an assessment of your creditworthiness.
What is a credit score?
A credit score is a three-digit number, typically between 300 and 850, that represents your creditworthiness and indicates how likely you are to repay debt.
Credit reporting agencies calculate these scores based on their own proprietary models, but it will never factor in personal information like race, gender, religion, marital status, savings or deposits information, salary details or criminal records.
Why is a credit score important?
Your credit score not only determines the loan you can get and the interest rates you pay, but it is also used by banks and lenders to evaluate your application for a credit card, whether you are eligible for flexible payment periods and determines premiums for auto and homeowner coverages.
Since banks, financial institutions, and even some businesses, don't really know you personally to assess your level of debt repayment, they use your credit score to evaluate the credibility of your financial health. Your score helps them understand the risks they might face if they decide to lend money to you.
For you, the higher your score, the better it is and the higher the chances of getting your applications approved. Generally, better scores means you will have more financing options because banks and lenders will prefer to deal with you.
However, banks do not rely solely on your credit report to determine whether they should be approving your applications. These reports, however, do serve as good indicators of your ability to repay loans and keep up with your repayment schedules.
Understanding and knowing how to read your credit report
The first step is to get a hand on a credit report. If you didn't already know, now you can get a credit report for FREE.
As part of their efforts to help Malaysians better understand their financial positions, CTOS is giving out free MyCTOS Score reports to the first 50,000 Malaysian customers for a limited time (till 31 December 2020).
Click the image below to get your free report now! The step-by-step instructions will be different for new and existing customers so scroll till the end for the full deets.

Now with that out of the way - and once you have full access to view your CTOS report - let's get into how you can understand and read your credit report.
In order to stand a higher chance of getting your credit approved, it it is important to first understand what banks look at in your CTOS report.
A classic CTOS credit report is made out of five sections, consisting of your credit score, ID verification, credit information, exposure to businesses and directorships and ownerships, address records, banking payment records, total amount of outstanding credit facility, legal cases and trade reference.
We break it down by sections: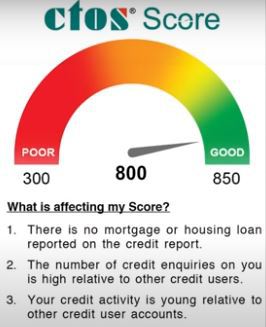 Section A

1. Your credit score
It is a summary of your entire credit report. Your creditworthiness is represented by this score.
The higher the score, the higher the chances of your credit application being approved by banks or lenders.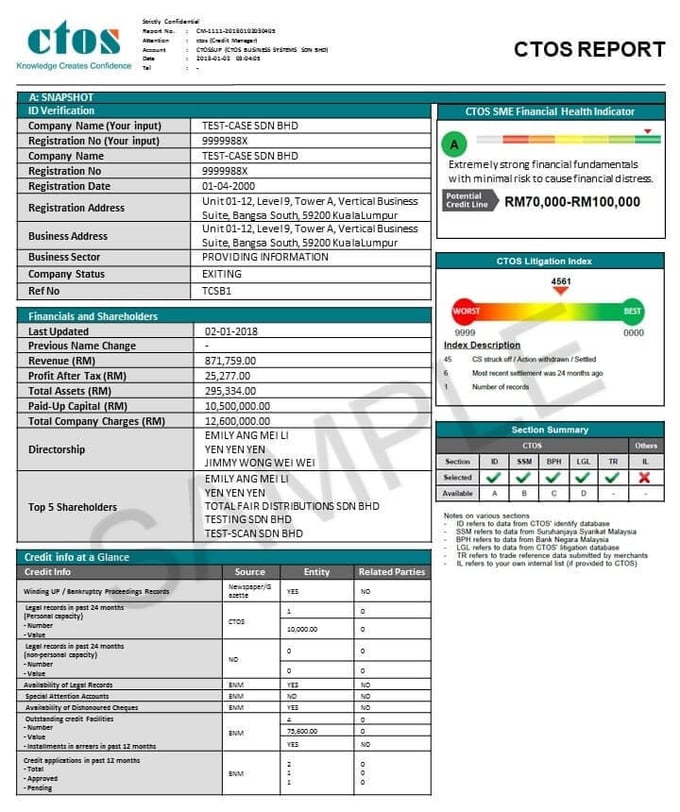 (Image source: NewPropertyBoard)
2. ID verification
Displays your personal details from the National Registration Department (NRD) and CCRIS (Central Credit Reference Information System).
If you find any discrepancies, CTOS advises members to go to the NRD to update your information and to ensure no one has assumed your identity illegally.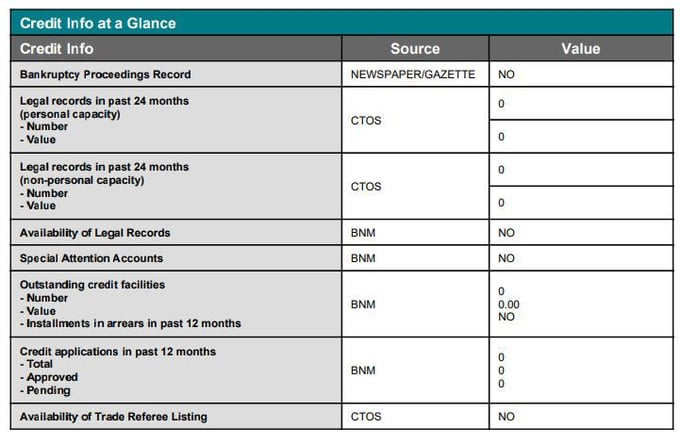 3. Credit info at a glance
A highlight of information such as bankruptcy, litigation, credit facilities information and credit applications.

4. Summary - Top five directorships and business interests
This section displays the top five businesses or companies that are linked to you with your role either as a Director, Shareholder, Owner or Partner.

Section B

1. Directorships & business interests

Goes into the full details related to directorships and business interests based on information obtained from the Companies Commission of Malaysia (SSM).
2. Address records
Displays all address records linked to you from the National Registration Department, Bank Negara Malaysia and Companies Commission of Malaysia (SSM).
If you notice any inaccurate information, it could be a sign of identity theft and CTOS recommends that you investigate further.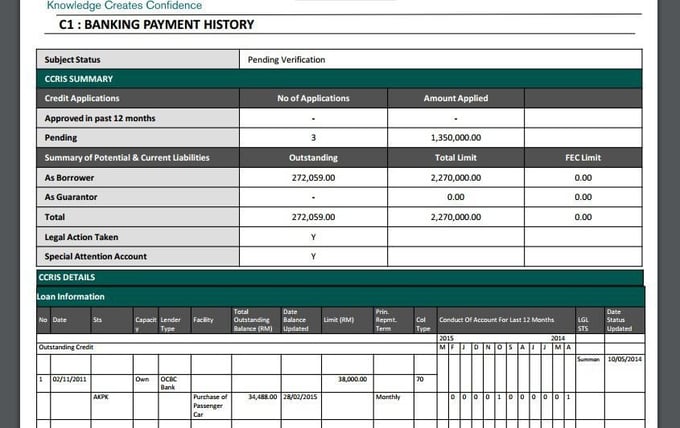 (Image source: CTOS)
Section C

1. Banking payment records (CCRIS)
This section displays the breakdown for each credit facility you have such as credit cards, personal loan, educational loan, car loan and housing loan.
Here you can view your payment behaviour for all the facilities for the past 12 months. For example, zero means you paid on time, one means you were one month late, and so forth. Any credit application you did within the last 12 months will also be in this section.
2. CCRIS derivatives
Shows your earliest credit facility as well as the total amount from your secured (car and housing loans) and unsecured facilities (credit card, personal loan and student loan).
Section D

1. Legal Cases
This section displays details of all cases involving you as either a defendant or plaintiff, as well as, cases in which you are the director of a company with a petition for winding-up order issued.
Legal cases will be removed after two years from the last data update. Bankruptcy records will be removed after two years from the date of discharge.
Section E

Trade References
This section displays references linked to you personally or you as a guarantor, and will show details such as the amounts you owe and who referred you for listings.
If you noticed any outdated or inaccurate information, CTOS advises members to contact the respective party that listed you to settle the issue. CTOS is also able to assist you.
What factors are taken into consideration when calculating your credit score?
If you got a bad score, then you may be itching to know what went wrong. To find out, you first need to understand that your score is calculated based on credit information from both CCRIS and CTOS's database. There are five factors to this:
1. Payment History (45%)
This depends on whether you paid your loans on time or have missed payments in the past. So if you want this to be a clean record, remember to pay your bills on time!
2. Amount Owed (20%)
The number of credit facilities and the amount owed to the banks. Owing more will reduce your credit score, so be sure to pay off that debt!
3. Credit History Length (7%)
The number of times you held a credit facility. (for example, credit card, or a loan). This typically goes into how many times you've had a credit card or loan.
4. Credit Mix (14%)
The types of loans and credit cards you hold. This could either be secured credit (home, car loans) vs unsecured credit (credit cards, personal loans). It's good practice to hold different types of debt as this will increase your score.
5. New Credit (14%)
Have you been approved for new credit facilities recently? This gives the banks a benchmark on your creditworthiness.
Got a bad credit score? Don't worry, it's not the end of the world!
But don't feel bad if your credit score is bad, here's a few quick tips on how to improve it.
Psst… if you need a more detailed rundown on what you can do to improve your score, we suggest you read this article we did about improving your credit score.
Update your personal information
Get out of debt
Pay your bills on time
Check your financial relationships
Build up your credit history
Terms and Conditions for free CTOS Credit Report:
Valid from 27 October 2020 – 31st December 2020 and limited to 50,000 customers.
Each individual is entitled to ONE (1) free MyCTOS Score report only.
To redeem your personal MyCTOS Score credit report, you need to sign up for a CTOSID account.
Existing CTOS customers who have redeemed a complimentary MyCTOS Score report before (either directly via CTOS or via our partners) are NOT eligible for this free score.
The redemption of complimentary score report using the promo code CTOSCH20 is only available online via CTOS website. Not available on mobile APP. Full terms & conditions, visit CTOS website at www.ctoscredit.com.my
Get your free credit report by using this promo code: CTOSCH20
Hurry as the code expires on 31 December 2020!
Click here to redeem your FREE MyCTOS Score report.
Here's the step-by-step on how to redeem the free report:
For new users:
Click here to get to the CTOS website or download the CTOS mobile app
Sign up for a CTOS ID
Once verified, login to your account
Click on the "Buy latest MyCTOS Score report" button
Key in the promo code CTOSCH20 at the checkout page
Instantly view your credit report and score
For existing users:
Login to your account here
Click on the "Buy latest MyCTOS Score report" button
Key in the promo code CTOSCH20 at the checkout page
Instantly view your credit report and score.
The CTOS Score is a full credit report with your current CTOS Score and CCRIS details.
What's in it:
Everything in MyCTOS Basic Report
CTOS Score
CCRIS Records (BNM)
Access to rewards