Mortgage lenders take your credit score into serious consideration when you apply for a house loan. Therefore, it is important to make sure that you have a good credit score in order to be perceived as a low-risk borrower. But how do you know if your credit score is good enough for a mortgage? Read this article to understand more about how your credit score affects the mortgage rates.
---
You've been eyeing that pretty corner lot house for awhile - you've done various house viewings, called many different real estate agents, visited neighbourhood after neighbourhood, and now you're pretty sold on the idea.
This house basically ticks off every yay on your checklist: it's close to your office, within your budget, looks amazing … eager and excited, you quickly sealed the deal with your agent who then helped fill in the forms and sent in your loan application to the bank - gotta be quick because it's crunch time, right?
But bad news awaits you: your application was rejected! That's when you realise there was still one thing left to do that you didn't do beforehand: check your credit score. You skipped that part because as the saying goes, "out of sight, out of mind" right? No!
The scenario we just painted above is one that many home buyers have experienced. Whether you are a seasoned home buyer or fresh as a daisy, buying a house is a lengthy process that requires a lot of patience, and the last thing you would want to hear from your bank is news that your loan application got declined due to your poor credit score.
Unfortunately, you may have been in such a situation if you have never checked your credit score, or understand the importance of it. At the end of the day, your credit score is what stands between you and the bank's decision to approve that loan that you just applied for.
So what is a credit score, and what score is considered good enough to get you a mortgage?
If you didn't already know, understanding and having a good credit standing goes a long way in life and is the golden ticket to some of the best financial deals: competitive and ideal interest rates, premium credit cards, higher chances of buying a car, speedier loan approvals, and most importantly and very relevant to today's topic – it helps you get a mortgage.
Think of it as a financial report card, and is one that contains your financial information such as outstanding credit, loans, credit card and loan application history, payment history etc. In short, that piece of report carries a whole summary of all your financial activities throughout your life.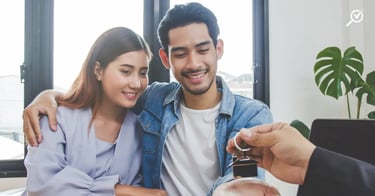 You may want to work on improving your credit score if you fall between 300 and 696. (Image source: CTOS)
So if your loan application got rejected, then it could possibly be due to your poor to low credit score, which usually ranges between 300 to 651 according to CTOS. A bad credit score not only affects your chances of securing a loan, it may also be the reason you get rejected for a new credit card, have to pay higher interest rates, or even be denied a job.
A good CTOS credit score, on the other hand, ranges between 697 and 850, and a higher score increases your chances of getting your loan approved.. People with high credit scores are seen as lower risk, so the more points you score, the higher your chances of being accepted for a mortgage, and securing better rates. So possessing a good score can only do you good and set you on course to secure the best financial deals.
But why does your credit score matter?
Having a good credit score is necessary because banks or other financial institutions can't simply lend you money without first assessing your financial health.
To assess your financial standing, lenders work out a credit score for you to help them decide if they think you are worth taking a risk on if you will be taking on debt. Essentially, they need assurance that you'll be a responsible, reliable borrower who is likely to repay the debt on time.
In more technical terms, your credit score represents your creditworthiness and how likely you are to repay debt.
So, to successfully qualify for a mortgage, you will need to at least secure a good credit rating.
Who calculates your credit score?
The three digit number that makes up your score is based on information gathered from The Central Credit Reference Information (CCRIS) and CTOS.
Managed by the Credit Bureau of Bank Negara Malaysia, CCRIS provides credit reports and collects credit-related information on all borrowers of participating financial institutions in Malaysia.
CTOS, on the other hand, is a private company, and one of Malaysia's leading Credit Reporting Agencies (CRA) under the Credit Reporting Agencies Act 2010. They, too, provide credit reporting and are also widely used by financial institutions to determine an applicant's creditworthiness aside from CCRIS.
Related: What Is A CTOS & CCRIS Report And What's Their Difference?
Usually, financial institutions use more than one credit report to determine an applicant's credit health, and CTOS is known to be widely used in Malaysia.
What factors are taken into consideration when calculating your credit score?
If you got a bad score, then you may be itching to know what went wrong. To find out, you first need to understand that your score is calculated based on credit information from both CCRIS and CTOS's database. There are five factors to this:
1. Payment History (45%)
This depends on whether you paid your loans on time or have missed payments in the past. So if you want this to be a clean record, remember to pay your bills on time!
2. Amount Owed (20%)
The number of credit facilities and the amount owed to the banks. Owing more will reduce your credit score, so be sure to pay off that debt!
3. Credit History Length (7%)
The amount of time you held a credit facility (for example, credit card, or a loan). This typically goes into how many times you've had a credit card or loan.
4. Credit Mix (14%)
The types of loans and credit cards you hold. This could either be secured credit (home, car loans) vs unsecured credit (credit cards, personal loans). It's good practice to hold different types of debt as this will increase your score.
5. New Credit (14%)
Have you been approved for new credit facilities recently? This gives the banks a benchmark on your creditworthiness.
So what is the loan approval rate for mortgages in Malaysia?
To give you a better idea of your chances of securing a mortgage loan in Malaysia, we gathered some data from Bank Negara Malaysia.
According to data from BNM's HousingWatch.my index, total housing loan applications stand at RM44.8 billion between January to March 2020.
From that number, banks approved RM32 billion of house financing to about 75,000 borrowers, out of which, 41% of the newly approved housing loans were granted to first-time home buyers.
For context, the average of newly approved housing loans from 2013 to 2019 was 43%. So that's slightly below the usual average.
The overall housing loan approval rate stood at 72.9% as of the end of March 2020, a slight drop from the 2013-2019 average of 75.5%.
But what factors are affecting these rates? The moderation in approval rate, BNM states, is a reflection of the continued housing unaffordability issue in Malaysia, which arises from the mismatch between supply and demand of houses. For instance, 63% of the newly approved housing loans are for the purchase of houses priced below RM500,000.
All in all the approval rates are moderate in Malaysia, so the best thing you can do is to ensure your credit score doesn't bring your chances down.
Here are several common reasons housing loan applications get rejected according to BNM
Borrowers are already highly indebted
Borrowers have little residual income after taking into account monthly living expenditures and existing financial obligations
Borrowers have poor credit history
Insufficient documentation to support ability to repay loan obligation
Are you in need of credit assistance – here's what you can do:
If you're stuck on matters related to financing your mortgage, BNM recommends getting advisory assistance via the Rumahku Financial Education programme by Agensi Kaunseling & Pengurusan Kredit (AKPK), who would be able to help potential borrowers understand their financial commitments prior to purchasing a home.
Got a bad credit score? Don't worry, it's not the end of the world!
But don't feel bad if your credit score is bad, here's a few quick tips on how to improve it.
Psst… if you need a more detailed rundown on what you can do to improve your score, we suggest you read this article we did about improving your credit score.
Update your personal information
Get out of debt
Pay your bills on time
Check your financial relationships
Build up your credit history
By the way, do you need to check your credit score?
Well, now you can do so for FREE!
As part of their efforts to help Malaysians better understand their financial positions, CTOS is giving out free MyCTOS Score reports to the first 50,000 Malaysian customers for a limited time (till 31 December 2020).
Terms and Conditions:
Valid from 27 October 2020 – 31st December 2020 and limited to 50,000 customers.
Each individual is entitled to ONE (1) free MyCTOS Score report only.
To redeem your personal MyCTOS Score credit report, you need to sign up for a CTOSID account.
Existing CTOS customers who have redeemed a complimentary MyCTOS Score report before (either directly via CTOS or via our partners) are NOT eligible for this free score.
The redemption of complimentary score report using the promo code CTOSCH20 is only available online via CTOS website. Not available on mobile APP. Full terms & conditions, visit CTOS website at www.ctoscredit.com.my
Here's the step-by-step on how to redeem the free report:
For new users:
Click here to get to CTOS website or download CTOS mobile app
Sign up for a CTOS ID
Once verified, login to your account
Click on the "Buy latest MyCTOS Score report" button
Key in the promo code CTOSCH20 at the checkout page
Instantly view your credit report and score.
For existing users:
Login to your account here
Click on the "Buy latest MyCTOS Score report" button
Key in the promo code CTOSCH20 at the checkout page
Instantly view your credit report and score.
The CTOS Score is a full credit report with your current CTOS Score and CCRIS details.
What's in it:
Everything in MyCTOS Basic Report
CTOS Score
CCRIS Records (BNM)
Access to rewards