By the end of February, Samsung Pay was launched in Malaysia, helping the nation take another step towards a cashless society and furthering mobile payment adoption. The smartphone's digital wallet is a mobile payment system that is integrated into selected Samsung Galaxy models.
Being a new service, we thought we'll help break down the essentials for you because we're sure you have questions and are curious to know how it works, how safe and secure it is, and which partnering banks and merchants are currently on board. We've also listed down some of the promotions you can enjoy when you use Samsung Pay.
Getting started with Samsung Pay
You've downloaded the Samsung Pay app on your phone and you're ready to get started. But how does it work?
Basically, Samsung Pay uses a technology called Magnetic Secure Transmission (MST) and Near Field Communication (NFC) to make secure mobile payment transactions. NFC works by tapping your device against tap-to-pay terminals, while MST is an older technology that picks up a magnetic signal which is similar to the magnetic strip found on the back of your cards.
How do I sign-up?
For starters, you need a Samsung Pay compatible device with the latest Android 6.0.1 or higher which are:
Galaxy S6 edge+
Galaxy S7 or Galaxy S7 edge
Galaxy Note5
Galaxy A7 (2016 & 2017 models)
Galaxy A5(2016 & 2017 models)
Install the Samsung Pay app on your phone, register your fingerprint on the device which will serve as your authentication providing a high level of security. After which, the camera will launch and you will then need to scan your credit or debit cards. You could also manually input your details if scanning doesn't work. Double-check to ensure all details like the number, your name, and expiration date is accurate. Depending on the agreement with your banks, you will then need to verify your identity by keying in a code sent to you via SMS.
Which cards can I register to Samsung Pay?
As of now, you can register your Citibank, Standard Chartered, Maybank and CIMB cards, though according to Samsung they are expanding the list of partnered banks and merchants, so do keep an eye out for updates.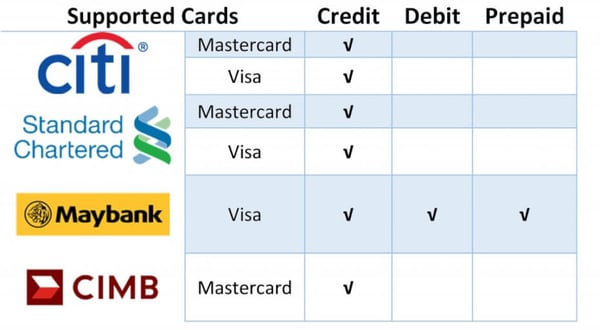 You can add up to 10 cards to a single Samsung Pay account.
To take advantage of Samsung Pay you obviously need a credit or debit card. To apply for a credit card with any of the supported banks, use our free comparison tool to find the best card for you. We compare cashback, air miles, rewards and best deal cards in the market.

I have it set up but how do I make a payment with Samsung Pay?
In 3 steps, you'll be on your way to making payments. Swipe up on your screen to launch Samsung Pay, verify your identity with your fingerprint or PIN (whichever you have selected as your preferred mode), tap your phone against the payment terminal and voila. Payment complete and you should receive a notification with transaction details after each Samsung Pay purchase you make.
And to help you keep track of your purchases, the last 10 transactions you make with Samsung Pay will be recorded in the app for one month from the date of purchase. Very handy especially since it's so easy to lose track of purchases when you're not paying with cash. There's really no excuse to lose track of your finances.
Do note that there is an RM250 payment limit.
Can I use Samsung Pay overseas/when I travel?
Good news for all those that travel and want to use Samsung Pay. If you're visiting any of the countries that the service is available in, you're fine. It is currently available in South Korea, United States, China, Spain, Australia, Puerto Rico, Singapore, Brazil, Russia and Thailand. However, it is advised to check with your issuing bank for their policies on foreign transactions. If your card currently allows you to spend internationally, it should also work with Samsung Pay.
Need an air miles card? CompareHero.my will be able to help you find the best card for your needs by comparing the points and rewards you earn for local and overseas spend.
See also: 5 Reasons Your Credit Card is Better than Cash when You are Travelling
Security of Samsung Pay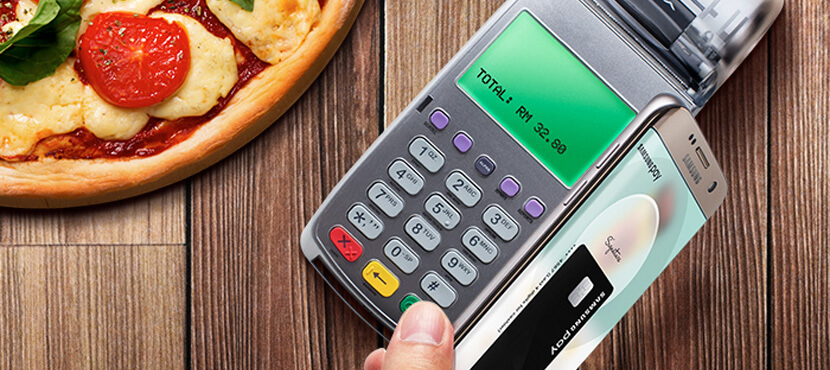 How safe is it really? What if I lose my phone and can people steal my credit card details from the network?
According to Samsung, it's a safe and secure way to make payment because it uses tokenization, a secure environment, and Samsung KNOX to keep your information safe. Plus, the fact that you need to verify your identity with your fingerprint or personal PIN means it would be incredibly difficult for fraud to happen unless of course, someone has an identical fingerprint which is impossible. Or if you do something silly like sharing your PIN.
The good news is Samsung Pay does not store your card details on the device so even if your phone is stolen, you can use Samsung's Find my Mobile service to disable Samsung Pay or even remove all registered cards. Instead, the tokenization keeps your data secure because each time a purchase is made, your Samsung Pay sends two pieces of data to the payment terminal. The first represents your card details and the second is a one-time code generated by the phone's encryption key. This code wouldn't be used again, so it's unique to your every purchase, making it very secure.
See also: From cashless to cardless: Malaysia is on the right track
Promotions with Samsung Pay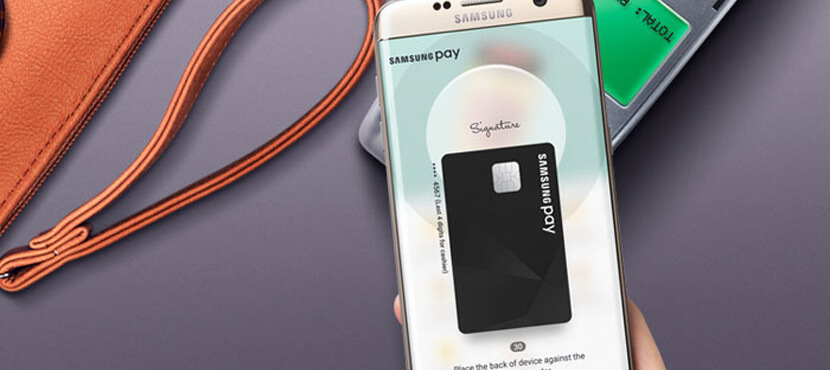 Win Samsung Gear S3 or RM20 Sakae Sushi eVouchers daily with your Citibank card
Make as many Samsung Pay transactions as you can with a Citibank card each day and you stand a chance to win great prizes. One Samsung Gear S3 and 25 Sakae Sushi eVouchers are given out daily so you stand a good chance to win.
Promo period: Until 31 May 2017
Not a Citibank card holder? Apply with CompareHero.my and you will also get an RM200 Lazada Voucher upon activation.
Up to RM100 cashback with your Standard Chartered credit card
Register your Standard Chartered card with Samsung Pay and you get up to RM100 cashback when you make purchases via Samsung Pay.
Promo period: Until 30 April 2017
Not a Standard Chartered card holder? Apply with CompareHero.my and you will also get an RM200 Lazada Voucher upon activation.
Win a Samsung Galaxy S Series with your Maybank card
Have a Maybank card? Be sure to register it on your Samsung Pay and spend with it. 50 users stand a chance to win a new phone for every RM50 cumulative spend.
Promo period: Until 31 May 2017
We're eagerly awaiting Apple Pay's arrival to Malaysia shores before we can make a comparison of the two mobile payment platforms. So far there is no news of Apple Pay coming to Malaysia, yet, but it's promising to know that the platform is being released across countries in Asia-Pacific including Australia, China, Hong Kong, Japan, and our close neighbour Singapore. When it does launch on our shores, we'll be sure to do a comparison of the two services, stay tuned!
5X 360' Rewards Points for Dining, Departmental Stores & Overseas spend
1X 360' Rewards Points for Other spend
ZERO Annual Fee, FREE for life