If you own a credit card and know how to use it the right way, you can actually improve and boost your credit score. Here are 5 tips on how you can take advantage of your credit card usage and maximise your credit rewards to earn extra benefits!
---
Your credit card isn't just there to help you pay for stuff in advance. That little piece of plastic actually holds more power and benefit than you know!
In this article, we'll show you how you can maximize credit card rewards and use your card to benefit you in surprising ways.
1. First, you need to select your card wisely
If you don't have a credit card yet, or if you have the capacity for another one, it's important to first choose the right card that fits your lifestyle.
Where do you tend to spend most of your money? Do you fly or travel a lot? Do you spend a lot on petrol? Do you shop online most of the time? Do you generally just prefer getting cash rebates back?
Choose one that suits you best so that you can make the most out of the benefits. Start comparing credit cards here.
2. Keep your utilisation rate low and gain a good credit score
Did you know that your credit card usage can affect your credit score?
What's a credit score? In a nutshell, it is a number between 300-850 which represents your creditworthiness and how likely you are to repay debt. These are the three most important digits of your life. Banks, companies, money lenders, investors, and even some potential mothers-in-law will check your credit score before deciding whether or not to have anything to do with you.
A good credit score shows that you're trustworthy when it comes to money, so it'll be easy for you to get financing help when you need it. Likewise, a poor credit score will raise red flags and have institutions turn away from you.
Your credit score is determined by several factors, one of them being the amount owed (20%). Take a close look at your debt utilisation ratio. If your credit limit for all your cards combined is, say, RM50,000, you should utilise no more than RM15,000 (30%) in order for your credit score to reflect positively. In fact, the lower, the better!
This is also why people keep their underutilised cards open instead of closing them. In a way, it's a way to game their credit score.
Read also: How Cancelling Your Credit Card Can Affect Your Credit Score (Instead Of Helping It)
3. Use it to pay for your flights for free insurance
Did you know that if you pay for your flights with your credit card, you can automatically get protected against travel mishaps? This will of course depend on the credit card you choose, as some cards don't offer this benefit.
Also, it's worth mentioning that this would only cover the principal cardholder and not others in the travelling crew. (So consider getting others in your trip covered with a separate travel insurance policy.)
Some of our favourite cards to get free travel insurance include:
Maybank 2 Platinum Card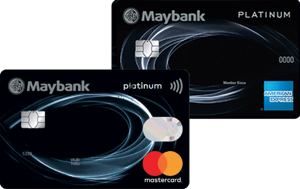 If you are a Maybank 2 Platinum Card holder, you get to enjoy complimentary insurance coverage up to RM1 million involving death and total and permanent disability. This applies when you use this card to purchase your flight tickets in full.
You are also entitled to coverage on these travel inconveniences:
Lost Luggage (more than 48 hours) – up to RM2,500
Delayed Luggage (more than 6 hours) – up to RM800
Flight Delay (more than 6 hours) – up to RM800
Missed Connection (more than 4 hours) – up to RM800
On top of this feature, you can earn 5 x TreatsPoints with your American Express card by spending in Malaysia or overseas and get an extra 5% cashback during the weekend.
Eligibility:
Minimum Income: RM60,000 per annum
Minimum Age: 21 years old
Annual Fee: Free for life

Apply for the Maybank 2 Platinum Card here

CIMB World Credit Card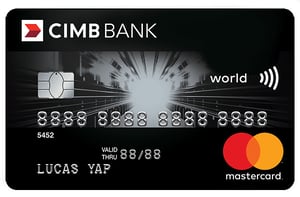 With this card, you'll be able to enjoy exclusive regional golf privileges along with accumulated bonus points whenever you spend and World Mastercard Concierge Services. You also get airport premium ride deals, regional dining privileges, and food and beverage privileges.
Insurance coverage is the icing on the cake with these benefits:
Lost Luggage – up to RM12,000
Delayed Luggage – RM1,000 or up to RM2,000 per family
Flight Delay – RM1,000 or up to RM2,000 per family
Missed Connection – RM1,000 or up to RM2,000 per family
Accidental death or total permanent disability – up to RM1,000,000 lump sum.

Eligibility:
Minimum Income: RM90,000 per annum
Minimum Age: 21 years old
Annual Fee: Free for life

Apply for the CIMB World Credit Card here

Alliance Bank Visa Infinite Card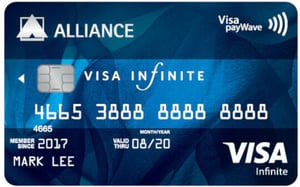 Aside from the 5x Timeless Bonus Points for overseas retail spend and 2x Timeless Bonus Points for local retail spend, you also enjoy these features:
Complementary Supplementary Card
Lifetime Annual Fee Waiver
Free Flights with Enrich Miles and AirAsia BIG Points redemption
Access to KLIA Plaza Premium Lounge
The travel insurance, which is issued by MSIG Insurance (Malaysia) Bhd with Alliance Bank Malaysia Berhad, has these benefits:
Lost Luggage – up to RM5,000
Delayed Luggage – up to RM2,000
Missed Connection – up to RM2,000
Medical Expenses Coverage – up to RM50,000
Death or Total Permanent Disablement – up to RM2,000,000

Eligibility:
Minimum Income: RM150,000 per annum
Minimum Age: 21 years old
Annual Fee: Free for life

Apply for the Alliance Bank Visa Infinite Card here

You may not be able to utilise this now, but it's good to know that you can enjoy these benefits when borders reopen again.
4. Collect and redeem all your points
Now you also would know that credit cards come with reward points (except if they're cashback-only)... But the thing is, these reward points have expiration dates! There are cards that will give you evergreen reward points, but cards like these are quite rare. As such, it would be a good idea to check up on your card's terms if you're unfamiliar with it.
So, what can you do with your points?
If you have a credit card with air mile benefits (e.g. CIMB Enrich World Mastercard®, AmBank Platinum, Alliance Bank Platinum Visa, HSBC Visa Signature), you can exchange your points for airmiles which can then be used to redeem flights or to upgrade to first class.
You can also use your points to redeem a whole bunch of other stuff too, such as watches, kitchen appliances, bags, makeup, shopping vouchers, and more. Just be savvy enough to compare your points to the item you want to redeem - there may be times where it would make more sense to buy the item as is!
5. Take advantage of all the promos
So the thing about credit cards is that they're always tied to promotions. They could have a promotion with a local gym, or a popular food chain, a supermarket - the list goes on.
To make the most of your credit card, take advantage of the promotions being run with the card. You may get discounts of 20% or more, and even enjoy great freebies!
If you're not already following your banks on social media, we'd suggest you start now. That way, you won't ever miss an update from them about their latest promotions.
But all this is nothing if you don't pay your balance in full
While it's great that this little piece of plastic can add so much value to your life, it's never worth it if you're accumulating credit card debt. To enjoy using your card to your fullest, remember to always pay your owing in full so that you'll never have to pay exorbitant credit card interests (which start from 15% p.a.!) on your balances.