At first glance, you wouldn't guess that Marini Ramlan, also known as Nini Marini, was donning an outfit similar to her art. Filled with intricate abstract and decorative elements, these artistic features were also translated onto her name cards.
View this post on Instagram

A post shared by Nini Marini | @mariniart_ (@ninimarini_) on
An artist, entrepreneur, and a self-taught painter based in Kuala Lumpur, she left her long-spanning career in media to pursue her passion to build her art business full-time in 2020.
Her visual aesthetic, she states, often varies between abstract and decorative, drawing inspiration from different aspects of nature such as flowers, trees, plants and surrounding textures.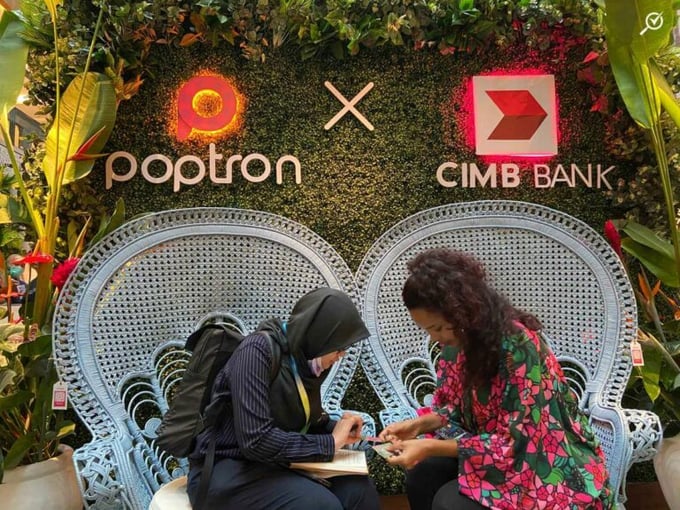 Marini's work includes elements of fashion illustration, textile pattern design, animation and craft (batik & weaving).
She explores art through various mediums, including translating original artwork onto different materials like ceramic, textile, metal and even artificial intelligence.
Today, on top of distributing her work on her own online platforms, her art can also be found on local startup Poptron, a newly-launched social-commerce platform featuring a wide-range of curated lifestyle brands. She cites their potential to scale as one of the reasons that attracted her to the platform.
"They approached me last year, and I know Brian (Lowe, the founder). And I liked his idea that Poptron will go Southeast Asia and into different areas. I like that things are curated, and are quite lifestyle-driven," she told CompareHero.my. "I have my own platform, but for anyone in the business, you need to get yourself out there -- to get in as many shops as possible. Having physical stores just doesn't make sense anymore so you need to have physical online stores and I see Poptron as one of them."
One of the biggest challenges that micro brands face, Marini said, include connecting to a ready-made audience, something she believes Poptron could help mitigate. "Working with a platform like Poptron allows you to tap into another community that I don't have access to (like CIMB)," she added.
Marini also happens to be one of the many artists, makers and entrepreneurs who were part of the #ExtraNotOrdinary Bazaar, launched last Friday by CIMB Bank Berhad and Poptron at The Boulevard, Publika Shopping Gallery. The event will run until 10 September, 2020.
COVID-19 forces micro brands to digitize and pivot

Jinli Chan is the founder of Cocova whose mission is to serve cocoholics with all natural, high-quality single origin cocoa products. Their ingredients are free of artificial ingredients and are high in antioxidants.
The pandemic's far-reaching social and economic effects not only impacted the country on a macro scale but also on a micro level. Some of the brands present at the launch told us that the biggest pivot they had to make to sustain their business was to adapt to digitalization and increase digital activities.
"During COVID-19, I started teaching people and my art classes online, and because of that I managed to get on Airbnb experiences," Marini said. "I didn't think it was appropriate to sell during the pandemic when everyone was struggling to cope (now I think it's much better), so during that time, I took the opportunity to upskill myself and learn different methods of reaching out and marketing as well as teaching myself how to teach online."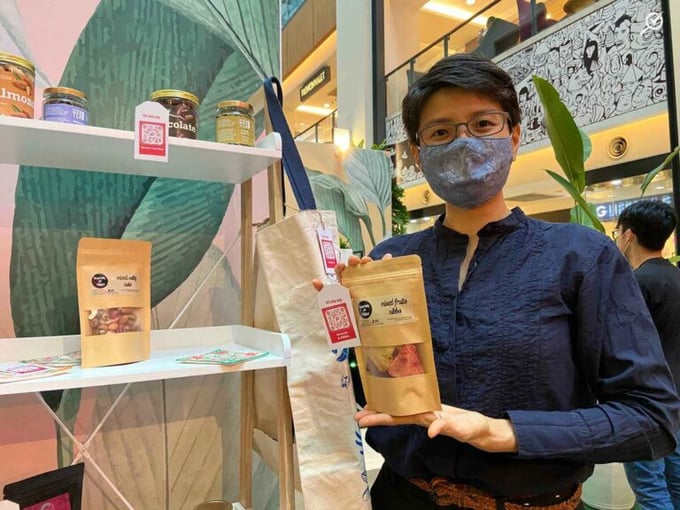 Nourish and Nibbs shares a space with BYOB Taman Desa. Located in a home setting at Jalan Desa Utama, they have a "gallery" space for all their homemade healthy snacks.
Similarly, Adelyn Loo (pictured), founder of vegan health snacks provider Nourish and Nibbs, also found herself using social media more often when promoting products.
Loo started unofficially selling her healthy snacks in 2015 which are marketed as great alternatives to conventional snacking, parties, gifts, meals among other things for health-conscious enthusiasts.
"We were blessed. Because we were involved in a number of active communities like churches and other events, but we were also using social media a lot," she said. "Because we are home-based, our cost was kept to a minimum since we don't have rent or a lot of other fixed costs like salaries etc. So we are actually able to see an increase in our sales," she said.
Loo also introduced a new product offering to help cushion the sales of other products that were hindered by the lockdown. In this instance, her business started selling gift sets called Tender Loving Care on top of the usual party packs or event packs sold to families and companies for corporate events.
"During COVID-19, there were no longer parties or events. So we started selling gift sets and called it the Tender Loving Care. People call it care packs, we called it TLC packs for people to give their friends and family," she said. "For Mother Day's we saw an increase in people getting these packs for their moms because our products offer a healthier alternative."
Like Marini, being on Poptron allows Nourish and Nibbs to get access to a larger niche market. "For small businesses like us, we get to tap into the larger mass market that we've not managed to tap into yet," she said. "Our niche product gels well with them as they are quite particular about what kind of brands to support -- local artisan products and we are 100% locally made. Our food is completely made at home."
"This is our first time going on an e-commerce platform. Because our margin isn't high, going on Poptron really helps businesses with very limited budgets and we can capitalize on the exposure that they are trying to get," Loo said.
"Even if we don't generate sales yet, exposure is a big return for small businesses like us -- either in the form of increased followers (on social media) or increased inquiries -- these are things that we know work though it may not be the same kind of tangible sales or monetary volume," she added.
#ExtraNotOrdinary Bazaar supporting micro brands
Organized by CIMB in partnership with Poptron, the event aims to accelerate the growth of home-grown micro brands through Poptron's newly-launched social commerce platform.


The CIMB and Poptron partnership embodies the #kitajagakita spirit by making the local micro brands featured by Poptron more compelling and accessible with promotions for shoppers.
On top of featuring a wide range of curated lifestyle brands available on Poptron's platform -- all of which pay tribute to the ingenuity of Malaysia's local talent and unique local products -- the platform also encourages cashless transactions by providing extra rewards via the newly launched CIMB e Credit Card.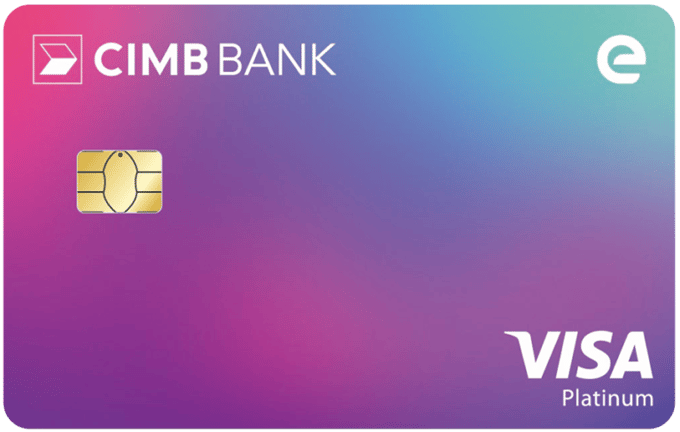 The new card was established to address shifting customers needs, one that has become increasingly digital in this COVID-19 era by providing added value for online and contactless transactions without being limited to any e-commerce platform.
This rings especially true as research reveals that 73% of consumers will still prefer electronic payment solutions instead of cash after the COVID-19 situation is over according to the report "The New Normal" Pandemic Response and Business Continuity Tips.
The CIMB e Credit Card allows customers to fully maximize the value of all online shopping, e-wallet, auto-billing, and in-store contactless spending with up to 12 times bonus points in each transaction with no minimum spend.
Powered by Visa, customers can get extravagant rewards via e Credit Card Features Partners such as Lazada, Shopee & Taobao on CIMB eDay, which falls on the 10th of every month.
If you're curious about the full card benefits, click here.


Zamaera looked stunning in Amanda Brown's designer couture made out of 250 CIMB e Credit Cards. Sharifah Amani and her sister, Sharifah Aleysha, were also present during the launch event.
Other memorable highlights from the event included special appearances from Zamaera, KL's rap sensation, event host Jenn Chia, a well-known YouTube personality as well as other personalities including Sharifah Amani. The Bazaar also featured interactive artistic acts and games, in addition to cultural performances courtesy of Yayasan Hasanah.
Samir Gupta, CEO, Group Consumer Banking of CIMB Group of the partnership, said that CIMB's partnership with Poptron is based on their shared values and desire to accelerate the growth of local micro-enterprises.
"Poptron aims to make ethical and socially conscious micro brands accessible via its social e-commerce platform, which is perfectly aligned with our aim to promote cashless lifestyles," he said.
In line with the country's efforts to become a cashless society, CIMB is encouraging both customers and the public to embrace cashless payment methods in their daily spending, and can do so while enjoying great rewards with the CIMB e Credit Card.
"We also hope they will consider supporting the micro brands on Poptron as well as our #ExtraNotOrdinary Bazaar, and we look forward to finding even more ways to support local businesses in their recovery during these challenging times," Samir added.


CIMB was represented by Pak Budiman Tanjung, Managing Director, Regional Head Consumer Products, Wealth & Preferred, CIMB Group. He and Lowe shared with the audience how both their support of local micro-businesses made the two organizations a "match made in heaven".
Founded by Brian Johnson Lowe, Poptron brings brands from pop-up bazaars straight to consumers through its online platform. It also aims to bring more visibility to ethical, sustainable and socially responsible brands.
"Poptron is about nurturing a community that loves and appreciates emerging brands, beautiful products and the wonderful creators behind them. It's such a heart-warming experience to hear their stories and understand the true passion and pride that goes into what they create," Lowe said.
The inspiration behind Poptron, Lowe said, was when he realized one small problem -- not being able to recall the names of the pop-up brands he would encounter.
"If you don't remember the names of these brands, you can't find them online easily. So this sparked this thing in me -- I call it frustration -- so I began to investigate this," he said.
The name Poptron, he said, originates from "pop" for pop-up stores, "tr" from "trust" and "on" from "online" -- when combined together, results in Poptron.
"I went back to the base of the story -- finding really good brands that you can trust online. It's one thing to find unique products that are sold online, it's another thing to find products that are handmade and well-designed, with an emphasis on quality, and the founder of the actual brand is talking to you. It's these stories behind the brands that are very fascinating for me," he said.
Poptron recently launched its social commerce platform with a curated list of around 100 local micro and emerging brands spanning over seven categories.
Additionally, because it's so closely curated and niche, Poptron allows users to pay via a single checkout -- meaning shoppers can add items from different stores into one basket, another defining feature that sets it apart from other platforms.
Many of these micro brands were selected due to their ethical, responsible and socially conscious aspirations, with some being social enterprises that give back or provide skills training to underprivileged and marginalized communities.
Other brands include those that offer natural and eco-friendly products, or artisanal goods that showcase the beauty of our Malaysian heritage and local cultures.
"As a social e-commerce platform, we want to inspire meaningful lifestyles so that together, we encourage a society that can collectively amplify positive impact. No matter how small the contribution is, all of us are capable of making some difference in our lives and this is important to Poptron and our partner brands," he added.
Throughout the bazaar period, Poptron and CIMB are offering a discount sitewide at Poptron.co until September 10, whereby CIMB e Credit Cardholders will enjoy 15% off plus 12 Bonus Points instead of the usual five times Bonus Points on normal days. Other CIMB debit, credit and prepaid cardholders get to enjoy 10% off.

Sign up for a CIMB e Credit Card to enjoy these privileges now!