People normally opt for personal loans when they need extra funds to finance personal expenses like home renovations, education costs, medical bills, and business. Most personal loans are unsecured loans which means you don't need to offer any collateral to the bank when you borrow money. Banks will review your financial background, such as your minimum salary and credit score, to determine whether to approve your personal loan application and decide the suitable interest rate. Since the loan isn't secured to any asset or collateral, the interest rates tend to be higher. Fret not, CompareHero is here to help you figure out 5 Personal Loans with Low-Interest Rates in Malaysia.
Personal Loan with Low-Interest Rate #1: Alliance Personal Loans

Alliance Personal Loans offer interest rates as low as 3.99% per annum and guaranteed disbursement within 24 hours. You can choose to take up conventional or Islamic financing for loans starting from RM50,000 to RM150,000. If you're between the age of 21-60 years old and your minimum monthly income is RM3,000 you can apply here and get your loan approved as fast as 10 minutes!


Personal Financing #2: Amanah Personal Financing-i (APF-i)


Amanah Personal Financing-i or known as APF-i by HSBC is unsecured personal financing that's calculated from a profit rate as low as 4.88% per annum. You can borrow a minimum of RM6,000 and up to RM250,000 with up to 5 years of payment period. Another benefit of this personal financing is that it is Syariah-compliant. Read here to understand more about Syariah-compliant personal financing. To apply for APF-i, you need to be at least 21 years old, earn a minimum of RM5,000 per month and be HSBC existing customer.
Click here to Apply for Amanah Personal Financing-i before 31 December 2022.
Exclusively for HSBC/HSBC Amanah Premier customers, with a minimum of RM200,000 in total relationship balance with HSBC/HSBC Amanah, or holding a Professional occupation


Personal Loan with Low-Interest Rate #3: Hong Leong Personal Loan and Financing-i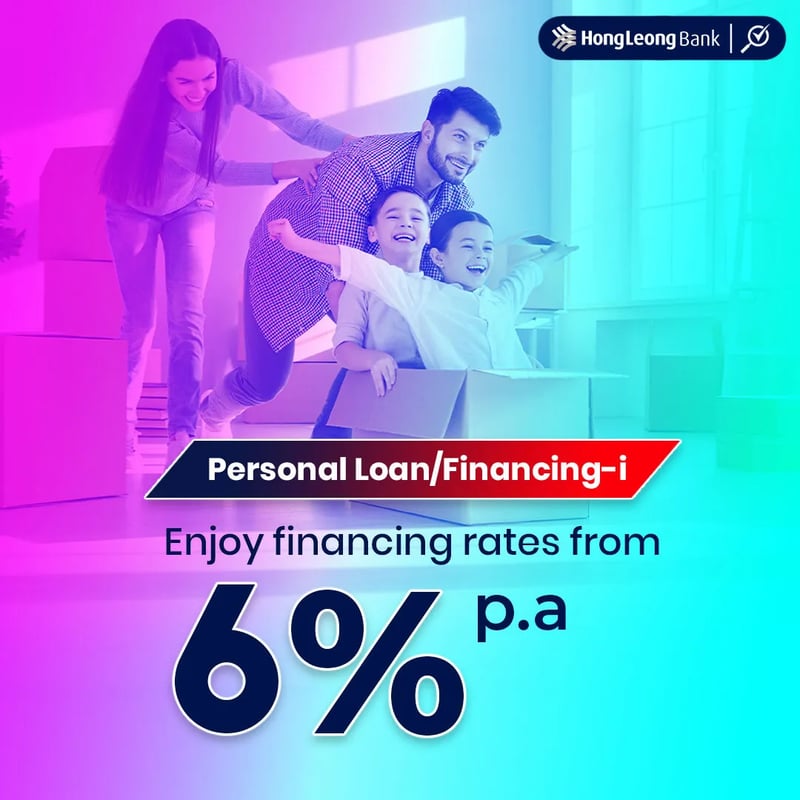 Hong Leong Personal Loan and Financing-i are perfect personal loans option if you make RM2,000 per month. The financing rate for these loans starts from 6% per annum. You can borrow from RM5,000 up to RM250,000 (RM150,000 for Financing-i) and enjoy affordable instalments for financing tenures from 2 to 5 years. These loans are only available for Hong Leong Bank's existing customers only. Learn more about your preferred personal loan eligibility here.
Personal Loan with Low-Interest Rate #4:

InstaDuit
InstaDuit is an innovative company that offers personal loans using digital and frontier technology. It is a lending company licensed under the Ministry Of Housing And Local Government. You can apply for a loan starting from as low as RM1,000 to RM10,000 with an interest rate of 12%-18% per annum. To apply for a loan from InstaDuit, you need to be earning a minimum of RM1,500 per month. At the moment, InstaDuit is only available for Klang Valley customers only.
Personal Loan with Low-Interest Rate #5: Citi Instalment Loan

With Citi Instalment Loan you can borrow from RM5,000 to RM150,000 ( existing customers)/RM120,000 (new-to-bank customers) and enjoy a reasonable flat interest rate from as low as 5.33% per annum. Another point worth mentioning is that the minimum income requirement to apply is RM60,000 per annum, but if you're an existing Citi Credit Card user, the minimum income requirement is only RM48,000 per annum. Click here to apply for Citi Instalment Loan.

Related: Consolidate your debts with a personal loan
Before deciding to get a personal loan, make sure to think it through. If you've made up your mind, look for a trusted and reliable personal loan with low-interest rates. Follow CompareHero to help you make informed decisions on your finances!