Are you assigned as someone's Secret Santa this year?
Thinking about a gift can be a nerve-racking process that could leave you pulling your hair out. In most cases, we leave the shopping until the very last minute, and that often leads us to making bad gifting decisions: buying gifts that are either too expensive, not well-thought of, or even not getting anything.
Let's try to avoid that this year.
Instead, let's take advantage of the great bargains offered at the annual year-end-sale, also popularly known as the '12.12 Sale'!
The best part is that if you take advantage of this sale, your buys would most likely arrive just in time for Christmas (of course depending on what you are purchasing).
Whether you're buying gifts for your colleagues, friends, or loved ones — we've got you sorted.
Here are some great bargains to look forward to across some popular gifting categories within several budgets on Lazada. Impress your gift recipient this year with these attractive 12.12 markdowns.
Deals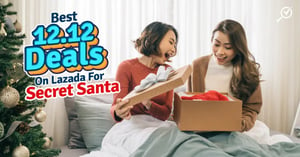 Xiaomi Mijia T100 Sonic Electric Toothbrush
Never underestimate the power of an electric toothbrush. People may say you're lazy, but with the Xiaomi Mijia T100 Sonic Electric Toothbrush, we call it efficient. Studies actually revealed that electric toothbrushes do help to decrease plaque and gingivitis than regular toothbrushes.
Get it for RM24.90 instead of RM73.26.
Pineng Powerbank Fast Charge High Speed
Everyone needs one of these in their bag. Don't underestimate this power bank; despite weighing only 230g, this sleek device has a powerful capacity of 10000mAh.
Get it for RM23.50 instead of RM99.
HP S1000 PLUS Wireless Silent Mouse
Quieter and easy to use, this mouse comes with a fresher and more elegant look while still offering maximum comfort and zero annoyance.
Get it for RM25.69 instead of RM50.
SanDisk Ultra Micro SD Memory Card
Store your memories away safely. With a transfer speed of up to 120MB, this memory card is also waterproof, temperature proof, shockproof, and X-ray proof. It also has the capacity to transfer up to 1200 photos under a minute.
Get it for RM34.10 instead of RM82.
Vention Adjustable Laptop Stand
Bad postures could be bad for your health in the long-term. Make your work-from-home experience much more comfortable with this portable and ergonomic desk rack. It is made with aluminium and alloy for increased support, and its hollow design allows for faster heat ventilation and dissipation.
Get it for RM40.84 instead of RM70.49
R-6053 Handheld Car Vacuum Cleaner
For those who love their cars. Save them the cost of getting their cars cleaned at the car wash, and give them this powerful wireless car vacuum cleaner that can work well on dry and wet surfaces.
Get it for only RM49.90 instead of RM118.
Deals
Xiaomi Airdots 2 TWS Mi True Wireless EarBuds Basic Earphone Bluetooth 5.0
This is the ultimate bundle you need if you spend most of your time listening to music. The earbuds also come with a pair of earphones and a case in five colour sets.
Get it for RM69 instead of RM129
This Apple-watch-inspired smart watch is more powerful than you think. It comes equipped with blood pressure measurement and multiple sport modes on top of standard features such as calorie tracking, reminders and notifications. It is also waterproof and has music control.
Get it for fitness junkies for only RM63.90 instead of RM119.58.
Robot cleaners are all the rage but they also tend to burn a hole in your wallet. But here's one that has been marked down to only RM79 from RM99.
In case you didn't know, PlayStation 4 sets are sold with only one controller included. Give this as a gift to those who doesn't have an additional controller and perhaps they would invite you over for a game or two.
Get it for only RM69.58 instead of RM105.
At only 0.75kg, this mop is as light as they get. Its 360° rotating mop stick lets you cover difficult corners, while its carbon fiber cleaning cloth effectively removes dust.
Get it for RM52 instead of RM89.
Annoyed by the unremovable stains on your kitchenware even after intense and deep cleaning? This non-stick pot could be the solution. Its soft grip handle and ergonomic design gives added comfort and safety.
Get it for RM89 instead of RM185.83
Deerma BS01 Potable Facial Mist Spray
Here's something for the ladies. Keep your skin well taken care of with this facial mist which helps reduce wrinkles and refresh your skin. The product also automatically shuts down after 10 minutes to avoid damaging the moisture and oil balance of your skin.
Get it for RM99 instead of RM399
VTech Spin and Go Helicopter Toy
There's nothing happier than seeing your little one beam in delight. With VTech, your child will not only have fun, but also learn new letters, numbers, colors and animals with sing-along songs.
Get it for RM 69.90 instead of RM199.00
Philips Daily Collection Hand Mixer
This could be the perfect gift for all the baking maestros out there. Fluffy cakes and smooth batters are made easy with the lightweight and faster with cone-shaped beaters. This device also helps you prepare cake mixes and batters for up to 20X times faster.
Get it for RM 74.15 instead of RM199.00
CkeyiN Cordless Automatic 20mm Hair Curler
Here's something for the ladies. Styling your hair can take a long time. But the CkeyiN cordless hair curler reduces the amount of time to doll up with its automatic curling function, and reduces damage from exposure to high heat as well.
Get it for RM65.31 instead of RM148.53.
Plant Origins Aromatherapy Bluetooth Diffuser
Especially great for those with new homes. Purifier the air with this aromatherapy bundle that includes a diffuser and two essential oils.
Get it for only RM139.90 instead of RM220.
Deals
For those who love the kitchen. Introduce them to healthier meals with this new steamer. Cooking will be a breeze with this branded steamer.
Get it for only RM125 instead of RM199.
ACA Coffee Machine Nestle Nespresso
Know someone who loves coffee but doesn't have the funds to buy their own coffee machine? This coffee machine is selling for only RM113 instead of RM216.
Say goodbye to creases or wrinkles with this high-tech iron. It comes with a durable ceramic soleplate that ensures easy gliding and quick heating. Its rip-stop system keeps garments spotless while ironing.
Get it for RM116.30 instead of RM219.
For the friend who spends most of his time gaming on his computer. This HyperX offers low CL9, CL11 latencies.
Get it for only RM175 instead of RM255.
For those who often pack their lunches from home. They'll never need to use a microwave anymore with this lunch box that comes with a heating function. This works great for students, working adults and even parents for baby food storage.
Get it for only RM159 instead of RM219.
Know someone who is an adrenaline junkie? This would be the perfect gift. This action camera will prove to be a reliable companion for outdoor sports. Record high quality videos and explore a vast variety of features. Documenting the next adventure has never been easier.
Get it for only RM171.90 instead of RM444.75.
L'Oreal Professionnel Série Expert Aminexil Advanced
Know someone who cares about their hair routine? Pamper them by gifting this set. This L'Oreal bundle includes 10 bottles of 6ml Omega-6 Nutri Complex.
Get it for only RM129.90 instead of RM399.00
Xiaomi Mi Band 5 Smart Bracelet
A light smart watch packed with great functions. Suitable for those who would want to wear a smartwatch for all occasions, outside the gym. It is water resistant, has multiple sport modes, including sleep tracking and more.
Get it for only RM129 instead of RM235.
Deals
Philips Hair Dryer & Straightener
What's better than one gift? Two gifts. Gift this bundle to those who love their locks. This package includes a 2300W Philips hair dryer and Philips hair straightener for only RM531.16 instead of RM856.
For the health junkie who enjoys good food. They'll never have to feel guilty for chowing down that fried chicken anymore if it's made with an air fryer.
Get it for only RM249 instead of RM798.
ILIFE V58 Robot Vacuum Cleaner
Robot vacuum cleaners are all the rage now. Who doesn't need an extra pair of hands at home when it comes to house chores?
Get it for only RM990 instead of RM2099.
Electronics redefined. Know someone who needs to jump onto the Dyson bandwagon? Give their home a new look with this sleek fan tower.
Get it for only RM2,529 instead of RM2,829
For the fashionable watch lovers. This Ice-Watch comes with a black silicone strap, suitable for plenty of occasions. It offers elegance on top of functionality for only RM249 instead of RM469.
Additional
Enjoy additional discounts if you use any of the following credit cards for your 12.12 shopping in Lazada.
AmBank: Get RM12 off with a minimum spend of RM120 when you spend with an Ambank debit card.
Alliance Bank: Get RM15 off with a minimum spend of RM100 when you spend with an Alliance credit card.
MasterCard: Get 12 off when you spend with a Mastercard card. No minimum spend required.
For a full list of vouchers, click here.
This article was first published in December 2019 and has been updated for freshness, accuracy and comprehensiveness.