By this, we mean getting a luggage set worth RM1800 and a cashback of up to RM250 when you spend RM1,500, all the while earning 8X points for every Ringgit spend. Want to know more?
Mid Valley, The Gardens Mall, Sunway Pyramid – some of the giants of the Malaysian retail scene. They give us a haven from the blistering heat of our lovely country and the retail space from which to purchase our wants and needs. Even then, we're always on the lookout for ways in which to sweeten our deal.
However, what if you could get more out of each spend you make in these shopping malls?
Imagine getting up to 50% discounts, complimentary dishes, free gifts, cash vouchers, and instant cash rebates. On top of that, you can earn up to 8X points for every RM1 you spend; redeemable for cash vouchers or the latest electronics gadget you want!
Want to know what's the secret to getting those?
Simple: The HSBC Platinum Visa credit card.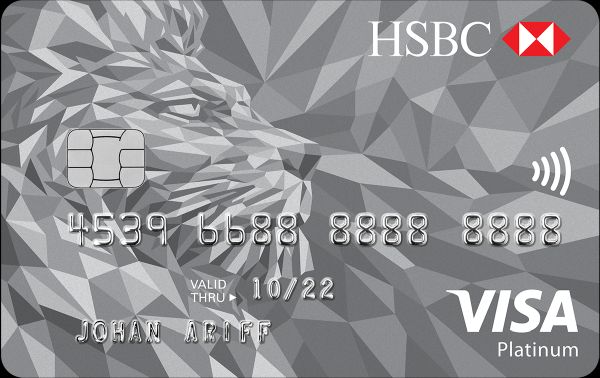 The Ultimate Shopping Rewards Credit Card
HSBC's Platinum credit card is very much the ultimate rewards credit card for those who shop a lot in major shopping malls. It is especially so when shopping in Mid Valley or The Gardens Mall!
The HSBC Platinum Visa rewards credit card is also one of the only Platinum-level credit cards in Malaysia with a rather low-income requirement. You only need an income of RM36,000 a year or RM3,000 a month.
It also takes the top spot by offering the highest multiplier of rewards points when shopping: 8X per Ringgit spent at Mid Valley and the Gardens Mall. Otherwise, get up to 5X per Ringgit spent at other participating malls nationwide. (Check out the list here.)
You can use the points to redeems items like vouchers for your favourite stores, air miles, or even home appliances.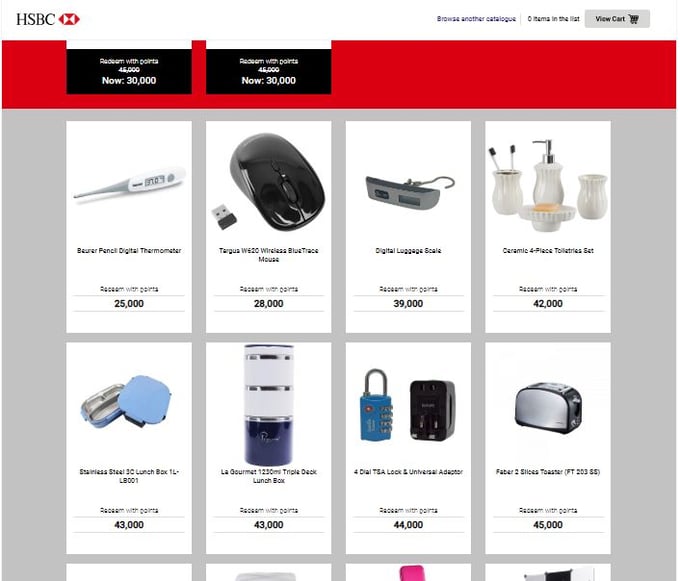 Great Discounts at Mid Valley & The Gardens Mall
Pamper yourself with a complimentary eye treatment at Clarins Skin Spa
You've worked hard for a whole long week and you deserve some good pampering! Get yourself a free Clarins Smooth & Luminous Eye Treatment (worth RM139) when you sign up for a Clarins Signature Facial.
Get supplements from Blackmores at 35% off and a little bonus!
When you shop for your supplements at Blackmores, you can get it at a 35% discount. On top of that, you can get a complimentary Naturopath consultation that is worth RM100 too.
Grab a hearty lunch at Canton-I at 50% off
Canton-I serves delicious Cantonese cuisine, and while it may not be the cheapest around – how can you say no to having 50% off an ala-carte dish? Applicable when you make a minimum purchase of RM120 in a single receipt.
Look dashing at the office with new clothes at G2000 at 10% off
Refresh your work wardrobe by stopping by G2000 for the latest threads. You'll slay it at the office, especially when you can get 10% discount off your purchase!
Enjoy a 10% discount with delectable Komugi pastries and baked goods
When you're tired from all the shopping, get a refresher with delicious Komugi pastries and baked food (their custard buns are to die-for) at 10% off. All you must do is make a minimum spend of RM30!
Bring the Bling at Lazo Diamond with up to 20% off
It's often said that diamonds are a woman's best friend, but it could be anyone's best friend with great discounts. Enjoy 10% off your first purchase at Lazo Diamonds and up to 20% when you make a second purchase.
With an HSBC credit card, you can also benefit from great discounts and promotion. Check out the few above that you can get at Mid Valley and The Gardens Mall.
Check out other discounts and promotions you can get with an HSBC credit card here: HSBC Smart Privileges.
Interested? It's simple to apply for one! We'll give* you an awesome luggage bag set once you've spent a total of RM1,000 with the card too. Click on the button below to apply now!
Eligibility
Minimum Age: 21 years old
Minimum Income: RM36,000 per annum (RM3,000 per month)
*Terms & conditions apply. Read more about our current credit card promotion here: CompareHero.my Credit Card Promo.
Features of the HSBC Credit Card
8X Rewards Points on spend at Mid Valley and The Gardens Mall
5X Rewards Points at local participating malls
Card Balance Transfer with low interest
Cash Instalment Plan
Card Balance Conversion
Cash Advance
Visa Premium Privileges
Card Security