Liverpool FC actually went through a financial crisis before earning their first Premier League title since 1990. It took some time for them to financially bounce back and arrive at the point where they are today, but how did they manage to do it? Let's learn how they overcame the problem with these 5 financial lessons we can get from them.
---
Liverpool FC's rebirth as champions of both England and Europe was made possible thanks to proper management, shrewd financial planning, and endless grit.
After 30 years of pain, Liverpool FC are finally back on the pinnacle of English football.
The Reds ended their long wait to be crowned champions of England - their first Premier League title since 1990 - on June 25 after Manchester City lost 2-1 to Chelsea at Stamford Bridge.
Their success was not an easy nor ordinary feat. Despite the club's rich football history and reputation as one of the world's biggest, the Reds were actually on the brink of bankruptcy just 10 years ago. They were struggling on and off the pitch and were drowning in financial debt and crisis under the disastrous leadership of its previous owners American duo Tom Hicks and George Gillett Jr.
But Rome wasn't built in a day, and like other empires, this kind of sporting magic took years of careful planning to manufacture - current owners Fenway Sports Group (FSG) and manager Jurgen Klopp had to restructure and rebuild the team, relook into its finances and restrategize plans to pull it off.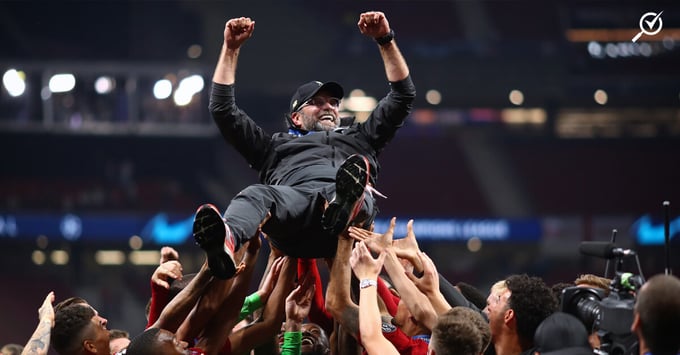 The man of the hour - Klopp helped lead Liverpool to two successive European cup finals.
Eventually the 2018-2019 season was the start of their record breaking run. So far, two memorable campaigns have seen them bag their sixth Champions League, first-ever FIFA Club World Cup, a UEFA Super Cup, on top of sealing their 19th league title.
In their journey to winning the Premier League, they ran a record-equalling run of 18 consecutive wins from last October to February 29, winning every league match at home this season. They also won the league with a record seven games remaining, and 25 points adrift of second-placed City who were champions of the last two seasons.
Liverpool's ascent to football dominance offers many interesting lessons for the masses, particularly in financial planning and management.
We analyze how the club skillfully utilized limited finances and resources to produce scintillating success both on and off the pitch.
1. Business is inherently risky, and it takes proper leadership to weather a financial crisis
Before FSG took over in 2010, Liverpool were at the height of their darkest period, becoming the talk of the town for all the wrong reasons.
On the pitch they slipped into the relegation zone after an embarrassing home defeat to Blackpool, while gathering just six points in their opening seven games – the club's worst start to a season in 57 years. Off the pitch, they were on the verge of financial meltdown after talks of possible bankruptcy and landing a nine-point penalty.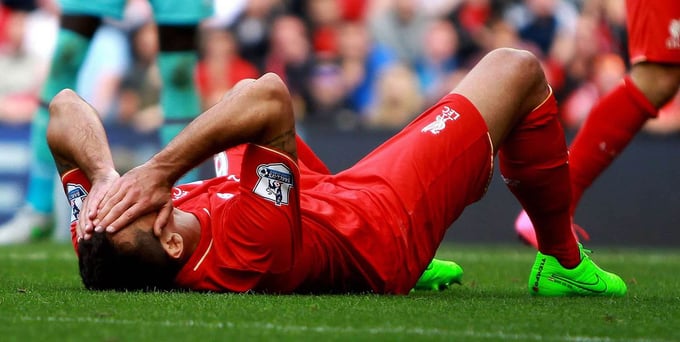 Liverpool were brought down to their knees with problems on and off the pitch. (Image source: Liverpool Echo)
At this point in time, the club's financial debt was standing at staggering £237million (RM1.2billion) and plans for a new stadium were put to a halt, costing the club an additional £50million (RM267million) as further redesign was necessary after plans went over budget.
All of this was far from the original promises made by Hicks and Gillett who took over the club in 2007 after paying a total of £174million (RM934 million) for the shares. They had vowed to pay off £45million (RM242million) of club financial debt and invest £215million (RM1.2billion) towards a new stadium.
This new stadium would supposedly accommodate 60,000 fans - and a potential for 73,000 - which would help rake in extra cash and boost the club's financial muscles in the form of ticket sales.
"We have purchased the club with no debt on the club," said Gillet on the purchase, according to BBC Sport. "The spade has to be in the ground within 60 days," he vowed, on the club's new stadium plans, according to The Guardian.
Within 12 months of their tenure, though, their promises were starting to become a distant memory as the owners took out a £350million (RM1.9billion) loan with the Royal Bank of Scotland (RBS). From that money, £105million (RM546million) was loaded into the club's books, while the remaining £245million (RM1.3billion) was absorbed by Kop Football (Holdings), the holding company set up by Hicks and Gillett when they bought the club, according to journalist Simon Hughes' book Ring of Fire.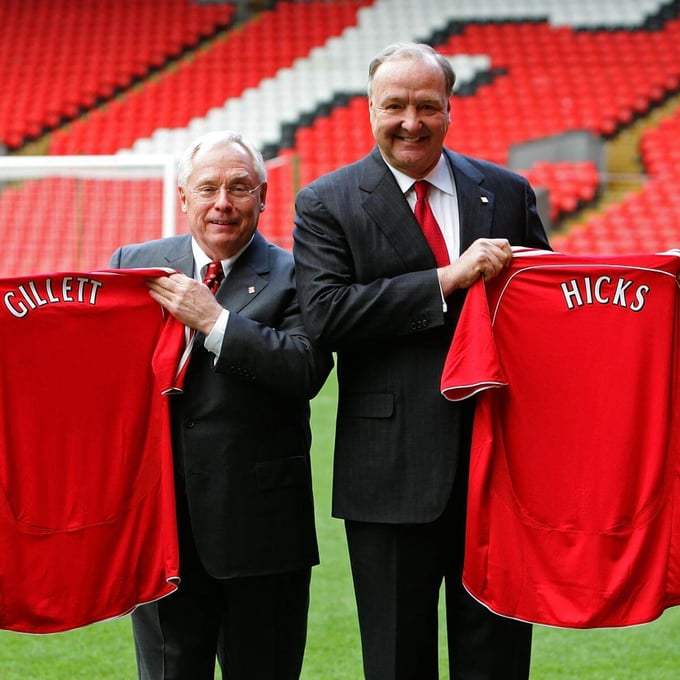 I knew you were trouble when you walked in? Former owners Tom Hicks and George Gillet could be two of the most unpopular figures in Liverpool history. (Image source: Christopher Furlong/Getty Images via bleacherreport.com)
More red flags began to pop up when Hicks' spokesman publicly admitted that the club would face interest payments of around £30million (RM161million) a year on their borrowings - to break it down that's £100,000 (RM537,270) per day in interest.
Soon there was total chaos at the club: fans no longer wanted the duo at the helm with numerous protests held against them, toxic power struggles between the co-owners led to in-fighting in the Anfield boardroom, issues with refinancing of the loan and poor public relations ruined the former owners' reputations with supporters.
The nightmare finally ended when Gillet and Hicks were forced out of Anfield by RBS and New England Sports Ventures (now FSG) who purchased the club in October 2010 for a £300million (RM1.6billion) takeover, simultaneously wiping out their financial debt to end one of the most tumultuous periods in the club's history.
It's fair to say that at this point, the new owners not only injected the necessary cash needed to stay afloat, they also brought stability and progression to the club.
But Hicks and Gillet's tenure was not the only example of bad leadership that could result in serious financial losses. Another poor appointment was that of Christian Purslow, who was asked to join the Liverpool board to "renegotiate the £350million (RM1.9billion) loan with RBS and to work with former manager Rafa Benitez on summer transfer targets," according to a report by The Telegraph.
Though Purslow was tasked to find money through negotiation and managing assets, he did the exact opposite. Instead, he sold two of the club's stars Xabi Alonso and Alvaro Arbeloa for way below their market value - a mere total £38 million (RM204million). Their replacements Alberto Aquilani and Glen Johnson, both underperformed and were unable to emulate similar on-field success despite costing the club £35million (RM188million).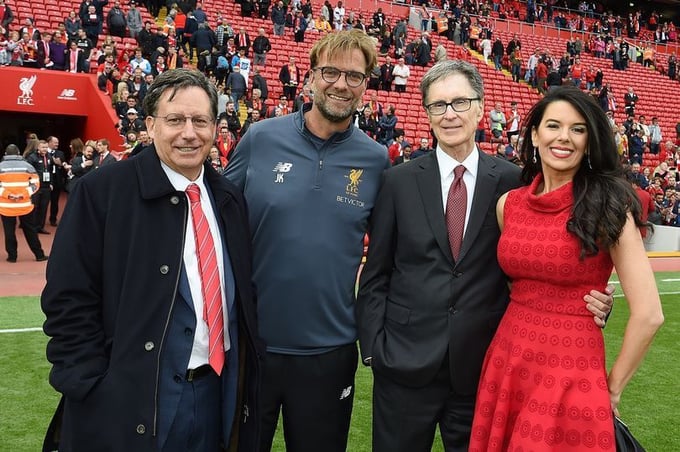 FSG have awakened the sleeping giants from their long and painful doze. (Image source: Liverpool.com)
The clear lesson here is to ensure that the right people are steering the boat at the top, whether that boat is a large company or a small enterprise. Without proper leadership and guidance, a business could be on the brink of collapse if financial losses are not managed in the right hands.
Additionally, it's not just the leadership at the top that's changed Liverpool fundamentally - FSG have managed to bring in the right people across different roles, including manager Klopp.
2. Be smart about your loans - remember to pay off those financial debts!
There are many reasons to apply for a loan: you could be starting a new business or getting married or perhaps you're continuing your education.
Regardless of the type of loan, what's important to remember is that you'll start accumulating extra fees if you skip loan payments. As a result of missing your payments, banks are allowed to charge you interests depending on the rate you'd have previously signed on during your application. When loans are not managed properly, they eventually snowball into a large sum of debt.
Related: What Happens If You Can't Pay Your Loans In Malaysia Post-MCO (And How To Fix This Fast)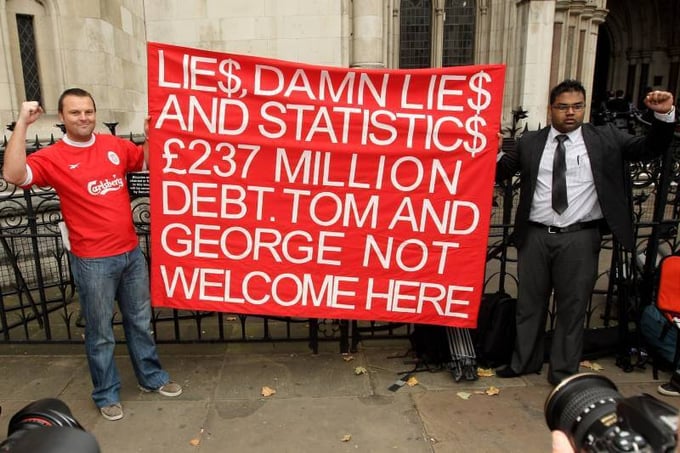 Fans were unhappy with the direction taken by both Hicks and Gillet during their tenure. (Image source: Oli Scarff/Getty Images)
Similarly, both Gillet and Hicks got a loan to purchase the club (although they said they would purchase the club with no financial debt saddled on top.)
In their first seven months of trading, Kop Football (Holdings) was facing losses of £33million (RM177million), followed by another £42million (RM226million), £53million (RM285million) and £43million (RM231million) in the next following three years. When FSG took over, the club were paying interest loan repayments of up to £340,000 (RM182,672) a week.
Had both Gillet and Hicks paid their loans on time, the club wouldn't be racking up so much financial debt. If anything, their tenure taught us to practice proper money management so that we, too, won't end up in large piles of loans.
3. Get the basics right first - balance your books consistently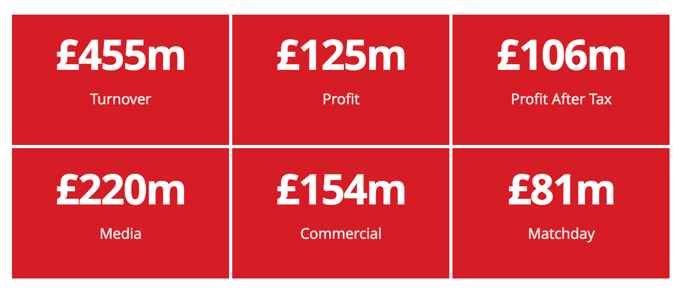 Liverpool's financial statement for the 2017/2018 season. (Image source: Liverpool Echo)
Balancing the books is a prerequisite to any healthy business, and Liverpool made a huge statement of their own when they were finally able to breakeven, before registering record-breaking financial figures.
In 2015 - five years after the change of ownership - Liverpool returned to profit for the first time in seven years, according to Goal. Two factors have been linked to this upturn in revenue: the Premier League's lucrative television rights deal and the Reds moving back up to ninth from 12th in the Deloitte Football Money League.
"Since Fenway Sports Group completed its takeover of Liverpool FC in October 2010, revenue has steadily increased year on year and the club has transformed to a sustainable business," according to Liverpool's statement reported in Goal.
A few years later during the 2017-18 financial year, they broke the world record for the biggest pre-tax profit (£125million or RM672million) made by a football club.
That success, Andy Hughes, Liverpool's chief operating officer told the Liverpool Echo, could be attributed to their success at reaching the Champions League final and selling star player Philippe Coutinho which helped net £142million (RM763million) - a shrewd piece of business considering he joined the Reds for a mere £8.5million (RM46million). Funds from Coutinho's sale would eventually be used to secure another world class player who left a huge impact on their league winning campaign (hint: Virgin van Dijk).
"When you sell a key player and reinvest that money into the squad, you see a spike in profitability and then you see a dip in future years," Hughes said. "Liverpool FC is in a much stronger financial position. We have been reinvesting all of our profits back into the club. You can see that in this period as well. Across the board it's a really strong set of results which demonstrates FSG's commitment to the club and reinvestment into the future of Liverpool FC."
Hughes also pointed out that the club has been experiencing continuous revenue growth since FSG acquired the club in 2010. "On the media side, that's driven largely by performance on the pitch and reaching the Champions League final was the main reason for that big uplift to £220million (RM1.2billion). In the previous season we didn't have European football."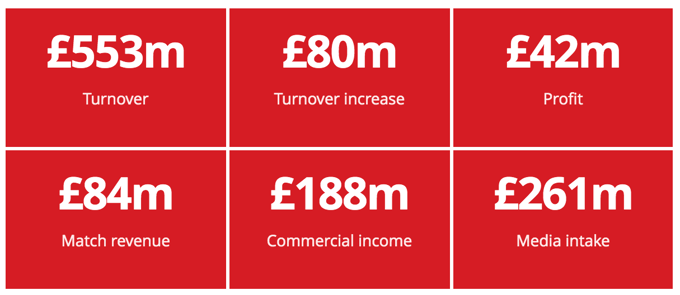 Liverpool's financial statement for the 2018/2019 season. (Image source: Liverpool Echo)
The 2018-2019 season saw Liverpool register more record-breaking numbers, as the Anfield club posted a record revenue growth of £533million (RM2.9billion) and pre-tax profit of £42million (RM226million). All other revenue streams posted significant growth as well.
Matchday revenue was up to £84million (RM451million) while media in-take grew by £41million (RM220million) to £261million (RM1.4billion).
Their success is partly due to their successful Champions League winning campaign last season - winning Europe's top prize reportedly earned clubs around £67million (RM360million) - one of the big factors behind a revenue growth of nearly £80million (RM430million) in 2019, on top of other major factors like a new broadcasting deal and windfall coming from placing second in the Premier League.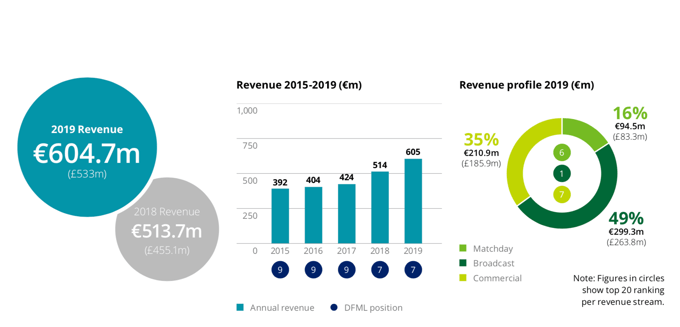 In 2019, revenue had increased by 15.8% to £533million (RM2.9billion) compared to the year before. (Image source: Screencap of Deloitte Money League report)
That financial year, Liverpool maintained seventh position in the Deloitte Money League behind Manchester City, Paris Saint-Germain, Bayern Munich, Manchester United, Real Madrid and Barcelona.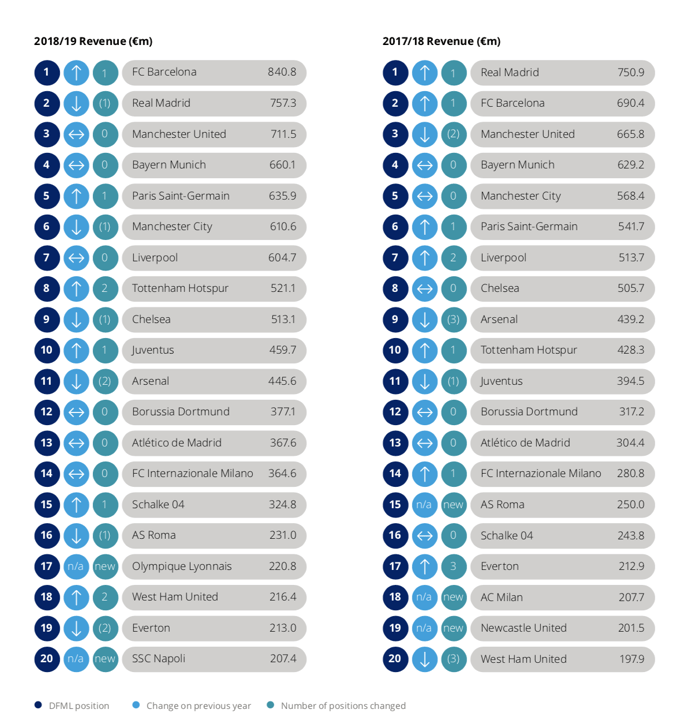 Clubs are valued based on a number of metrics, financial and non-financial, such as attendance, worldwide fan base, broadcast audience and on-pitch success. (Image source: Screencap of Deloitte Money League report)
According to the Deloitte Money League report, clubs are ranked based on their ability to generate revenue from matchday (including ticket and corporate hospitality sales), broadcast rights (including distributions from participation in domestic leagues, cups and UEFA club competitions) and commercial sources (e.g. sponsorship, merchandising, stadium tours and other commercial operations).
Liverpool's rising stock is also evident by positioning eighth highest in the world on Forbes' Business of Soccer list which valuated them at $2.2billion.

Forbes magazine valuation of Liverpool saw a 12% year on year increase. (Image source: Screencap of Forbes)
Previously Liverpool were losing money like water out of a sinking ship, but now streams of cash are coming in from all corners: match revenue, media income and the commercial department, to cement the Reds' success on and off the pitch.
"The message is what you see here is the outcome of a really strong and consistent strategy over multiple years," Hughes told the Liverpool Echo. "That strategy remains unchanged and we will carry on with that plan and hopefully continue to improve."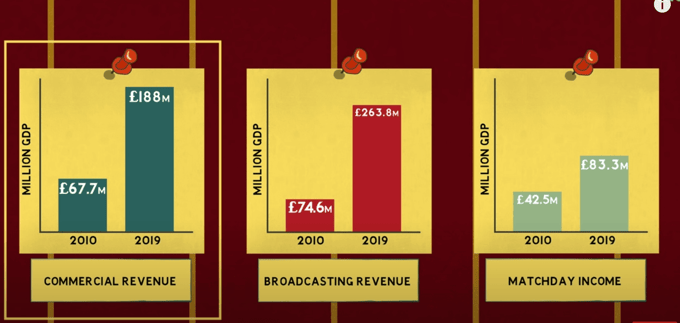 A screencap Tifo Football's video shows Liverpool generated a 94% hike in commercial revenue after almost nine years of rebuilding. (Image source: Tifo Football on Youtube)
4. When it comes to investments, always have a strategy
When FSG arrived at Anfield, it was believed that they would carry their moneyball principles - the formula which was said to underpin their success at American baseball team Boston Red Socks (which they also own) - to Liverpool.
Liverpool Sporting Director Edwards (left) has been a key figure in their successful recruitment drive in recent years. (Image source: Liverpool FC)
FSG would go on to transform how Liverpool managed recruitment, squad-building and on-pitch success. Klopp, unlike previous Liverpool managers, works very closely with his recruitment team including sporting director Michael Edwards, head of recruitment Dave Fallows and chief scout Barry Hunter when it comes to sealing deals. This close working relationship is one of the reasons behind their success in identifying real talent and securing their services in the transfer market.
The club's recruitment policy no longer revolved around purchasing players who were at their peak or were way into their prime with little to no resale value or room for improvement (does Paul Konchesky, Joe Cole and Milan Jovanovic ring a bell guys? The average age of those players was 28.6 years)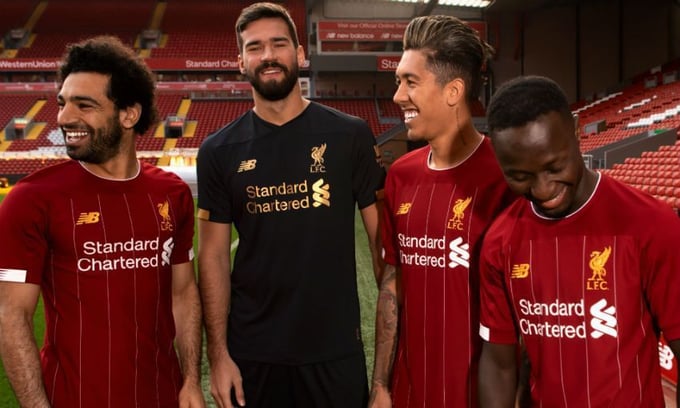 Hit or misses? All four players here, Mo Salah, Alisson, Roberto Firmino and Naby Keita can be considered hits so far. (Image source: Liverpool FC)
Instead, the new transfer philosophy would be centred around signing young, unearthed talent who would come in with room and potential to grow and improve, before eventually selling them on for a profit (if the player ends up leaving, of course). New recruits also had to fulfill certain age-criteria: around 25 and under. Their new transfer strategy was also largely supported with the use of data analytics to identify talent.
Thanks to Edwards (and team), who led these dealings, Liverpool were able to secure a number of high-profile signings, while still balancing their books, and offloading several deadwood stars for impressively big sums.
A few great examples:
Liverpool landed one of the world's best defenders in Virgil van Dijk for a reasonable price of just £75million (RM403million). Today, he is worth maybe double what they initially paid for him. He, or more specifically Edwards, was able to finance this move by offsetting the cost against the sale of Coutinho. Liverpool were also able to cheekily add a clause into the deal which would cost Barcelona another £89million (RM478million) if they wanted to sign any more Liverpool players before 2020. Great business you gotta admit.
They secured Japanese hotshot Takumi Minamino for an impressive bargain of just £7.25m fee (RM39million). Edwards managed to secure this bargain price after he found out about Minamino's cut-price release clause, and completed the deal before other teams got a hold of it. Regardless if Minamino proves to be a hit or miss, his value is still worth the price.
Edwards is also known for his ability to offload unwanted stars for decent prices. One of the most notable sales has to be Jordon Ibe and Dominic Solanke, both turned out to be great businesses for the club, with their sale raising £35million (RM188million) combined, despite both having less than 100 first-team appearances between them, and also cost next to nothing when they signed. That's crazy right?
Of course there were a few hits and misses in the transfer window as FSG had to learn that football operated differently than their other business, baseball.
Some young and up-and-coming talents like Andy Carrol and Mario Balotteli, both failed miserably to perform up to the expected standards. In the end, they showed little to no return in terms of performance and were considered expensive flops.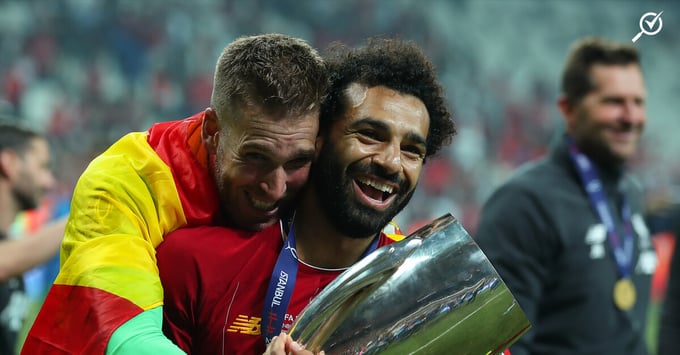 Mo Salah joined Liverpool for £36.9million (RM198million), now he's worth a staggering £108million (RM580 million), according to Transfermarkt.
Other later additions like Sadio Mané, Mohamed Salah, Andy Robertson and Gini Wijnaldum all proved to embody the new transfer policy adopted by FSG. These players came from 'smaller' clubs, with bags of untapped potential or had yet to reach their highest level. They also met the age criteria, appeared outstanding in comparison to their teammates, posted strong statistical and analytical performance data and seemed undervalued. If you ran the numbers in today's transfer market, all four players would have higher values compared to what they were initially bought for.
Liverpool's ability to execute these shrewd pieces of business is one of the reasons behind their success. Not only have Liverpool managed to bring in high quality players yielding relatively good returns, they've also handed out long-term contracts to many of their current crop of high performing players.
5. Branding and marketing is important! Successful brand positioning can help yield numbers
Beyond what's on the pitch, the club's success can also be traced back to their commercial glory and what's being done off field to strengthen their brand identity.
Though Liverpool has a long enduring history stretching back 128 years, the club still needs to - as with most sporting brands - rely on commercial sales and branding to position them in better light with consumers and fans.
Earlier this year Liverpool announced Nike, the world's leading footwear and apparel company, as its official kit supplier for the 2020-21 season, according to a statement. The lucrative multi-year partnership will see Nike manufacture and supply Liverpool FC's playing, training and travel wear. Nike will also be outfitting the men's, women's and Academy squads, as well as coaching staff and Liverpool FC Foundation.
The contract with Nike is reported to be worth around £30million-a-year (RM161million) which is around £15million (RM80million) less than the bottom line earned from current kit sponsors New Balance. This partnership will be another big step for Liverpool in the aim of solidifying their reputation as one of the biggest and best clubs on the planet, both on and off the pitch.
Beyond that Goal reported that FSG managed to expand the club's international reach thanks to securing a new retail partner in Malaysia, opening a new club shop in Thailand and establishing new selling channels on Amazon in the US, Canada and Germany. The club shared that they've managed to ship to over a record 190 countries world-wide for e-commerce deals.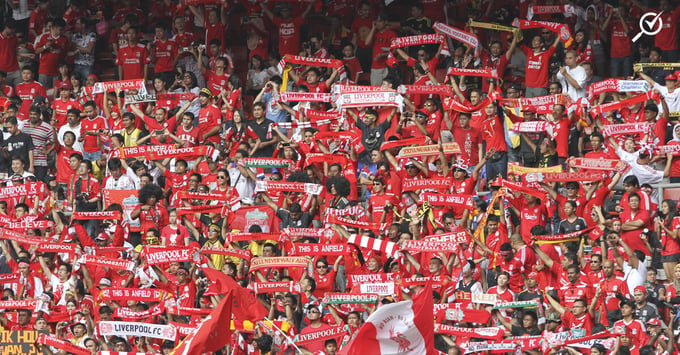 A 2015 study by The London School of Marketing claims Liverpool has 580million "active" fans, second only to Manchester United's 660million, according to the Liverpool Echo.
On the digital front, Liverpool are reaching out to more fans and supporters than ever before - the club's global social media followers increased by 26% to nearly 70million and their official YouTube channel garnered 2.5million subscribers and is the most followed club in the Premier League.
On Twitter, where they are super active, has seen a spike in followers by 11% to 13.5million and reached 59million total engagements during the 2018-19 period – that's about 6million more than any other Premier League club.
Liverpool also secured nine new commercial partners last year, including their first official training partnership with insurance company AXA. Other deals include Japanese food brand NH Foods, technology company Intel, Canadian telco Mitel, cyber security NordVPN, online trading platform TigerWit, US fashion label Levi's and Swiss ski report Verbier.
Final thoughts - Liverpool will continue to see more growth as a brand
All in all, the future is bright for this football club, and the only way here is up.
For starters, at the end of last year, the man who led the transformation, manager Klopp, extended his Reds tenure until 2024, ensuring he will remain at the helm for a further four-and-a-half years, according to a statement by the club. Assistant managers Peter Krawietz and Pepijn Lijnders have also agreed deals to continue working collaboratively alongside Klopp.
This is very encouraging for the fans who have elevated Klopp to legendary level status- deservingly so too. His man management abilities and tactical prowess, backed by financially savvy owners and a strong backroom team, are some of the reasons why Klopp has been able to flourish at Anfield.
To top that off, Liverpool hope to unveil a brand-new state-of-the-art training complex worth £50million (RM269million) in the near future. Though it was slated to open its doors by the summer this year, it was postponed due to the coronavirus. It resumed construction this May.
We could also expect to see the proposed £60million (RM322 million) Anfield expansion to be completed by the summer of 2022. The expansion will add an additional 7,000-seats, bringing the capacity of one of the world's most iconic football stadiums past the 60,000 mark.
Last but certainly not least, Liverpool are expected to offer extended and improved contracts to van Dijk, Alisson and Sadio Mane in order to fend off interest from other clubs.
The future looks bright for Liverpool. Sure coronavirus may have dampened their current transfer market plans and put a large dent in their finances this year, but they've been through much worse, as we have witnessed, and we are sure they'll weather this storm too.
Apply for Standard Chartered's Liverpool FC card as a memorabilia
Get a Liverpool Jersey when you pay your annual fee before 31 October 2020.
Prep for that mouth watering trophy lifting celebration on July 22 by applying for a Standard Chartered Liverpool FC card to add to your Liverpool memorabilia collection.
| | |
| --- | --- |
| Minimum Monthly Income | RM3,000/month |
| Interest Rate | 15% |
| Annual Fee | RM175 |
| Cashback | Everyday 5% |
| Good For | Cashback, Shopping |
Apply with us now and get a free Xiaomi Induction Heating Rice Cooker 3L.
Promotion period ends July 31.
5% Cashback for RM1,500 minimum monthly spend
3% Cashback for RM800 minimum monthly spend & 2% for RM500 minimum monthly spend
Official LFC Home Shirt Redemption with Annual Fee payment from 1 November 2019
Petrol and insurance transactions are not applicable for cashback, but counts towards min. retail spend
Monthly Cashback capped at RM50