Malaysians are increasingly embracing a healthier lifestyle, and one brand that has made significant contributions towards this is Juice Works. We spoke to Mooi Li, Juice Works Founder, who shares her recipes for success, and money management tips of her retail business.
A slow and steady approach proves worthwhile for the pharmacist-turn-entrepreneur
Mooi Li's story begins with her passion for fruit juices and smoothies since her move back to Malaysia from Australia. Despite having multi-roles in her family and business, she established Juice Works twelve years ago and continues to run it successfully.
"Initially, I moved back to Malaysia from Australia and I couldn't find any smoothies here. After a while, I managed to found a standalone shop selling mango smoothies but it wasn't really a mango smoothie -all they did was blend ice and mango syrup together."
After continuous disappointments, she started to make her own juices and smoothies at home. Being a pharmacist, Mooi Li used her knowledge of nutrition when making the juices and her friends used to come over for these delicious smoothies.
"My friends kept asking me to open my own shop. With the support from my husband and my in-laws, who have been involved in the healthcare business, I decided to open Juice Works,"
In the initial years, she admits the company faced many rounds of financial crisis in terms of cash flow issues. However, with her husband's and family's support, coupled with her determination and passion, Mooi Li continues to manage Juice Works through steady and realistic finance management.
During the first three years of operations, Mooi Li says she was reluctant to open new stores because of the high capital expenditures involved, which explains why Juice Works' expansion was rather slow.
"We have few shareholders and we constantly called out for cash because we want to avoid taking on loans, which is a burden on our balance sheet".
Instead, Juice Works managed to register a steady growth over the first few years by focusing on the sustainability of its business model. Juice Works has 25 outlets nationwide to-date and it is expecting to open three more outlets by the end of the year.
Mooi Li's Top 3 Tips for Managing Money in Life

Mooi Li has three beliefs when it comes to managing your money which can be applied to your personal life and to your business:
1. Do not take on debt
Juice Works operates by gathering its funds from its investors and will never take loans. "It is all about how convincing you are to your investors. Instead of taking on aggressive growth by increasing our number of outlets without estimating the costs, I prefer to generate a healthy cash flow from within the business to support our expansion. The same thought applies to managing my personal finance, I have credit cards but I will never spend beyond my means. My husband and I set a budget to make sure we never cross the line into debts," she said.
2. Do not idolise brands
Current spending trends is a little crazy with more people using future money (income not yet earned) to buy stuff they probably do not need in the first place. Juice Works does not overspend in marketing but we have to be creative with a low budget and still manage to reach out to the market. Since our first day, we have always encouraged staff to manage their own personal finance and money carefully. There were even cases where some of them declared bankruptcy and Mooi Li helped them out of their financial problems. "I still drive a small car today as it serves its purpose, I believe it is important to buy what you can afford," she states.
3. Health is wealth
Investing in health is always more important and your highest valued asset. Take your health seriously in order to achieve goals and enjoy the fullest meaning of living.
"Do what you love"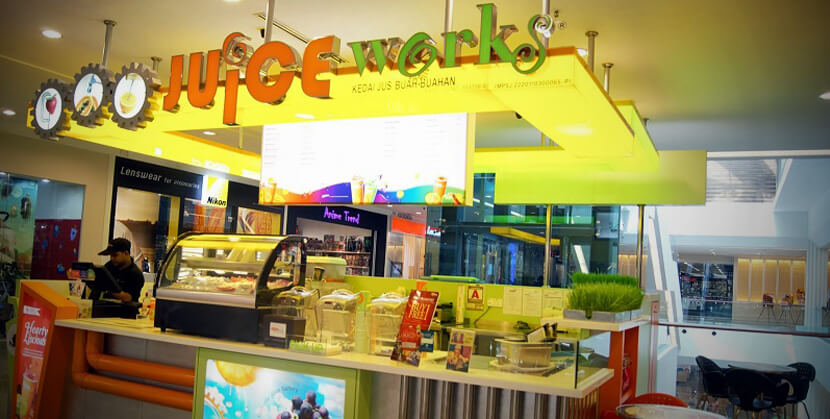 When asked for her views on entrepreneurship, she believes that if someone goes in with the aim to make a million dollars, then he or she may not succeed as an entrepreneur.
"If you go in to do what you are passionate about, you have a higher likelihood of achieving success because you have a longer holding period than those who do it just for the money," Mooi Li confidently suggests.
She also points out that this is one of the reasons why many young entrepreneurs do not last in today's market. Juice Works had faced losses in the first three years of operation and there were many occasions she had doubts and considered closing down the business.
"But we really enjoy doing what we were doing! Also, I felt bad for my loyal customers and employees that had contributed so much. So I decided to continue the business and now we are enjoying the fruits of our labour with 25 outlets across the country,"
Apart from leading her life, and her business with healthy financial management ways, Mooi Li also acknowledges the importance of educating her children to manage their money from young.
"I have two children, with the eldest aged not more than 6 years old, and I am already teaching them how to allocate their daily allowances properly in terms of spending wisely and saving,"
Thanks to Mooi Li for sharing her experience and money management tips, we're all definitely inspired! Let us know in the comment if you have any thoughts!
8% Cashback for Petrol & Groceries spend
0.2% Cashback on Other spend
Exclusive deals and special VIP treatments while enjoying great savings at more than 6,500 shopping outlets nationwide